The creation of this blog was inspired by several builders, Bloggers, YouTubers & artists to whom I dedicate this page.
Disclaimer: I'm not a financial advisor. No content is meant to be a recommendation. Please do your own research. Pages might contain affiliate links. Please read my Disclaimer page.
Gratitude Towards Content Creators
The creation of this website was inspired & only made possible by several influencers, bloggers, YouTubers, builders & artists. I am grateful for the inspiration they have given me. This page is dedicated to them.
Youtube Channels I Like

Genexinvestor <– first dividend-related channel I came across!
PPCIan <– super authentic and likable dividend investor
Unrivaled Investing <–  Love his down-to-earth presentation stlye
Our Rich Journey <– super nice couple that emigrated to Portugal
Financial Blogs I Like

EuropeandDGI.com
Wallet Hacks <– many good quick tips!
FinanciallyFree.eu


Crypto YouTubers I like

Andreas Antonopoulos  <– got me to buy the first 100 USD worth of BTC in mid-2017
InvestAnswers <– Love James' analysis and no frills style, someone I watch a lot 
Crypto Casey (one of the very few lady Youtubers) 

🇩🇪 German Bloggers & Youtubers I like
Divantis.de <– first dividend blog I ever read! My reporting section of my All-Weather Portfolio is inspired by Ben's Divantis blog!
David Lak / Dividenden TV (in German)
Wisdom is the art of knowing what to ignore.
Gratitude Towards Company Builders
I have lots of gratitude for some of the well-known people out there who inspired me and had a big impact on my life:
Warren Buffet <–for inspiring me to think hard, figure out and define the perfect work environment work me (which is my nice home office), and the perfect daily routine I would like to do every day; he chose Omaha, Nebraska, not Wallstreet – there are so many non-financial points to learn from Buffett 
Rick Rule <– One of the giants of the natural resource sector. Learned so much from his countless interviews and YouTube clips. My Natural Resource Portfolio was "rated" by Rick – thanks again for! 
Simon Dixon <–founder of Bnktothefuture, for inspiring me to learn more about how the banking system really works and helping me understand that if you deposit money into a bank account, it's not your money anymore, you don't know what the bank is doing with it, and ultimately you can not even spend it anymore in the way you wish but need to ask for the bank's permission.
Wise men learn more from fools than fools from the wise.
Really thank you all for being such a great inspiration and source of light. These times are quite challenging, and financial literacy will become ever more important in the years to come. I believe gratitude is one of the most important virtues, as it makes you think about what you really cherish in life.
I am not a big believer in astrology, but as a wisdom seeker, I know that it's important to be at least open and receptive to all sorts of points of view. And from its point of view, we are currently leaving behind the 'earth epoch' and entering the 'air epoch'. In particular, the first years of air epochs bring with them substantial change, disruption, and challenges. Reminds me also of the fourth turning. Anyways, interesting to look this up – so far it's spot on!
Wisdom is a very relaxed state of being. Wisdom is not knowledge; not information; Wisdom is your inner being - awake, alert, watchful, witnessing, full of light.
Gratitude To Photographers
In the heart of Europe, we take a look and dig deep to find the three best Austrian dividend Stocks.
German dividend stocks have been hit hard by the general market decline in 2022. I am presenting three stock picks with an excellent risk/reward ratio.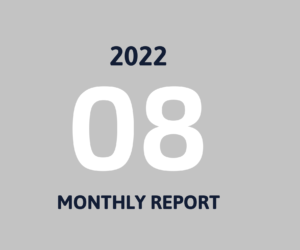 Here's my Passive Dividend Income Report for the month of July 2022. I received dividends from 9 companies, and made 11 purchases.