Key Takeaways
☑️ The energy sector can be split into up/mid/downstream companies
☑️ I explain the reasons why I in particular like midstream stocks
☑️ The 8x best oil and gas midstream companies are reviewed
☑️ I share my take and top pick at the end of the article
The 8 Best Oil & Gas Midstream Stocks 
Whether it's gasoline for your car, nat gas to heat your home, or jet fuel, oil & gas midstream companies ensure the safe transport of significant amounts of it across the entire continent.
As Doomberg, the little green chicken, often says 'energy is life', midstream, also called pipeline companies, are a critical part of every country's energy infrastructure, helping its people to have air-conditioned homes in hot summers and heated homes in the coldest winters. 
Are Midstream Companies Good Stocks To Invest In?
Let's start by taking a look at the eight largest oil and gas midstreaming stocks, ranked by market cap.
| | | | | | | | |
| --- | --- | --- | --- | --- | --- | --- | --- |
|   | Symbol | Company Name | Market Cap | PE | Yield | ROIC % | ROE % |
| 1 | | 🇨🇦 Enbridge Inc | 82b | 20 | 7% | 4 | 10 |
| 2 | | 🇺🇸 Enterprise Products | 54b | 11 | 8% | 10 | 20 |
| 3 | | 🇨🇦 TC Energy | 48b | 19 | 6% | 4 | 10 |
| 4 | | 🇺🇸 Cheniere Energy | 42b | – | 1% | -5 | 0 |
| 5 | | 🇺🇸 Kinder Morgan | 41b | 17 | 6% | 4 | 8 |
| 6 | | 🇺🇸 Williams Companies | 41b | 21 | 5% | 5 | 18 |
| 7 | | 🇺🇸 Energy Transfer | 37b | 9 | 7% | 8 | 14 |
| 8 | | 🇺🇸 MPLX | 33b | 9 | 9% | 13 | 30 |
It's great to see that we find eight midstream stocks with a market capitalization of +$30b US. This proves that this sub-sector of the energy industry is not a monopoly and not even an oligopoly.
The barriers to entry are surely massive (to build a new pipeline costs many billions, and the permitting takes decades), yet there is enough competition in this space.
What Do Oil & Gas Midstream Companies Do?
In the simplest form,
upstream companies look for oil & gas,
midstream companies transport oil & gas, and,
downstream companies refine and sell the oil & gas.
The most known oil & natural gas upstream stocks
Exxon (XOM), Shell (SHEL), Chevron (CVX)
Well-known oil & natural gas midstream stocks 
Enbridge (ENB), Enterprise Products (EPD), and Kinder Morgan (KMI)
Famous oil & nat gas downstream stocks
Marathon Petroleum (MPC), Valero (VLO), and Phillips 66 (PSX)
Are Pipeline Stocks Good Dividend Payers?
Yes, in fact, pipeline stocks are known to be excellent dividend payers. Technically, many of them are MLP (Master Limited Partnerships). A legal form that does not pay dividends, but "distributions". But as most people are unfamiliar with the difference, I will be using both terms for the rest of the article.
Take a look at the table below, showing that most of them pay dividends for decades, and have dividend yields north of 5%, all supported by substantial free cash flows. 
| | | | | | |
| --- | --- | --- | --- | --- | --- |
| Symbol | Company Name | Dividends Since | Yield % | Free Cash Flow | Employees |
| | 🇨🇦 TC Energy Corp | 1984 | 5.6% | – | 7,000 |
| | 🇨🇦 Enbridge | 1985 | 6.5% | 3,230 | 10,900 |
| | 🇺🇸 Williams Companies | 1985 | 4.9% | 3,053 | 4,800 |
| | 🇺🇸 Enterprise Products | 1998 | 7.5% | 5,819 | 7,000 |
| | 🇺🇸 Energy Transfer | 2006 | 7.2% | 6,183 | 12,600 |
| | 🇺🇸 Kinder Morgan | 2011 | 6.0% | 3,300 | 10,500 |
| | 🇺🇸 MPLX | 2013 | 8.8% | 4,201 | 5,800 |
| | 🇺🇸 Cheniere Energy | 2021 | 0.8% | 6,439 | 1,550 |
Why Does Warren Buffett Like Midstream Stocks?
The OOO (Oracle of Omaha), is known for loving oil & natural gas stocks in general, but that includes midstream stocks. And I can understand why, as oil & nat gas midstream stocks have the following characteristics:
1/ One Of The Most Stable Energy Sectors     
Oil & gas midstream stocks represent in my opinion the most stable sub-sector of the entire energy sector. Their future income is highly predictable, as they have decade-long purchase agreements.
2/ Unimpacted By Volatile Commodity Prices
For example, just 2% of the cash flow of Enbridge (ENB) is sensitive to commodity prices. The other 98% are being provided by long-term, volume-committed contracts, of which 95% of those are with investment-grade customers.
3/ PE Ratios Of Best Pipe Line Stocks
Looking at the PE ratios of the best pipe line stocks, we can see that none of them currently have PE ratios of above 20.
4/ Midstream Stocks Are Great Dividend Payers
When looking at the average dividend midstream in oil and gas stocks pay, we can quickly see that through the board these are great dividends.
5/ Massive Barrier To Entry
As stated above, building a new pipeline requires billions in funding, and permitting can easily take 10-15 years before the actual construction work can begin.
Once a pipeline is built between points A and B, it makes little to no sense to construct another pipeline. That's why midstream companies typically have strong and wide moats around their businesses, ensuring stable income, protecting themselves from the competition, and ultimately enabling the companies to reward their long-term shareholders with good and stable dividends.
My Top Pick
Why Enbridge Is The Best Midstream Stock
Disclosure:  At the time of this writing, I own 460 shares of $ENB worth $19,600 US, in my All-Weather Portfolio.
Overview

Enbridge is an energy delivery company. It provides strategic business platforms that include a network of crude oil, liquids, and natural gas pipelines as well as regulated natural gas distribution utilities. The company is also engaged in renewable energy operating onshore and offshore wind, solar, and geothermal projects.
Founded
1949, HQ in Calgary, Canada
Website
enbridge.com
Market Cap 

$

82b US
Enterprise Value 

$

147b US
PE
19
1/ Enbridge's Moat Is Massive
$

ENB moves 30% of the crude oil produced in the U.S. and Canada
It transports 20% of the natural gas consumed in the U.S.
It operates the world's longest and most complex crude oil and liquids transportation system
It operates North America's third-largest natural gas utility by consumer count
As Canada's largest natural gas utility, it serves 15 Mio people every single day
Take a look at this awesome interactive map, showing all of Enbridge' pipelines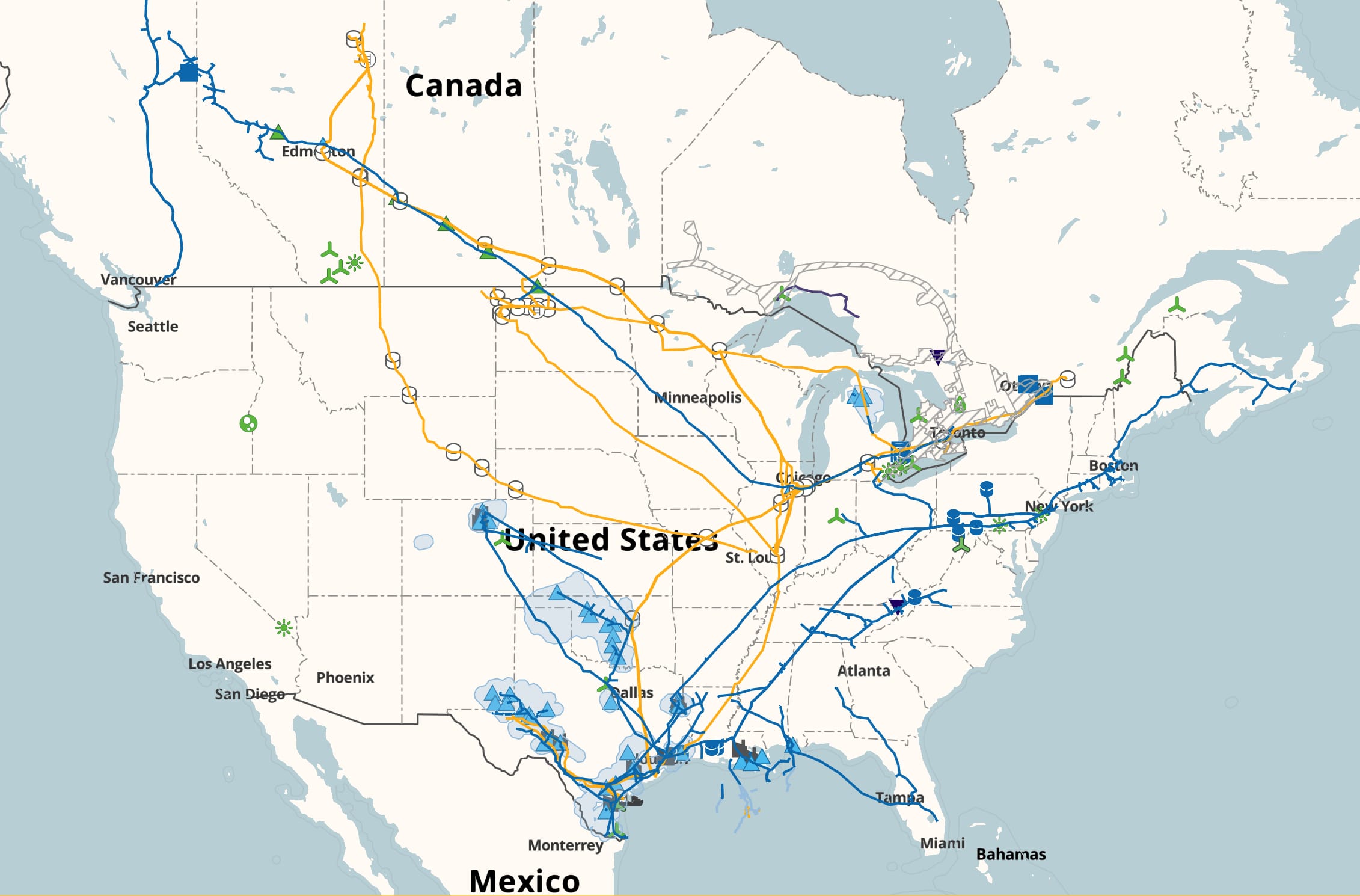 2/ Enbridge Invests Heavily In Renewable Energy 
$

ENB advances a whole variety of new low-carbon energy technologies
It invests in hydrogen, renewable natural gas, and carbon capture and storage
It is committed to reducing the carbon footprint of the energy
It is aiming to achieve net zero emissions, by 2050
Committed

$

8b CAD in capital to renewable energy and power transmission projects
Its renewable energy projects have the capacity to generate 5,192 MW gross of zero-emission energy
Its renewable projects generate energy to meet the electricity needs of about 967,000 homes
3/ Enbridge Is A Reliable Energy Company
$

ENB staged 197 drills, exercises, and equipment deployment events, to test and sharpen its emergency preparedness
It provided emergency response training to more than 2,700 of our employees and direct contractors
It established and follows the most stringent safety SOPs, to be ready for any type of scenario
As a longtime shareholder, I like to hear about the company's willingness and emergency readiness 
4/ Enbridge Pays A Great Dividend, Or Better, Distribution
According to Dividend.com's assessment, $ENB has some excellent dividend metrics (although technically as an MLP, $ENB does not really pay dividends, but rather, distributions):
Yield Attractiveness

Returns Risk

Returns Potential

A+

 

 

6% FY1 EPS growth.
Stable.

A+

 

 

6.29% forward dividend yield.
Top 15%.

A

 

 

0.9 beta (5Y monthly). Inline, directional price swings.

B

 

 

11% price target upside from sell-side analysts. Middle 20%.
For the 460 $ENB shares I own (currently worth approx. $19,000 USD), I received the following dividend in Sep 2022:
Multiply the $300 USD x 4 quarters = $1,200 USD p.a.  And if you take that $ 1,200 USD in relation to $19,000, you get a dividend yield of 6%.
We are still in mostly low-interest rate environments,  that's why I believe midstream stocks' dividends are really attractive in addition to their growth potential.
In the past 5 years, $ENB performed well compared to its two strongest peers:
5/ Excellent Outlook & Longterm Potential For Oil & Nat Gas
The need for reliable oil & natural gas is set to rise.
The current administration makes it difficult for explorers to get permits
The supply of oil & natural gas will therefore be limited and not enough
A world without oil or natural gas is not feasible at this stage
All of this makes midstream companies like

$

ENB vital and important
6/ Owned By Some Of The World's Best Investment Gurus
* Mr. Barrow is the Director of the Dallas-based investment firm 'Barrow, Hanley, Mewhinney & Strauss', and the lead portfolio manager for funds like the 'Vanguard Windsor II', and 'Selected Value Funds'.
7/ Enbridge Is Wins One Fantastic Award After The Other
Source:  Awards and Recognition webpage
Conclusion
There you have it, fellow stackers. My top midstream stock pick is Enbridge (ENB).
I like the high predictability of pipeline stocks, I believe they are good long-term holds and a good addition to any income portfolio. That's why I also hold $ENB in my flagship All-Weather Portfolio.
📘 Read Also
FAQ
What upstream, downstream and midstream oil&gas companies do?

Upstream companies look for oil & gas, downstream companies refine and sell oil & gas, and midstream companies transport oil & gas.

What are the good oil & gas midstream stocks?

What are the best high dividend pipeline stocks?

Pipeline stocks actually pay out "distributions" and not "dividends" as they are MLP (Master Limited Partnerships). See below for those pipeline stocks distributing the most per year:

$MPLX | 🇺🇸 MPLX | 8.78%
$EPD | 🇺🇸 Enterprise Products | 7.52%
$ET | 🇺🇸 Energy Transfer | 7.19%
$ENB | 🇨🇦 Enbridge | 6.58%
$KMI | 🇺🇸 Kinder Morgan | 6.00%

Source: Gurufocus, Nov 2022

What is the biggest oil and gas midstream company?

Is The Antero Midstream Stock A Good Buy?

First off, Antero (AR) is not an oil & gas midstream company, rather, it is a natural gas producer. It develops, produces, explores, and acquires natural gas, natural gas liquids (NGL), and oil properties in Canada. It is the 5th largest , and 2nd largest NGL producer in the United States. Many analysts believe nat gas producers have a lot of tailwind in the coming years, because the economy needs substantial amount of nat gas. Therefore, yes, Antero (AR) might be an interesting addition to longterm commodity portfolios.

What is a midstream energy company?

What does upstream and midstream mean in oil and gas?

Upstream companies explore and produce oil and gas, midstream companies transport the oil and gas from A to B. And downstream companies sell it to end consumers, often through their network of gas stations.

What are the biggest oil and gas midstream company in Canada?
The Best Oil & Gas Midstream Stock
My take is that Enbridge is the best oil & gas midstream stock investors can buy and hold forever in their income portfolios. With a market cap of $30b larger than the 2nd largest player, it is undoubtedly the 800-pound gorilla in the room. I am a long-term believer in the company, and hold it in my All-Weather Portfolio.
PROS
Highest Return on Assets
Highest Return on Equity
Rapid Digital Transformation
Diverse Geographic Footprint
No Withholding Tax
CONS
Not As Massive As Some Peers
Not strong presence in U.S. & E.U.