Key Takeaways

☑️ Three German dividend stocks are presented with a good risk/reward ratio
☑️ The one offering the best value is Deutsche Post, parent of DHL
☑️ Investors need to be patient with this anti-cyclical investment, though 
What Are The Best 3 German Dividend Stocks To Buy?
German dividend stocks have been hit HARD by the general market decline since the beginning of the year. The challenges seem insurmountable, ranging from war, energy crisis, inflation, social tension, and infighting to an ever-increasing wealth gap. But as the old adage goes:
The pessimist complains about the wind.
The optimist expects it to change.
The realist adjusts the sails.
John Maxwell
Personally, I'm an optimistic realist. As investors, we need to look ahead. We need to try to maintain a sober and objective mind, anticipating what is to come. Looking at the mess in Europe and in particular in Germany, I'm asking myself the following key questions:
1/ Will Germany implode?
No.
2/ Is Germany's energy crisis solvable?
Yes. It won't be easy, but Europeans have proven to be a resilient bunch and resourceful if they have to be.
3/ Will inflation remain high forever?
No, but most likely for the coming 6-18 months.
With my replies to the above-mentioned questions, you can see that I consider Europe not to have it easy in the short term, but I assume it will not descend into utter chaos and anarchy. With that backdrop, let's look at the 3x best German dividend stocks, offering income investors an excellent risk/reward ratio.
| | | | | |
| --- | --- | --- | --- | --- |
| Company | ROIC % | Yield % | M.Cap/FCF | PE |
| BASF | 9% | 8% | 16X | 7 |
| BMW | 5% | 8% | 4X | 3 |
| DHL | 12% | 5% | 7X | 9 |
Best German Dividend Stock #1 – BASF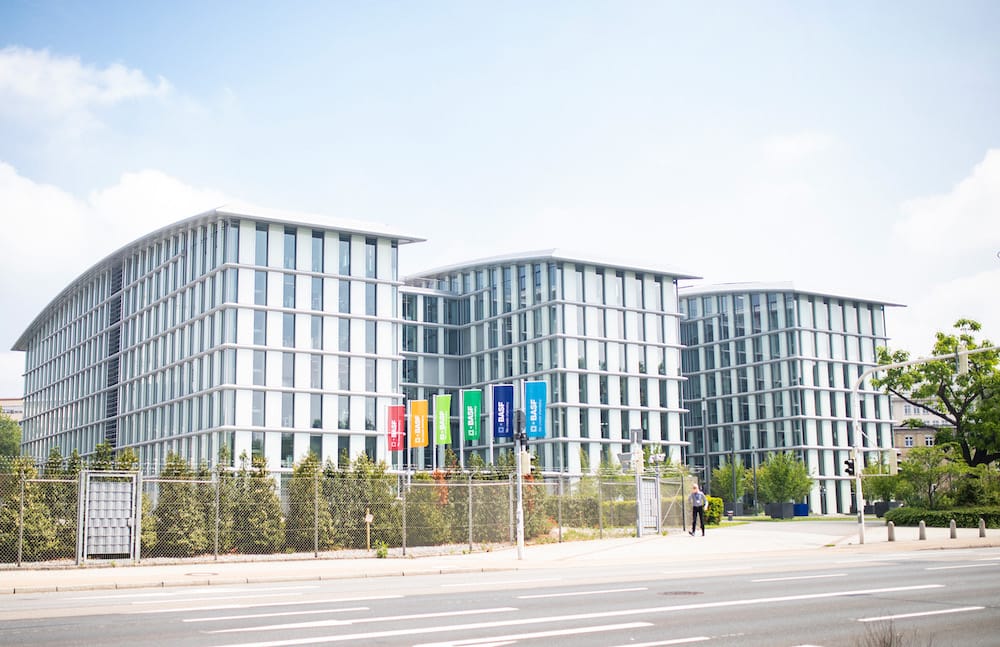 BASF ($BASFY)  is the world's largest chemical company, which I reviewed in detail already here. It is for sure one of the most popular German dividend stocks, and that is for a good reason.
The company has proven to be ultra-resilient, making it through the toughest of times, having to re-invent itself on several occasions. Its products can be found EVERYWHERE, often without us even knowing about it, such as in following products
absorbent sponges in diapers
chemicals for EV battery
surface coatings for the space industry
water treatment solutions
foam for car/airplane seats
etc.
It is highly dependent on energy prices, primarily natural gas. And this is the mess $BASFY currently finds itself – it used to get low-cost nat gas from Russia through Nordstream I, the massive pipeline, which won't come back online for an unforeseeable period of time.
Ticker

$

BASFY /

$

FRA:BAS
Market Cap € M
39,489
Enterprise Value € M
61,055
P/E

(

ttm

)

7.19
PE Ratio without NRI
7.14
Forward PE Ratio
8.29
Is BASF A Buy Here?
I own 285 $BASFY shares with an average purchase price of 53 USD, meaning I am quite under the water. My feeling is that many of the negative drivers are already priced in.
The stock was at 69€ at the beginning of the year, and now sits at 42€, that's a 40% decline within eight months. Although with challenges, $BASF still generated more than 2 Bio in free cash flow, hence I think for long-term oriented income investors, $BASF is a buy here.
Best German Dividend Stock #2 – BMW
BMW ($BAMXF) is a global brand with a loyal customer base. In Europe, families tend to remain with their preferred car brand for an entire generation. In my case, I was born into a 'BMW family', as we'd not consider buying anything else. My grandfather and uncle, on the other side, loved buying and driving Mercedes. To each their own!
Ticker
 

$

BAMXF  
Market Cap € M
49,421
Enterprise Value € M
111,345
P/E

(

ttm

)

2.79
PE Ratio without NRI
2.72
Forward PE Ratio
4.67
Whenever I see low PE ratios of 2.79, like at the moment with $BAMXF, I become doubtful and concerned. Sub 6 PE ratios usually mean trouble. Something is off. In BMW's, I believe a whole sleuth of challenges lies in its way:
massive supply chain issues
chip shortages
fierce competition
energy crisis
the transition from ICE to EVs
rampant inflation, and last but not least,
war in Europe.
Quite the deadly cocktail. I think no wonder the PE below 3 (!), and the stock is so cheap.
One big concern is the very low ROIC of around 4%. This ratio gives you a reference how much money the management generates with the "invested capital". With a ROIC of just 4%, you could literally sell the whole company, and re-invest all the assets in a AAA-bond yielding about 2,5%, without any employees, risk, uncertainties, etc.
Warren Buffett looks at this number a lot, explained super well in this great explainer video:
Is BMW A Buy Here?
No one can know if we have seen the lows yet, but it is reasonable to assume that a lot of negative sentiment is already priced in. BMW still generates a whipping 11 Bio Euro in free cash flow (!), and I believe has manageable debt levels. Personally, I initiated the first position and recently bought 180 BMW stocks x 69,45€ just in July, as I believe the company will do fine once it made it through the coming 12-36 months.
However, having said that, I would only slowly scale in, or dollar cost average into the stock, and not go all in.
Best German Dividend Stock #3 – DHL 
Deutsche Post ($DPSGY / $FRA:DPW), the parent company of DHL Worldwide, is the largest shipping carrier in the world by amount of employees (590k DHL, 570k FedEx, 490k UPS), but according to revenues, it's at the 3rd spot (UPS is 1st). The company was founded and is based in Germany's former capital, Bonn.
What I like about Deutsche Post is that its a beneficiary of the online delivery megatrend. People increasingly order online, and shipping companies like $DPSGY benefit from this trend. Further, JIT (just in time) delivery and production is also ever becoming more popular, making the need for logistic solutions increase.
The financials of $DPSGY are solid. It generates $6,2 Bio in free cash flow, and is only valued at a Market Cap/FCF ratio of 7x, meaning should you acquire the whole company, your investment would be paid back to you within 7 years (while you'd still own all assets)!
It pays a dividend of 5% while having a low PE ratio of 9.
Ticker

$

DPSGY
Market Cap $ M
43,506
Enterprise Value $ M
58,132
P/E
8.87
PE Ratio without NRI
8.87
Forward PE Ratio
9.17
Is Deutsche Post A Buy Here?
I believe this is a strong yes.
The chance we as consumers will stop buying stuff online is less than small, and with DHL's global footprint, it is well-positioned to benefit from this ongoing megatrend for literally decades to come!
It is fairly valued (PE below ), has a good ROIC (above 11%), and has a strong moat with a massive network, vans, planes, distribution center, amount of employees, etc. I am a buyer here and just purchased 100x $DPSGY at 40€ on Aug 9th.
Conclusion
If I could only choose one of the presented German dividend stocks, my favorite pick would be Deutsche Post/$DPSGY. With the highest ROIC of the presented three companies, I find all of the stock ratios convincing. It doesn't have the lowest PE, but as you can learn from the above-shown video, the ROIC is typically more important, and DHL has the highest of the bunch, and in my opinion, presents the best risk/reward ratio.
I think all three stocks deserve a spot in long-term dividend portfolios, and I see all three of them as great buy-and-hold forever stocks.
📖 Read Also
FAQ