Key Takeaways
✅ I present 10 dividend stocks you can buy and hold forever
✅ All those stocks are hand-picked and part of my income portfolio
✅ I share the key points and reason why I picked each stock
The 10 Dividend Stocks You Can Buy And Hold Forever
Understanding the magical power of compounding interest, I made it my goal to find the world's best dividend stocks you can buy and hold forever. The aim is to find companies with wide moats, in excellent industries, with business models that they can scale and that produce sufficient cash for stable dividends.
In my All-Weather Portfolio, I own 40 of such stocks. But in this post, I focus on my 10 all-time favorite dividend stocks you can buy and hold forever.
Please note: These 10 dividend stocks do not represent a balanced diversification or any portfolio allocation I suggest. These stocks are merely my personal favorite dividend stocks.
#10 🇭🇰 Link REIT – The Largest REIT in Asia.
| | |
| --- | --- |
| Market Cap | 13.8b USD |
| Dividend | 5.9% |
| PE | 7 |
| Net Margin (%) | 59.4% |
I am a long-time owner of LinkREIT (LKREF), in my opinion not only the largest but also the best REIT in Asia. It owns 130 in Hong Kong and 30 commercial properties in key first-tier cities in China.
It also owns grade-a office buildings in Sydney, Melbourne, and London. It has a total market cap of 13.8b USD, pays an attractive dividend of 5.9%, and has a low PE of 7.
In my point of view, $LKREF provides long-term investors with an excellent way to benefit from the rise of Asia. Of course, there are certain risks attached to the REIT's heavy investment in Hong Kong, but where can investors find investment opportunities without any risk these days?
The share price came down substantially in the past two years, making it interesting for the long-term-oriented investor to start building a position. To me, $LKREF clearly is one of Asia's best dividend stocks you can buy and hold forever.
#9  🇩🇪 BASF – The World's Largest Chemical Company
| | |
| --- | --- |
| Market Cap | 44.0b USD |
| Dividend | 6.9 |
| PE | 8 |
| Net Margin (%) | 5.8% |
BASF (BASFY) is the world's largest chemical company which I have already covered in detail here, and here. It is one of the most popular German dividend stocks, and for good reason.
The company is extremely resilient. It has survived world wars. It reinvented itself repeatedly. Its products are literally everywhere, without us knowing. See the following use cases:
diaper absorbent sponge
EV battery chemicals
surface coating for the aerospace industry
water treatment solutions
foam for car and airplane seats
I have zero doubt $BASFY will be around when I am long gone.
Let's do a quick portfolio visualization via portfoliovisualizer.com, will the following fictional scenario: We buy $10,000 US worth of $BASFY stock in 1992, exactly 30 years ago. We keep re-investing the dividends but don't add to the position. This is what we'd get:
Our position of $10,000 USD would have grown to $115,000 USD (upper chart). Not bad, but also nothing great.
However, in 2022 alone we got an annual dividend of $8,954 USD. So in both 2021 and 2022, we are receiving 89% of the original amount invested in the form of passive income (see lower chart). The power of dividend investing!
#8  🇨🇦 Brookfield Renewable – 'Clean' Energy Is Life
| | |
| --- | --- |
| Market Cap | 5.6b USD |
| Dividend | 3.9% |
| PE | 17 |
| Net Margin (%) | 18.9% |
Brookfield Renewable, with the ticker symbols $BEP, a Bermuda-based company, or $BEPC, a Canadian entity (see more info here), is a public limited partnership that owns and operates renewable energy assets.
It purchases and operates hydro, solar, wind, and energy conversion plants. It is headquartered in Toronto, Canada.
One interesting point is that Brookfield Asset Management, one of the world's largest PE funds, owns 60% of $BEPC.
In 2021, Brookfield Renewable had sales of $1.1b USD. $BEPC manages $65 billion AUM, employs 3,200 people, and has 6,000 power generation assets. It is one of the world's largest investors in renewable energy with a generating capacity of around 21,000 megawatts (that's (that's 21 thousand MEGAwatt hours).
Energy is life, as the little green chicken says. And 100% clean energy from renewable power sources is even better. I see $BEPC as one of my core holdings and as one of the best renewable dividend stocks you can buy and hold forever.
#7 🇬🇧 Unilever – Sustainable Products In Every Room Of The House
| | |
| --- | --- |
| Market Cap | 120.5b USD |
| Dividend | 3.5% |
| PE | 21 |
| Net Margin (%) | 10.4 |
We as a family of four use products of the global consumer good company Unilever (UL), on a daily basis. Its food and drinks, beauty, personal care, and home care products are to be found in every single room in our home.
From the kitchen to the pantry, to the bathroom to the bedroom. Below are some of our family's most-used Unilever products:
Dove soap
Omo/Persil washing powder
Magnum ice creme
Rexona personal care
Lifebuoy soaps
Lux personal care
The image below shows the brand portfolio depth and width, with 400 brands in total!
The beauty and personal care business segments historically generate most of the profit, however, the food and drinks segment recently grows faster.
$UL has 12 brands generating over $1 Bio USD in sales. It has been operating in the UK since the 1880s and made a name for itself with its innovative product, Sunlight Soap. $UL has six R&D labs, focused on delivering breakthrough innovations, and 31 major R&D labs focused on developing and implementing product innovations.
$UL currently employs 6,000 of his people in research and development. Unilever invests around €1 billion in research and development each year and has a portfolio of over 20,000 patents and patent applications.
This focus on innovation and R&D makes me as a long-term investor sleep well at night, knowing that $UL is constantly innovating and working on the next big product. To me, this is one of the most classic dividend stocks you can buy and hold forever and $UL deserves a spot in your portfolio.
#6 🇩🇪 Allianz – Securing Futures In Every Country In The World
| | |
| --- | --- |
| Market Cap | 83.4b USD |
| Dividend | 5.3% |
| PE | 19 |
| Net Margin (%) | 5.8% |
I am a long-time health insurance customer of Allianz (ALIZY), for over a decade. In other words, I am using its products myself, and have dealt with its customer service teams substantially. From my interactions with $ALIZY, I can attest firsthand that this is a solid no BS company with good values and products.
The table below shows the 10 largest insurance stocks, ranked by dividend yield:
| | | | | |
| --- | --- | --- | --- | --- |
| Company | Yield | Pays Dividends Since | Market Cap | PE |
| Swiss Re | 7.23% | 1994 | | 47 |
| AXA | 5.66% | 2020 | | 9 |
| Allianz | 5.30% | 2000 | | 12 |
| Zurich Insurance | 4.74% | 2016 | | 14 |
| Munich RE | 3.69% | 2000 | | 15 |
| MetLife Inc | 2.58% | 2000 | | 29 |
| AIA Group | 1.99% | 2011 | | 33 |
| Prudential | 1.58% | 1986 | | 16 |
| Chubb | 1.52% | 1993 | | 15 |
| Aon | 0.72% | 1985 | | 24 |
$ALIZY operates in more than 70 countries and employs around 150,000 people.
The parent company, Allianz SE, is headquartered in my hometown, Munich, Germany. $ALIZY has more than 100 million customers worldwide and its services span property and casualty insurance, life insurance, health insurance, and wealth management.
$ALIZY pays a dividend of 5.3%, with only two other insurance companies paying a higher yield.
For the 50 Allianz shares I own, I received the following dividend in May 2022:
Since then, I purchased an additional 40 shares of $ALIZY, bringing my total share count to 90. The dividend was just announced to be 10.80€, an increase of 3%. Below are all my $ALIZY transactions (in $, only the last line is in €).
#5  🇺🇸 Anheuser-Busch, Celebrating Togetherness One Beer At A Time
| | |
| --- | --- |
| Market Cap | 111.3b USD |
| Dividend | 0.7% |
| PE | 29 |
| Net Margin (%) | 8.8% |
My favorite beer is Stella Artois, one of the many beer brands owned by Anheuser Busch (BUD).
Compared to its competitors, $BUD is 2x larger than its second-biggest peer, Heineken (HEINY).
Although other beer dividend stocks have better yields, and lower PEs, the sheer size of $BUD's portfolio, its financial strength, and vast resources and reach make me confident that it will get through these 2-3 tough years and not lose its crown.
Co

mpany
Pays Dividends Since
Market Cap
Yield
PE
Anheuser-Busch
2010

112b

1.0%
22
Heineken
1996

53b

1.6%
14
China Resources Beer
2017

19b

1.2%
33
Carlsberg
2010

17b

2.8%

At Loss

Asahi
2004

15b

2.8%
15
Tsingtao Brewery
2019

14b

1.89
34
Looking at the chart below, showing the price-to-sales and free-cash-flow ratio, we can see that $BUD historically speaking is attractively priced.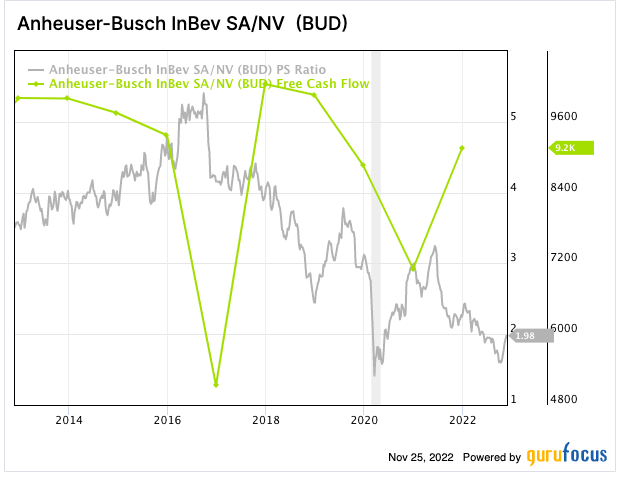 $BUD is number 5 on my list of dream dividend stocks you can buy and hold forever.
#4  🇺🇸 Johnson & Johnson – Taking Care Of Us Our Whole Life
| | |
| --- | --- |
| Market Cap | 462.8b USD |
| Dividend | 2.6% |
| PE | 24 |
| Net Margin (%) | 19.9% |
In fourth place is Johnson & Johnson (JNJ), similar to my 7th dividend stocks you can buy and hold forever, creating products we as a family use on a daily basis. Its products also can be found in every room of our home:
Johnson's Cremes skincare
Neutrogena skincare
OGX shampoo
Band-Aid
Listerine mouthwash
Motrin fever medicine
$JNJ's brands are part of our lives. As a long-term $JNJ ∫shareholder, I love using the products of the companies I am invested in. In this regard, I don't buy the products of a company because I own stocks in it.
I buy the stock of the company I know produces great products. Products I and my family intend to keep using for a long time. And it gives me a good feeling of getting more in dividends paid to me than money spent in a year.
The most recent $JNJ dividend paid was $1.13 USD/share. For the 80 shares in $JNJ I own, I currently receive $81,36 USD per quarter, that's 325 USD per year.
What about Johnson & Johnson's upcoming split-up?
The upcoming split up of $JNJ into two companies, namely a pharmaceutical and one consumer health company is set to happen in 2023. I intend to keep holding both shares for decades to come and expect that substantial potential will be unlocked from this move.
What will happen to my JNJ shares after the split-up?
After the split-up, investors will keep owning $JNJ shares of the larger pharmaceutical division and will receive shares of the consumer health NewCo (name still to be decided).
Like To Know What Are My Top 3 Dividend Stocks You Can Buy And Hold Forever?
Click the button below to instantly unlock my Top 3 Dividend Stocks.
FAQ
What are the best dividend stocks of all time?
What are the best dividend stocks to buy and hold?
Try to find companies with stable business, wide moats, and excellent industry fundamentals, such as:
– Real estate investment trusts like Public Storage (PSA), Realty (O), or Senior Living REITs such as Welltower (WELL)
– Consumer staples companies such as Unilever (UL), PepsiCo (PEP), or Procter & Gamble (PG)
What are the best dividend-paying stocks for the long term?
Taste differs, but when considering dividend-paying stocks for the long term, don't look at the disruptive and fast-moving Tech space. Rather, choose companies producing products that do not need to be reinvented every single year:
– Bad examples: Tech, cyclical, automotive, and biotech such as $MSFT, $AAPL, or $PYPL
– Good examples: Consumer staples, REITs, healthcare, and industrial companies such as $PEP, $JNJ, $PSA, or $WELL
What are good dividend stocks to buy and hold?
What are the best dividend stocks of all time?
What are 6 stocks to buy and hold forever?
Avoid tech, cyclical, and biotech firms, as these industries are changing too quickly (see Kodak, Nokia, or Sony-Ericcson). Rather, choose companies from industries that do not need to change their core product frequently, example:
– consumer staples companies: Johnson & Johnson (JNJ), Kraft-Heinz (KHC), or Mondelez (MDLZ)
– real estate investment trusts: Public Storage (PSA), Realty Income (O), Senior living REITs like Welltower (WELL)
– industrial companies: Siemens (SIEGY), 3M (MMM), Danaher (DHR), or Honeywell (HON)
– healthcare companies: AbbVie (ABBV), Pfizer (PFE), or Fresenius Medical Care (FMS)
Should I buy dividend stocks or growth stocks?
Technically, it does not matter if a company pays you a dividend, as it takes the money out of its cash reserves and is therefore less worth as a company post-dividend. But dividend stocks provide you with passive income, typically each quarter, and income investors love the feeling of receiving actual cash in their accounts. This passive income is appreciated and loved by many income investors
What are buy-and-hold forever dividend stocks?
Which stock is best for long-term holding?
Opinions differ. Most investors prefer dividend stocks that provide you with passive income in form of dividends. Such dividends are typically paid quarterly (in the U.S.), or annually (in Europe). Populsar stocks that investors hold for the longterm are consumer staples stocks such as Procter & Gamble (PG), and Johnson & Johnson (JNJ) or industrial companies such as 3M (MMM).
What are the best dividend yielding stocks?
With "best dividend yielding stocks" investors can mean very different things, such as highest-yielding dividend stocks, dividend growth stocks, reasonably priced dividend stocks, etc. One recommendation is to look for dividend stocks with dividend yields between 3-9%, low debt, and low PEs. Examples:
– BHP (BHP)
– Shell (SHEL)
– AT&T (T)
– Pfizer (PFE)
– Cisco (CSCO)
What are the best dividend stocks to buy and hold forever?
Arguably the 12 best dividend stocks to buy and hold forever:
– Realty Income (O)
– Johnson & Johnson (JNJ)
– Walmart (WMT)
– Microsoft (MSFT)
– Pfizer (PFE)
– Nestlé (NSRGY)
– 3M (MMM)
– Church & Dwight (CHD)
– Procter & Gamble (PG)
– Exxon Mobile (XOM)
– Public Storage (PSA)
– Shell (SHEL)
– Kimberly Clark (KMB)
– AT&T (T)