Key Takeaways
☑️ The three best self storage stocks are reviewed
☑️ The storage industry is recession-resistant
☑️ Six of the best storage stocks are from the U.S
☑️ Three are from Europe
☑️ The undisputed storage REIT is Public Storage
The Self Storage Industry – Explained
Self-storage is a massive industry. In fact, it is generating more revenue than Hollywood!
There are more storage facilities in the U.S., than Starbucks, McDonald's, and Pizza Hut combined.
There are more than 60,000 storage facilities in the world. Of those, approx. 52,000 are in the United States, about 3,000 in Australia, 3,000 in Japan, and the remaining 2,000 in multiple countries.
Essentially all self storage stocks are real estate investment trusts (REITs). So for the remainder of the article, the terms self-storage stocks, mini storage stocks, or self-storage REITs, are used interchangeably.
Why Do People Use Self Storage?
The need for self-storage space is constantly increasing with the rise in population. Self-storage stocks have been at the forefront of this boom and have been providing quality storage space and services to their customers since the 1960s when Public Storage was founded.
In this article, I'll review the world's 9 best self storage stocks on the market, so that you can make an informed decision about your investment strategy.
Are Storage REITs A Good Investment?
I have been personally engaged in the self-storage industry for years and spent a substantial amount of time studying the industry in detail. After having started my own self-storage company, you can see me as an 'insider', who had the opportunity to look behind the curtains of many leading self storage companies.
From my findings, the industry has excellent fundamentals, and almost all companies in the storage sector do reasonably well (see some of the tables below).
In Real Estate – Size Matters!
Let's first take a look at the largest player in the entire real estate sector (not just self storage stocks):
Notice there are only two companies with net margins above 50%:
No surprise, similar to other industries, the largest player benefits from economies of scale the most:
They typically get lower rates from their banking partners, they get lower construction fees per sqft/m2, their third-party expenses are spread across several properties, etc. That's why it does not surprise that the three largest self storage stocks also have the best numbers.
Let's begin by looking at the largest self storage stocks and storage REITs globally:
The Largest Self Storage REITs
| | | | | | |
| --- | --- | --- | --- | --- | --- |
| Company Name | M.Cap in Mio $ | Sales in Bio $ | PE | Yield | ROIC % |
| Public Storage 🇺🇸 | 51,142 | 3,825 | 25 | 2.8% | 12% |
| Extra Space 🇺🇸 | 22,097 | 1,758 | 25 | 3.5% | 9% |
| Life Storage 🇺🇸 | 8,537 | 904 | 27 | 4.1% | 6% |
| CubeSmart 🇺🇸 | 8,462 | 922 | 35 | 4.6% | 5% |
| Shurgard 🇪🇺 | 3,688 | 314 | 6 | 3.0% | 4% |
| National Storage 🇺🇸 | 3,592 | 711 | 40 | 5.3% | 5% |
| Big Yellow 🇬🇧 | 2,246 | 194 | 3 | 4.0% | 5% |
| Safestore 🇬🇧 | 2,015 | 235 | 4 | 3.4% | 5% |
| Smartstop 🇺🇸 | 1,322 | 192 | – | 0.0% | 3% |
Return On Assets Of The Best Storage Companies
Storage companies have very good average fundamentals.  Let's for example look at the Return On Assets (ROA in %) of the five largest ones: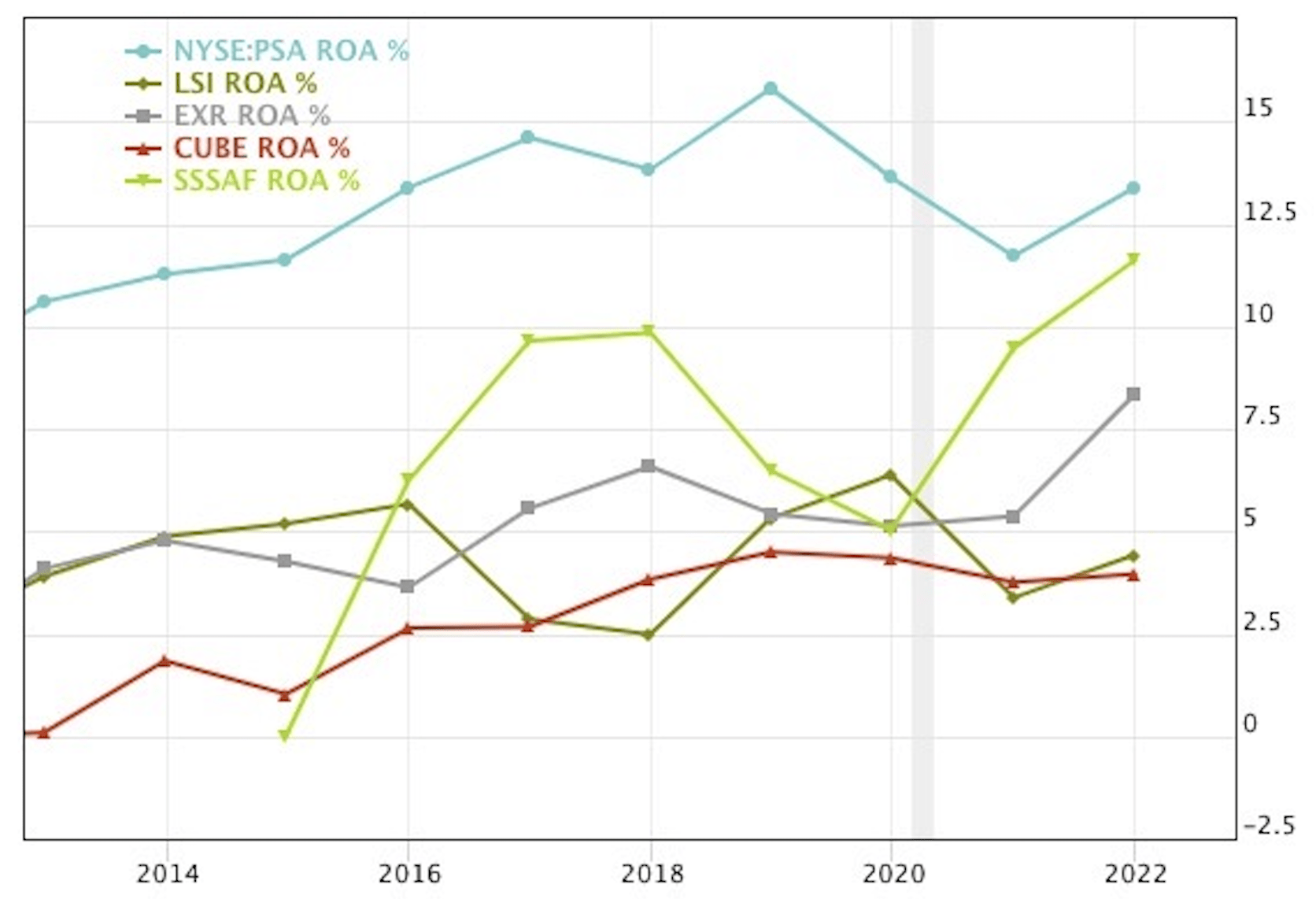 Net Margins Of The Best Self Storage Stocks
And let's take a look at the average net margins of the top self storage stocks in the U.S.: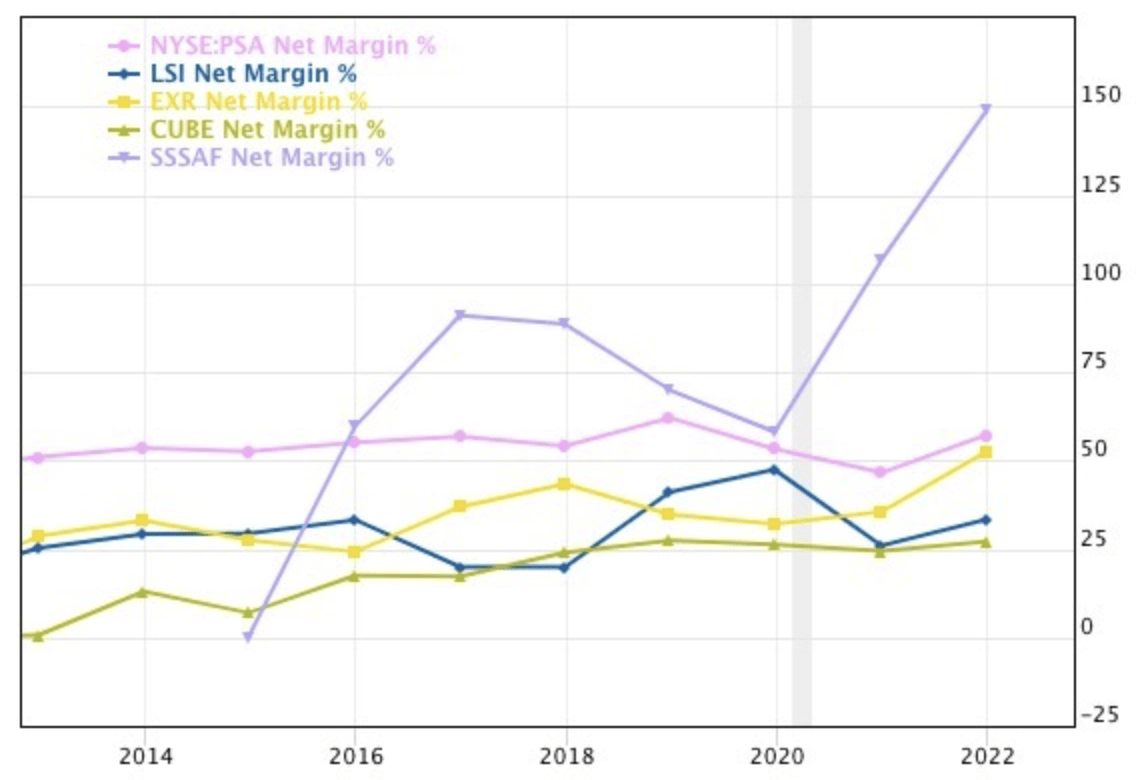 Do you know any other industries in which the "worst" player has a net margin of 25% or higher!?
PE Ratios Of The Leading Self Storage Stocks
The 3x Best Self-Storage Stocks
Let us now review the three best self storage stocks. On spot 1 is Public Storage.
 🏆 Public Storage – The World's Nr. 1 Storage Company
The 800-pound gorilla in the room is the undisputed category leader, Public Storage.
Public Storage (PSA), is the oldest and largest storage REIT in the United States. It owns more than 2,500 facilities with a total of over 1 billion square feet of space. The company was founded in 1972 by businessman Harold Shoen and his son, Robert Shoen.
The company has grown to become the largest self-storage company in the world, owning Shurgard in Europe.
You might know Public Storage from its quite awesome storage TV commercials, such as this one:
🧐 Fun Fact #1: The Never-Loose Portfolio
Public Storage (PSA) is one of the five stocks of a unique and special model portfolio. With this portfolio consisting only of five stocks, you would have not had one year with a losing year! Every single year, your portfolio would be up. The five stocks are
Does Public Storage have a European subsidiary?
Yes, Public Storage owns 35% of Shurgard, Europe's largest self-storage stock, which it acquired in 2006 for $5.5 Bio US. Later on, Shurgard was spun out into a publicly-traded entity and is now listed on the Euronext. Shurgard owns more than 250 self-storage facilities and storage space stretching over 1.3 Mio net rentable square meters in seven countries in Europe: the United Kingdom, Belgium, Germany, Netherlands, France, Sweden, and Denmark.
Fun Fact #2: Originally Private Storage
Did you know that Public Storage (PSA) originally was called 'Private Storage'? But because potential customers who drove or walked by did not date to access the property because they thought it was private property, the name of the company was subsequently changed to Public Storage.
Life Storage – The Undisputed Nr. 2
Although Life Storage (LSI) is only the third largest storage REIT in terms of facility count and turnover, it is clearly the strongest contender to Public Storage's throne. $LSI is an equity REIT that acquires and manages self-storage facilities throughout the U.S.  Its headquarter is in Buffalo, New York, and it owns and operates +1,100 locations in +35 states.
I like the fact that $LSI puts the customer, and their unique stories, first. Just take these words, taken from their website:
"No one has ever decided out of the blue that they needed self-storage. No matter what life event brings you to our doorstep, Life Storage is here to help you hang onto the things that are important to you."
🧐 Fun Fact #3: Uncle Bob
Before the companies merged, Life Storage also operated under the brand names  Sovran Self Storage, and Uncle Bob's Self Storage
Extra Space Storage – Big But With Challenges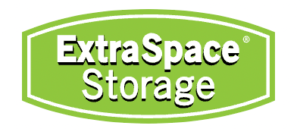 Extra Space Storage (EXR), the number two in terms of owned/operated storage facilities and market cap.
It is a real estate investment trust headquartered in Cottonwood Heights, Utah, that invests in self-storage. It operates as a REIT and has been around for over 20 years. It currently operates about +2,000 facilities, in 41 states. It also provides property management services to third-party storage owners.
It is known for its savvy digital marketing and social media (the Extra Space Instagram account is worthwhile to check out). It is led by a charismatic CEO, Joseph Margolis (since 2017).
One thing to note is that Extra Space Storage lacks is in good customer reviews. It only has an average rating of 2,7 on Trustpilot, whereas Life Storage for example has 4.6 and Public Storage has 4.7. See the image further down below.
Which Self-Storage Company Gets The Best Reviews?
To find out, let's turn to Trustpilot.com, one of the world's most popular review sites. Public Storage (PSA) comes out on top with an average rating of 4.7, followed by Life Storage (LSI) with 4.6. Extra Space Self Storage (EXR) and Cube Smart Self Storage (CUBE) have pretty bad ratings with 2.7 and 2.5 respectively.
Self-Storage Stocks Sample Portfolio
Over on SimplyWallstreet, I created a sample portfolio consisting of the before-mentioned three leading self-storage stocks. I also added two self-storage companies from Europe: Safestore and Shurgard. Click here to check them out.
I invested 10,000 USD of paper money into each of the five self-storage stocks. Now, one year later, the portfolio is down by about 9%, in line with the S&P500 (excl. dividends).
So, What Is The Best Storage Company To Invest In? 👇
Conclusion 
There you have it, folks. The best self storage stocks reviewed.
In my opinion, Public Storage with the ticker symbol $PSA ticks ALL boxes of an excellent buy-and-hold forever self storage stock!
A fortress-like balance sheet, excellent net margins, massive free cash flow, a good dividend, a recession-resistant business model, and wide-open potential to grow internationally.
My plan is to sell this dividend king, and buy $PSA instead.
📖 Read Also
How To Find Good Self-Storage Stocks
Total time needed: 5 minutes
Step 1: Head over to SimplyWall.St.
SimplyWall.st is a great site allowing you to get a sense of the current valuation of specific stocks.
Step 2: Compare The 5x Best Self-Storage REITs.
With the free plan, you can analyze up to five stocks. Look for the first one, e.g. National Storage Affiliate Trust (NSA), and on the top right menu next to 'Add to watchlist' and 'Add to portfolio', click on 'Compare'. Now, look For A Good 'Share Price vs. Fair Value' Ratio
Step 3: Compare Valuation Scores.
SimplyWall.St's in-house valuation algorithm is generally good at giving you a quick overview of how the particular self-storage stock compares to its peers. A higher valuation score (e.g. PSA's 4 vs. EXR's 2) is generally a good sign.
Step 4: Analyze the Price to Earnings Ratio vs Peers
One SimplyWall.st chart I really love is the PE-to-Peers comparison. A quick glance is enough to see that Public Storage is valued relatively attractively, while NSA and CUBE appear a bit overpriced.
Step 5: Compare Dividend Yields
Taking the dividend yield of $NSA as an example, we can see that it pays a high dividend yield, however, its dividend does not appear to be growing, and it also is not stable.
Supply:
right seach criteria
PE
dividend yield
valuation scores
Tools:
Within a few minutes, SimplyWall.st helps you to analyze the five best self-storage stocks. Of course just because the site tells you that one specific stock is undervalued, you should go ahead and buy it. But it is an excellent starting point to begin your research process.
By using my invite link, you receive a 14-day free trial and unlimited company views so you can experience the platform's full functionality for an extended period of time.
FAQs
How to find the best self-storage stocks?
Finding the best self-storage stock, also called storage REITs, is quite straightforward because there are less than a dozen publicly-listed self storage stocks, namely $PSA, $EXR, $LSI, $CUBE, $XBRU:SHUR, $NSA, $LSE:BYG, $STU:IHF and $STSFF. I'd look at those REITs with the highest ROIC, ROA, Funds from Operations/Assets, also called FFA, and lowest PE. As of 2023 January, the three best storage stocks are Public Storage (PSA), Extra Space Storage (EXR), and Life Storage (LFI).
After the Store Capital buyout, why not buy a self-storage REIT?
Which storage REIT stock should I buy?
If you could only buy one self storage stock, I'd recommend Public Storage (PSA), without a doubt!  It's the category pioneer, the largest storage REIT in the world, a good dividend payer, a highly profitable company with a fortress-like balance sheet, and a well-diversified asset portfolio.
Is the self-storage market saturated?
No. The self-storage market in the U.S. is still extremely fragmented. There are approx. 52,000 facilities in total, and the largest self-storage companies (see table above), only own about 10,000 in total. This means there is still a lot of room for new players to enter, or for existing players to consolidate and acquire smaller storage companies. The best self storage companies are reviewed in this post.
What are the 3 best storage REITs to buy?
What are the best self-storage stocks?
What are the best self-storage stocks?
How to invest in self storage stocks?
The best self storage stocks are listed on major exchanges such as the S&P500 or Russell 2000 meaning you can buy that at your preferred brokers.
Which self storage stocks are a good investment? 
As the self storage industry has strong fundamentals, most of the self storage stocks or storage REITs offer good risk/reward ratios. Public Storage is a cashflow-powerhouse, paying good dividends, owning +2,500 storage facilities all over the country (as well as all over Europe), and is a long-term favorite of income investors.
Why are self-storage stocks down in 2023?
Many self-storage stocks did not do well in 2023 due to the rapidly rising interest rates. Not all but some of the leading storage companies have high debt loads, and with increased interest expenses, they might not be able to be as profitable as before or see declining profit margins as interest costs go up.
Is Public Storage buying Life Storage?
Public Storage $PSA just announced an $11 Bio USD take-over bid for Life Storage, the 3rd largest and listed mini storage REIT in the world. It is now up to the shareholders of Life Storage to vote on the offer. Personally, I hope they vote "no" as Public Storage is already huge enough, and I believe it is better for the competition, and therefore us the consumer, to have at least 4-5 large storage REITs "fighting for our money".
WiseStacker's Take
I believe Public Storage (PSA) is the best self storage stock there is. It is the 800-pound self-storage gorilla, and offers everything you want in a self-storage you you can even buy-and-hold forever.
PROS
Excellent industry fundamtentals
Lowest CAPEX requirements (real estate sector)
Fortress-like balance sheet
Very high net margings ( 50%)
Stable and solid dividend
Large potential via capturing new regions
CONS
Storage business is not "sexy"
Higher interest rate make it harder to finance new properties
Review Breakdown
Financial Strength

Predictability

Growth Rank

Dividend

Overall Rating