What Is Hedera HBAR
Hedera Hashgraph, as I wrote before, in my opinion, is the most promising DLT network with the best security (aBFT!), governance, throughput, and sustainability. Its network utility is called HBAR.
As some community members asked me what the best way is to invest in Hedera and get started, I created this simple step-by-step How To Invest in Hedera tutorial.
How To Invest In Hedera HBAR
Total Time: 30 minutes
Step 1) Install A Hedera Wallet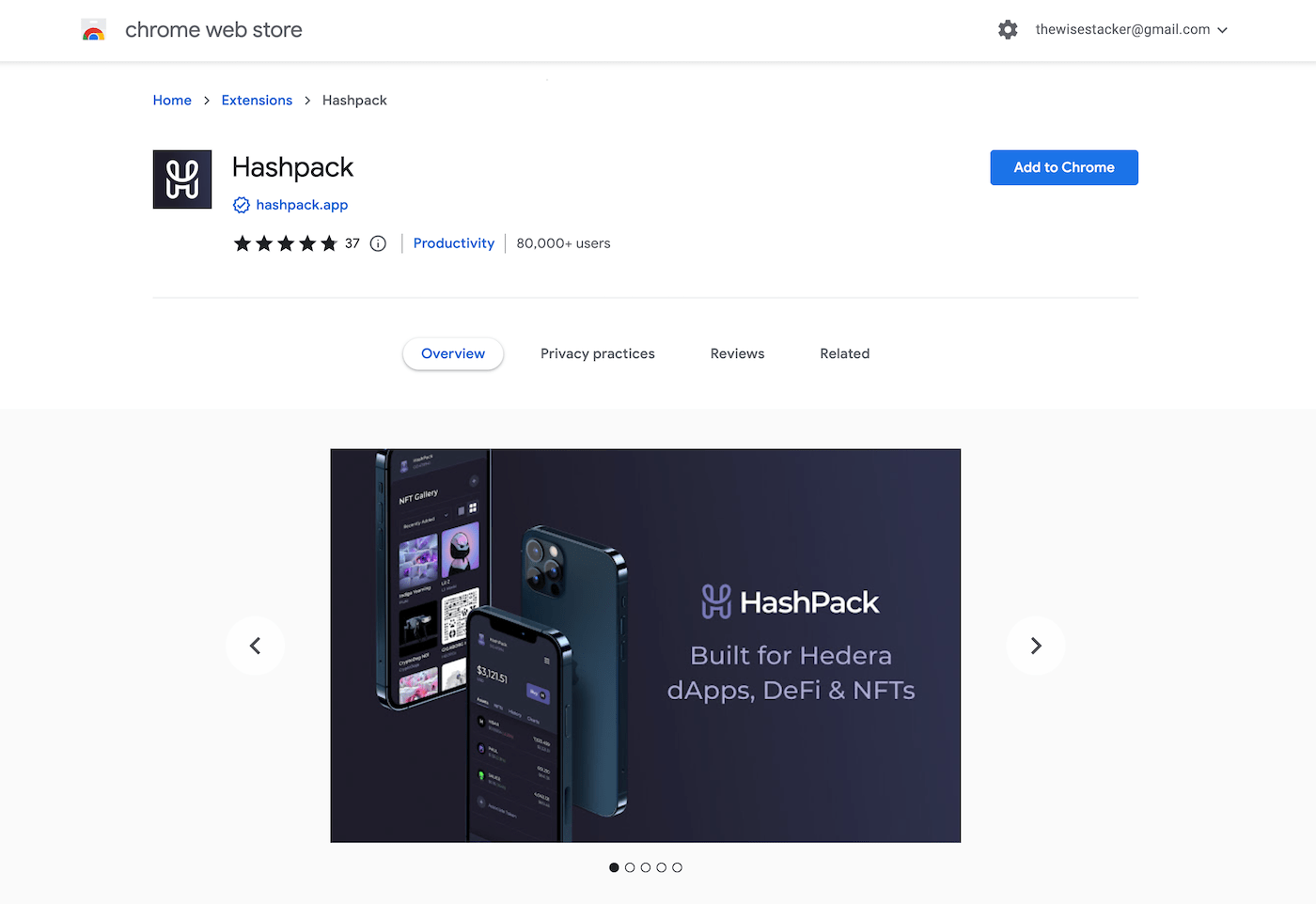 We start by installing a Hedera wallet. The one we use for this step is Hashpack, a Chrome extension. Go to the Google Webstore, search for 'Hashpack', and install the extension.
Alternatively, you can install a Hedera Wallet on your Android or iPhone. In this case, I recommend you install the WallaWallet.
Step 2) Create A Hedera Account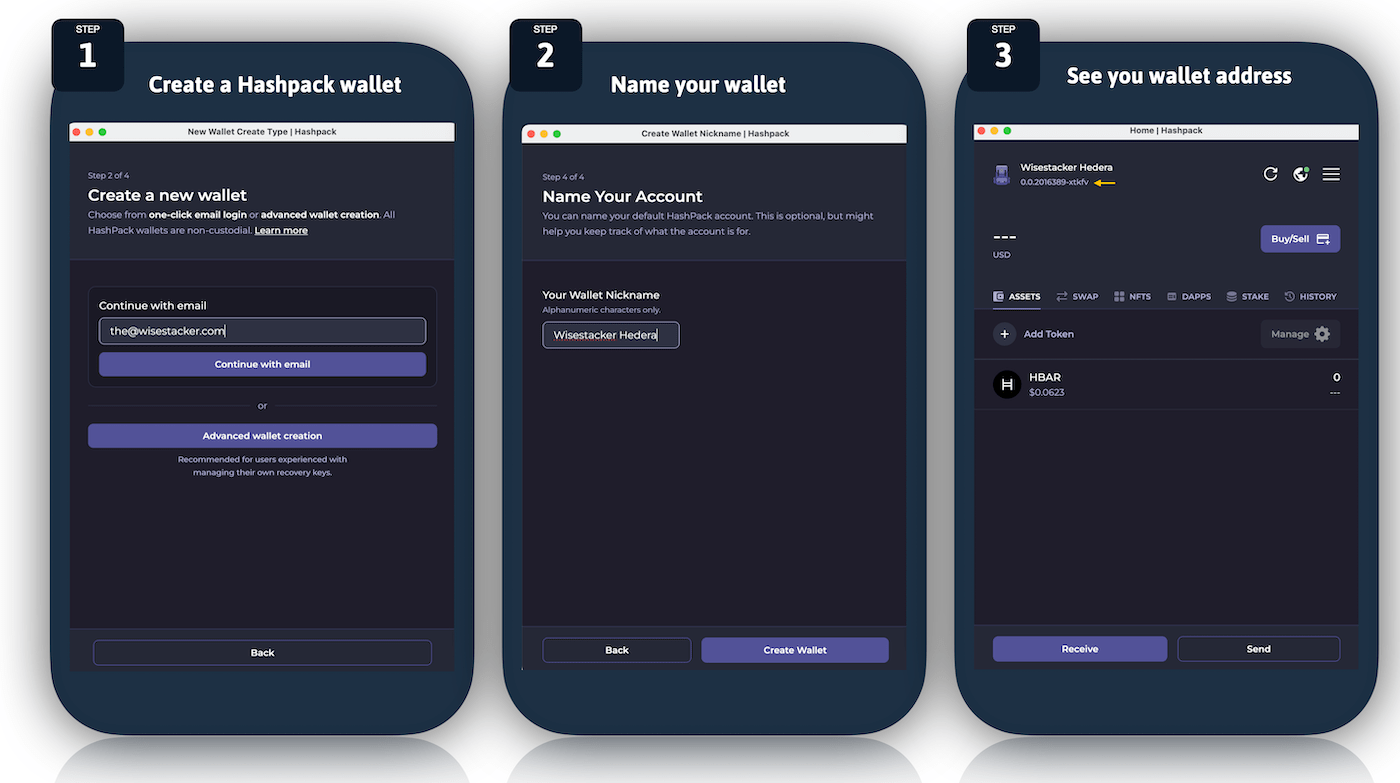 Once the Hashpack wallet is installed, click on the extension icon in your Chrome browser, and start the "create a new wallet" process.
You simply put your email address, verify the link, add a nickname to your wallet, and you are set to receive HBAR!
Step 3) Set up an account on a crypto exchange
Now that we have a Hedera wallet installed and ready, we can proceed to purchase the first HBAR tokens.
You can do this at the crypto exchange of your choosing. If you don't have an account at any crypto exchange yet, let's set one up. This takes less than 15 minutes.
For simplicity's sake, we consider opening an account with Bitstamp, heading over to their website, and clicking on 'Get started'.
Alternatively, you can of course also open an account with other exchanges, such as Coinbase.
Step 4) Get your account ready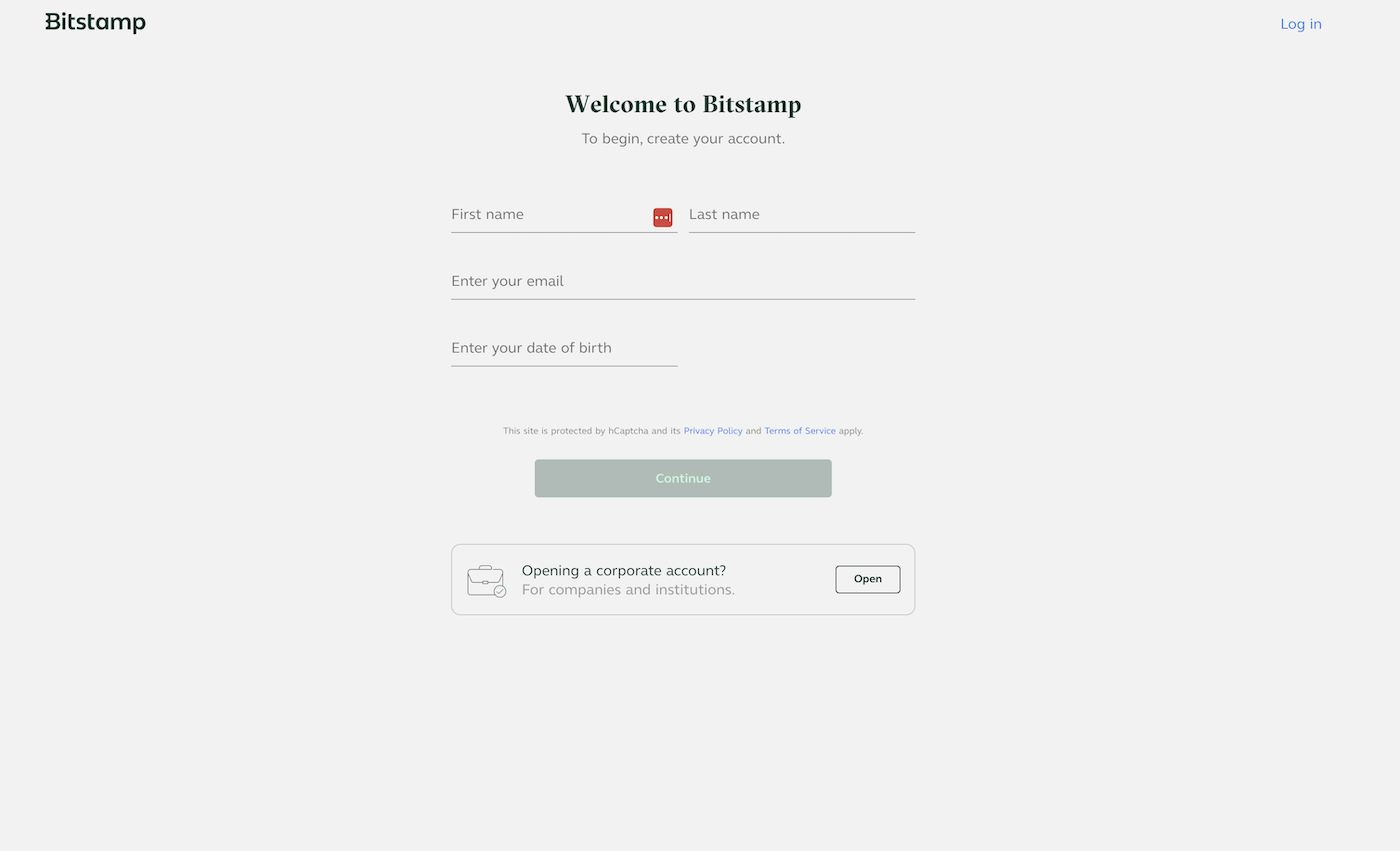 Enter your name, email address, and date of birth, and click 'Continue'.
Step 5) Get your account verified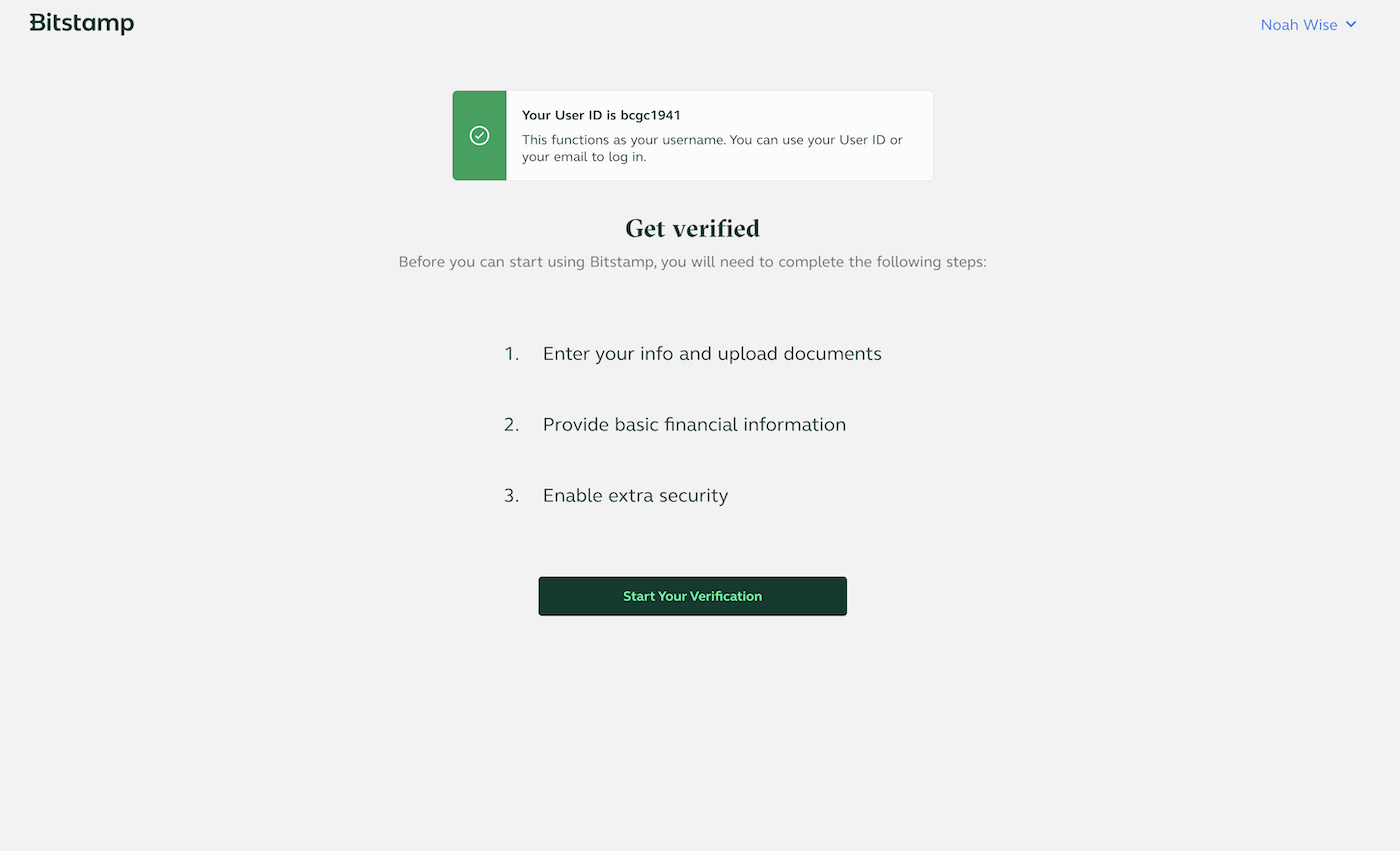 After you verify your email, follow and complete the verification process. To do this, you need a mobile phone.
Click on the Start your Verification process, and have the following documents ready:
– ID or passport
– address
– a utility bill or bank statement (matching and showing the above name and address)
– (free) Google authenticator app on your mobile phone
Step 6) Choose HBAR/USD or HBAR/EUR
Now find the HBAR/USD or HBAR/EUR pair in the top right window. Just start typing in "HBAR" and you will instantly find it.
Click on the pair that is more relevant to you, e.g. if you want to buy HBAR with Euro, then click on HBAR/EUR.
Step 7) Buy HBAR
The fastest way to buy HBAR is by using a credit card.
I do not recommend this way, as the fees are high, yet, to keep things simple let's use it to get your hands on some HBAR first.
Step 8) Withdraw HBAR
Now that you own HBAR in your Bitstamp account, click on 'Withdrawal' in the top menu.
Select HBAR as the currency you want to withdraw (from the drop-down menu).
Go into your Hashpack or WallaWallet, and copy your Hedera address.
Paste it into the Bitstamp withdrawal address. No need to put anything in the memo field.
Enter the amount of HBAR to be withdrawn, and click "Withdraw".
Step 9) Receive & stake your HBAR
It should only take a moment to receive the HBAR in your wallet.
Now, once you received those, you can choose a staking provider. There is no lockup or un-staking period.
By staking the HBAR in your wallet, you help secure the Hedera network. In return, you generate about 6.5% p.a., paid out on a daily basis.
The nodes I am staking with are Avery Denison, DBS, and Dt. Telekom.
Supply:
Put simply, all you need is an account with a crypto exchange such as Coinbase or Bitstamp, your passport, a utility bill, and an internet connection – that's it. See below for a simple step-by-step tutorial on how to invest in Hedera.
If you already have an account with a crypto exchange, all you need is an internet connection ;-); in case you do not have an account with an exchange such as Bitstamp, Coinbase or Binance, you need your address, and ID
Tools:
Google Authenticator (mobile phone)
Materials: your ID your address an utility bill
Why Invest In Hedera HBAR 
First off, why might it be a good idea to invest in Hedera? As investors, we need to have the guts to be "early" to a party. We need to feel comfortable sitting all by ourselves in a room when 'the crowd' is partying in another room. This is typically what is referred to as being early. 
Once everyone discovered your room, and the party is in full swing, this usually signals a market top, and the experienced investor is already thinking about his next move. In other words, you buy when the market sentiment is low, and you sell when the market sentiment reaches a bubbly top.
Investment Thesis For Hedera
In the case of HBAR, I see only a few early investors understanding and appreciating Hedera's unique value proposition.
I believe only a small fraction of investors realize the value Hedera will bring to the world. The current HBAR price clearly does not reflect that, and those who invest in Hedera early, e.g. in 2023, will be those benefitting the most.
The fundamentals of the network speak for themselves, and the amount of world-class enterprises that are now building on Hedera is proof to me that our investment thesis will play out.
Maybe not tomorrow, this month, or even this year, but I am confident it will happen in the next couple of years.
Personally, I think Hedera will become a 100 Bio USD network by 2025, translating into an HBAR price of roughly 2-2.50 USD.
We are talking about an asymmetric risk/reward ratio, with the potential to make 30-40X on your money, based on current price levels.
And this is a bet I am happy to take, and this is why I chose to invest in Hedera.
FAQ
How to invest in Hedera?
The simplest way to invest in Hedera is by buying and holding its native network token, HBAR.
Step 1) Install A Hedera Wallet
Step 2) Create A Hedera Account
Step 3) Set up an account on a crypto exchange
Step 4) Get your account ready
Step 5) Get your account verified
Step 6) Choose HBAR/USD or HBAR/EUR
Step 7) Buy HBAR
Step 8) Withdraw HBAR
Step 9) Receive & stake your HBAR
What is the HBAR Foundation?
Hedera is a public network with 39 world-class enterprises governing its council. HBAR is the native network utility token.
The HBAR Foundation is a separate body that was set up to help builders and creators overcome the challenges of bringing their ideas to market. It received 10 Bio HBAR from Hedera to smartly and carefully give grants to those builders and companies building on Hedera.
Where to buy HBAR Hedera?
Why buy HBAR?
Hedera's native network token, HBAR, gives you exposure to one of the world's most promising distributed ledger technology networks with an asymmetric and excellent risk/reward ratio. Its superior tech, throughput, fairness, governance, security, and sustainability make Hedera a strong contender to become a top 5 crypto project by 2025.
Will HBAR reach $1?
As one of the one cent coiners, having bought HBAR at $0,01, don't take my word for it as I am totally biased. However, fun aside, I truly believe HBAR will become a top 5 coin, and therefore, yes, HBAR will reach $1.