Disclaimer: I'm not a financial advisor. No content is meant to be a recommendation. Please do your own research. Pages might contain affiliate links. Please read my Disclaimer page.
BHP – The World's Best Natural Resource Stock 
BHP Billiton is the world's largest mining company, having been formed in 2001 from the merger of Australian Broken Hill Proprietary (=BHP) and Anglo-Dutch Billiton plc. It is now listed on the Australian stock exchange.
It mines a series of commodities, including iron ore, aluminum, coal, copper, manganese, uranium, nickel, silver, and titanium. It recently spun off its oil and gas operations into Woodside Energy, a company of which BHP still owns 48%.
The "BHP" in the title is a reference to a mine located in Australia's Kimberley region, famous for its coal and iron ore deposits. The mine was opened 170 years ago, in 1858, and was closed in 1996. It has been named one of the world's most important mining sites.
In the first quarter of 2022, $BHP was the world's largest dividend payer, paying more in dividends than all 🇩🇪 German and 🇫🇷 French companies combined (BHP's gross dividend: $10.8 vs GER & FRA's combined $8.2 Bio US, Source: Janus Henderson Global Dividend Index).
Quick Profile
Ticker

$

BHP /

$

FRA:BHP
ISIN
US0886061086/AU000000BHP4
Market Cap $ M
207,768
Enterprise Value $ M
212,371
P/E

(

ttm

)

4.88
PE Ratio without NRI
7.45
Forward PE Ratio
8.14
Price/Book
3.34
Price/Sales
2.32
Price/Free Cash Flow
5.72
Price/Owner Earnings
5.05
Payout Ratio %
0.88
Largest Natural Resource Stocks – Compared
In order to find out which is the best natural resource stock, let's start by looking at the six largest. As you can see, $BHP takes the top spot in terms of market cap by a wide margin. In terms of PE, all major natural resource stocks are very attractively valued, all having PEs of single digits (!). They also all pay a very high dividend, however, this is due to the record high commodity prices in the past 1-2 years, something that surely will adjust in the coming years.
Symbol
Company Name
Market Cap (Mio $)
EBITDA %
Net Margin %
PE
Dividend

$

BHP

BHP

$207,768

61.27

47.60

4.8

12.1%

$

RIO

Rio Tinto

$94,360

51.19

29.41

5.8

11.5%

$

FRA:8GC

Glencore

$77,094

12.13

6.56

5.2

2.9%

$

VALE
Vale

 

$64,105

59.39

42.15

3.1

10.6%

$

LSE:AAL

Anglo American

$45,745

44.08

18.68

6.5

6.6%

$

ASX:FMG

Fortescue Metals

$40,136

68.21

42.74

4.9

14.9%
As of Aug 30, 2022
From a first glance, we can notice that $BHP is the 800-pound gorilla in the room, with the largest market cap by a wide margin, and the highest net margin of all of them.
This is mainly due to the massive economies of scale. It pays a 12% dividend yield (!) while having a PE below 5. I believe this is a great buying opportunity, but we need to expect much higher PE ratios and lower dividend yields going forward.
Reasons Why I Love BHP
1/ BHP helps to decarbonize the world
BHP's low-cost assets and world-class resource base across a differentiated set of regions are positively leveraged to not one but several megatrends in the coming decades, such as
population growth
urbanization
rising living standards
decarbonizing power
electrifying transport
geopolitical risk
fighting global warming
2/ BHP produces mission-critical commodities
When looking at the natural resources BHP mines, you can quickly see it produces the carbon-neutral minerals needed to manufacture all the solar cells, windmills, hydro dams, power plants, etc.
All those require massive amounts of copper, nickel, iron ore, uranium, and others. Without BHP, it will be very difficult to get the material needed to achieve the "Energiewende". The company pivoted to future-facing commodities, and will gradually divest from the traditionally strong business segments such as iron ore and coal.
3/ BHP benefits from massive economies of scale
Being the largest natural resource stock, BHP benefits from massive economies of scale, and staggering efficiencies. This allows BHP to generate more revenue per tonne of product, which in turn drives more business for the company.
In both 2021 and 2022, the management has 20+ Bio USD at their disposal to re-invest into their business and deploy. With such a pile of cash, you can literally outbid any competitor for the best deposits or operating mines in the world.
4/ BHP pays an excellent dividend
Natural resource stocks are cyclical stocks, tending to go up and down with the economy. In times of a recession, the demand for commodities is lower, and in booming times, demand and therefore prices are high.  Nevertheless, even in the worst of years, $BHP was still able to pay a 3% dividend.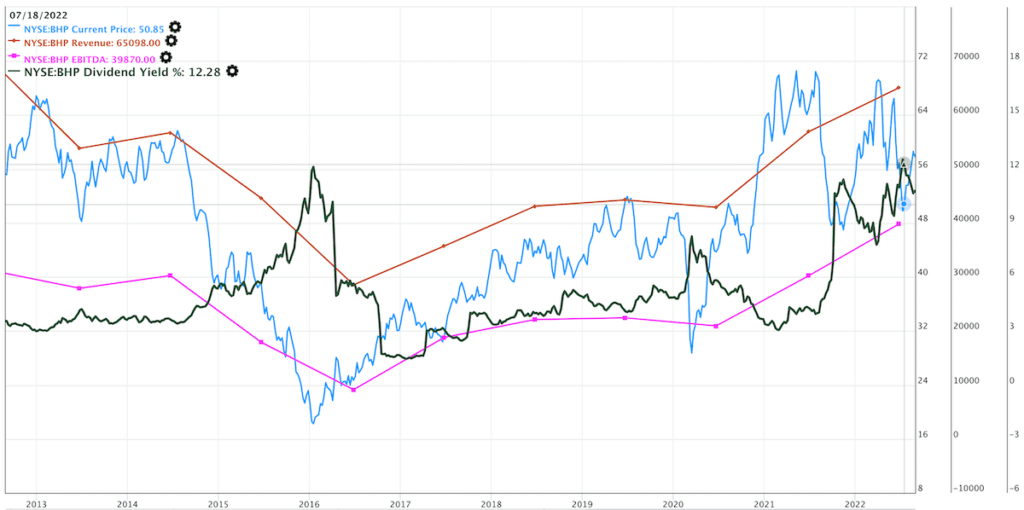 BHP's dividend fluctuates in relation to its stock price. Its current dividend, ranging between 10-12%, is massive, but not the norm. Look at the green line on the chart above. Its dividend yield typically ranges between 3-12%, with an average yield of approx. 5%.
| | | | |
| --- | --- | --- | --- |
| Dividend Yield | Dividend Payout Ratio | Growth Rate (5-Year) | Yield on Cost (5-Year) |
| 11.2% | 0.88 | 37.8% | 60.1% |
5/ BHP is widely geographically diverse
One of the largest risks when it comes to investing in natural resource stocks is the high cluster risk with single-mine operators. I just recently experienced a 99,9% fall in stock price, and let me tell you it sucks, big-time. With BHP, you get not just a handful, but dozens of well-run mining operations. Hence, there is much less risk while you still can benefit from a wide-open upside.
BHP Australian assets mine iron ore, copper, coal, and nickel
BHP's asset in Chile mine copper (the world's largest copper deposit)
BHP's JV partner in the U.S. works on a new copper project in Arizona
BHP Brazil holds a 50% interest in an iron ore mine
BHP Canada holds exploration permits & mining leases in Saskatchewan
BHP Peru's JV operates the Antamina mine
As a commodity and natural resource stock investor, I love the fact that the company has mining operations all over the world.
Risks when investing in BHP
In my opinion, $BHP is an excellent natural resource stock, but as with every investment, there are risks as well. In particular, the very nature of mining operations is generally difficult and a tough business to be in. The complexities of operating a mine are massive, including
justifying the environmental footprint
securing access to energy
following environmental, health, and safety protocols
ensuring the security in dangerous mining jurisdictions
securing access to capital
dealing with volatile prices of commodities (see below).
$BHP mines and sells commodities, hence it is very dependent on either stable or rising commodity prices. When commodity prices tank, natural resource stock prices like those of $BHP or $RIO get hit, often quite hard.
But lower commodity prices usually result in the supply drying out, because it becomes less lucrative to start or even keep on mining metals if the prices are too low. This, consequently, results in fewer mines being built, resulting in higher commodity prices.
When stock prices of natural resource stocks fall, their dividend yields increase, often to 10-15% yield per year, as we are experiencing now (August 2022).
Conclusion
Some investors don't like natural resource stocks because of their cyclical nature. My point of view is that each balanced long-term portfolio should contain at least a certain percentage of cyclical stocks such as natural resource stocks, to benefit from a sort of extra boost in boom times.
In conclusion, BHP is the best natural resource stock you can buy, because of the five characteristics stated above.
FAQ
Should I buy natural resource stocks or a commodity ETF?
A natural resource stock ETFs, like the $PICK, is great for hands-off/passive investors, wishing to get broad exposure to the wider natural resource market, whereas single natural resource stocks are better for hands-on investors like myself, who also enjoy the high dividend pay-out ratios of stocks like $BHP or $RIO.
Is BHP in the oil and natural gas business?
$BHP spun off and merged its oil and nat gas with the listed-energy stock Woodside Energy. BHP now still holds 48% of the company, meaning as an investor, via $BHP, you still have substantial exposure to oil and natural gas.
What does the BHP of BHP Billiton stand for?
The BHP stands for Australian Broken Hill Proprietary (=BHP), and the Billiton stands for Anglo-Dutch Billiton plc. Those two companies merged in 2001.
What is the natural resource company in the world?
The usual suspects are $BHP, Rio Tinto $RIO, Glencore $FRA:8GC, Vale $VALE, Anglo American $LSE:AAL, and Fortescue Metals $ASX:FMG. In the above article, I state the five reasons why I believe $BHP is the best natural resource stock you can currently buy.
Is BHP a Fortune 500 company?
Yes, it currently ranks as the 213th largest company in the world on the Fortune Global 500 List.
Where does BHP have mines in operation?
$BHP operates mines and owns deposits in the United States, Australia, Canada, Brazil, Algeria, Chile, and Peru.
What did BHP do during the World Wars?
$BHP was used throughout World War I as an important input for munitions and shipbuilding and in WWII, in building ships and planes. According to sources, over 3,000 men were recruited from Broken Hill, and of these 365 died in action, some of them in a miners' tunneling under enemy lines.
You Might Also Like
Check out my entire Natural Resource Portfolio
Read one of my favorite articles 👉 How To Invest In Commodities
What Are The 3 Best Austrian Dividend Stocks?
WiseStacker's Take
I believe that BHP Billiton is a great buy-and-hold-forever stock because it is the world's largest dividend payer and largest mining conglomerate.
PROS
helps to decarbonize the world
produces mission-critical commodities
very attractive valuation
Excellent dividends
multiple mining operations
transition to renewable energy costs
CONS
cyclical stock
dividends not stable
seen by some as environmentally unfriendly
Review Breakdown
Financial Strength

Predictability

Growth Rank

Dividend

Overall Rating