My Favorite Video Game Stocks To Buy
Key Takeaways
✅ The gaming industry is larger than the movie & music industries, combined
✅ Investors can choose from many small-to-large-cap stocks
✅ The industry is very competitive and companies can never stand still
✅ The top pick is Nintendo due to covering both hard- and software 
What Are The Best Video Game Stocks?
I've been passionately playing video and PC games all my life. My first computer was a C64 in 1983, followed by an Atari 2000, Atari ST, Super Nintendo, Sega Dreamcast, Nintendo 64, Sega then PCs and Xbox. I played a wide genre of games and spent ridiculous hours playing all sorts of games during my childhood and teenage years, and even to this day, I enjoy playing video games on my 65″ TV. See the FAQ section below for My 10 All-Time Favorite Games.
I have not worked in the gaming industry, but as an avid gamer, I believe I have a better finger on the pulse than someone who doesn't play video games and has a good feel for which games and consoles will well.
How big is the gaming industry?
Most people are surprised when they learn that the gaming industry is larger than the movie and music industries combined! With 180 Bio USD in revenue in 2021, the gaming market smashes the movie and music industry out of the park!
Is the gaming industry growing?
The gaming industry is growing faster than the movie and music industries, and the long-term potential is enormous. Think AR, VR, metaverse, mobile phone, or next-gen consoles like the Xbox X Series or the Playstation 5, the games look simply stunning. I just got a new 65″ TV, and the games really look impressive. This is the TV I just got: a 65″ Samsung AU8000 TV, with 4K @ 120Hz. Stunning design and amazing specs.
The 7 largest video game stocks
Let's first look at the market cap of the 7x largest and pure-play video game stocks (disregarding tech giants with gaming divisions like Microsoft (MSFT) or Tencent (OTCPK:TCEHY).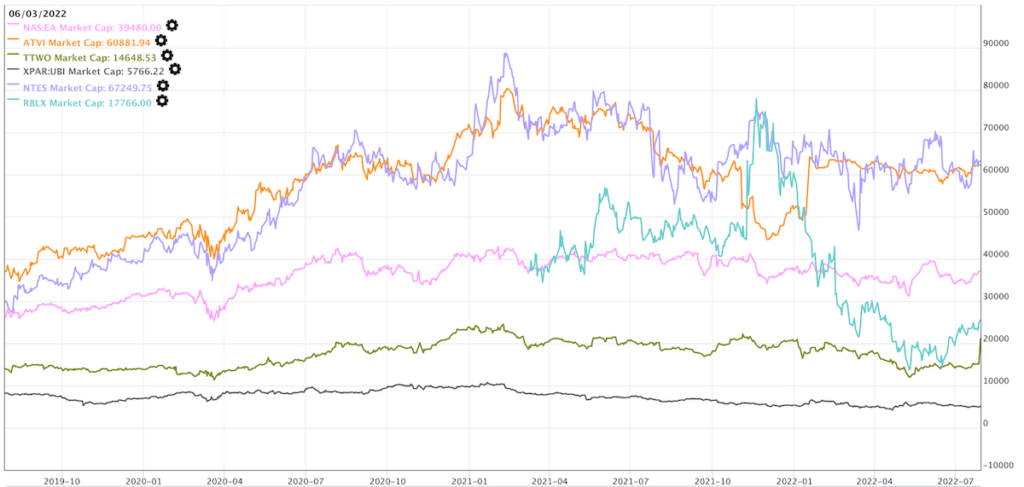 Below is a table showing the video game stock in no particular order, ranked by yearly revenues:
| | | | | | | |
| --- | --- | --- | --- | --- | --- | --- |
| Company | Market Cap  | Revenues | PE | Yield % | Net Interest | ROC |
| NetEase  🇨🇳 | $63 Bio USD | $95 Bio USD | 24 | 1.2% | 239 | 19% |
| Nintendo 🇯🇵 | $51 Bio USD | $83 Bio USD | 15 | 3.4% | 26 | 56% |
| Activision 🇺🇸 | $62 Bio USD | $56 Bio USD | 25 | 0.6% | -104 | 19% |
| EA 🇺🇸 | $36 Bio USD | $47 Bio USD | 48 | 0.5% | -54 | 8% |
| Take–Two 🇺🇸 | $21 Bio USD | $24 Bio USD | 36 | 0.0% | -7 | 12% |
| Ubisoft 🇫🇷 | $5 Bio USD | $15 Bio USD | 63 | 0.0% | -47 | 4% |
| Roblox 🇺🇸 | $24 Bio USD | $14 Bio USD | At Loss | 0.0% | -16 | -20% |
1/ Netease – The largest video game stock
Netease ($NTES) is most likely the most unknown video game stock on the list while being the largest by market cap and revenue (!). This 1997-founded Chinese company is listed on the Nasdaq and is known for its Westward Journey series, Tianxia III, Ghost II, Heroes of Tang Dynasty Zero, Nostos, and Onmyoji. It also cooperates with companies such as Activision Blizzard and operates the Chinese versions of World of Warcraft, StarCraft II, and Overwatch.
NetEase acquired a part of Bungie (creator of the Halo series) by investing 100 Mio USD.
What's to like about Netease?
Netease is a household name among Asian gamers, particularly in the mass-multiplayer scene. With its wide moat, it benefits from massive economies of scale, resulting in stable high revenues. The sheer amount of players in Asia gives it a great position to benefit from the large addressable market. Personally, Netease's games don't resonate with me and hence I can not really say much about if they are good or not.
This one is not for me and I would rather look at other video game stocks on the list.
2/ Nintendo – My Favorite Video Game Stock
Nintendo (OTCPK:NTDOF) ticks a huge amount of boxes for the perfect video game stock:
✅ Fantastic IP portfolio (Super Mario, Pokemon, Donkey Kong, Zelda, ..)
✅ Worldwide recognized brand
✅ Own hardware (Nintendo Switch and Nintendo Wii)
✅ Good reputation among parents and younger gamers
✅ Typically the first console for young gamers
✅ Strong in innovation (Wii controllers, Switch, etc.)
A healthy and nice long-term technical uptrend.
It is a household name on all continents, constantly innovating and releasing new products. The original Gameboy defined a whole generation and created an entirely new category. The Switch and Wii are loved and played by kids around the world. The combination of coming up with its own consoles as well as its own games is a strong success factor, ensuring that Nintendo always is one step ahead of its competition.
What makes Nintendo a buy?
Nintendo pays a relatively high dividend, yielding 3.4% while having a low PE of 15. Its monthly stock chart is in a solid long-term uptrend, something I pay close attention to when looking at stocks in general. It has the best and really excellent ROC (return on capital) of 15%, meaning Nintendo effectively makes 15% above the average cost it pays for its debt and equity capital. In other words, the managers at the helm of Nintendo are good capital allocators!
Besides Netease, it is continuously us buying back shares, as you can see on the chart below, and it is the only company on the list of the best video game stocks with a positive net interest (26 Mio USD in 2021), meaning Nintendo has a higher interest income than its interest expense. This is not a huge factor, but I like companies that manage their money prudently.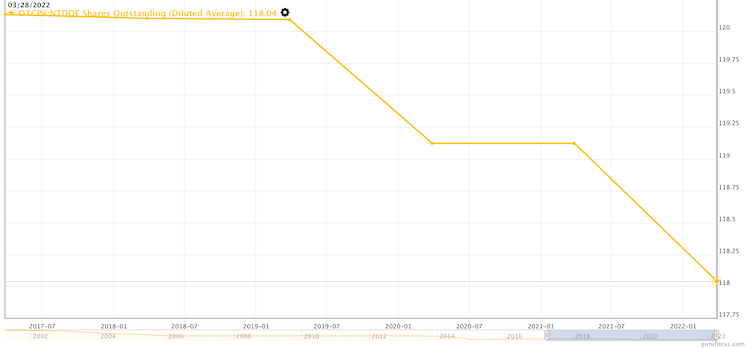 Overall, Nintendo really surprised me and I like a lot I am seeing! From my point of view, Nintendo is the number 1 video game stock at the moment, earning the gold medal 🏅.
Finally, the currently weak Japanese Yen makes the stock even more attractive at this stage (if you buy it in USD)!
3/ Activision Blizzard
Activision Blizzard (ATVI) is about to merge with Microsoft (essentially Microsoft acquired the company). I have played every single Call of Duty release, and think its single-player mode is simply genre-defining. My all-time favorite release is this Call of Duty: Black Ops (2010), with the stunning Russian prison break mission.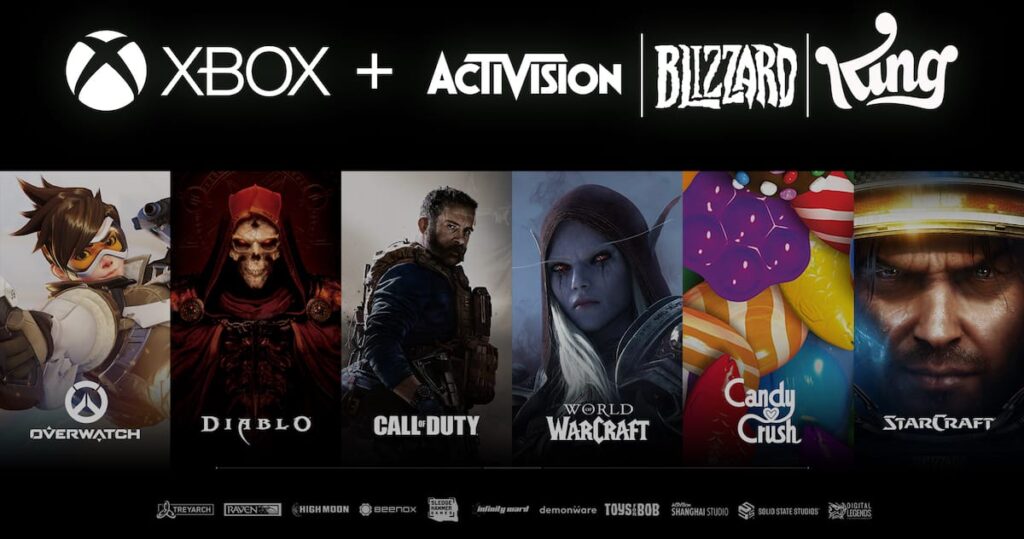 With Starcraft, World of Warcraft, Diablo, and Overwatch, Activision's IP is incredibly strong, making it a must-own video game stock. As it will soon be merged with Microsoft, the stock will be delisted and it does not make much sense to review the stock in more detail.
4/ Electronic Arts 
Electronic Arts (EA) is a juggernaut of a gaming company and one of the largest video game stocks. I love EA for its sports games, Command & Conquer series (see below for my Top 10 Favorite Games), Battlefield, The Sims, Sim City, and Star Wars Series. I'm the world's biggest FIFA fan, and also played a lot of NHL. It is the 4th largest gaming company in terms of revenues and market cap, and a true global leader in the digital interactive entertainment space.
$EA currently has a high PE of 48 and pays a marginal dividend yield of 0.5%. Personally, $EA lacks a bit of innovation prowess, as it focuses on pumping out updates to its core staple of blockbuster titles such as FIFA, NHL, NFL, COD, etc., I would love it if the company would try to create entirely new game IPs. It has a sort of 'corporate' feel to it, and many hardcore gamers don't like this 'flair'.
I will pass on this one and something is missing.
5/ Take-Two Interactive – The Runner-Up
I could write a book about Take-Two (TTWO), as I know the games intimately well, and as I made good money with its stock in the past. In Dec 2013, I purchased 1,000 x $TTWO at 17,50 USD and fully exited it at 175. I sold some here and there along the way, but 8x'ed the 17,500 USD I invested. So this video game stock naturally has a special place in my heart.
Its portfolio of games is simply amazing:
Grand Theft Auto
NBA 2k22
WWE 2k2
Civilization
Red Dead Redemption
Bioshock
Borderlands
XCOM
What's unique about $TTWO is its ability to continuously come up with new, innovative game concepts and IPs. Led by world-class CEO Strauss Zelnick, I have zero doubt this video game stock will do well in the coming years.
Imagine 'Grand Theft Auto' in the metaverse
I believe GTA has the best shot at creating an amazing VR or immersive metaverse experience. Akin to Ready Player One, it's easy to get lost in San Andreas, and explore the wide-ranging and always beautiful areas of the city. CEO Zelnick said before that once VR is widely accepted and demanded by the consumer, TTWO will create VR versions of all their leading games, but as of 2023, this is not the case yet.
6/ Ubisoft – The only European video game stock 
Ubisoft (XPAR:UBI) is the only European video game stock that made it into my Top 7 list. Its game portfolio is impressive as well, including:
Assassin's Creed Valhalla
Tom Clancy's Rainbow Six
Far Cry
Splinter Cell (see my 10 all-time favorite games)
The Division 2
Riders Republic
For Honor
Ubisoft always had a lower market cap than $EA, $ATVI, or $TTWO, but it keeps on coming up with impressive new IPs such as "For Honor" or "Riders Republic". It's a gaming powerhouse and one of the most innovative gaming companies in the world. It recently joined the Hedera governing council, one of my favorite crypto projects I am invested in for years.
Its market cap has never been really able to stay above 10 Bio USD ever, making it a rather smaller player in this space.
Personally, I don't consider buying this video game stock as I don't see any major catalysts to grow in value.
7/ Roblox – The new kid on the block
Roblox (RBLX) is the newest kid on the block, and I haven't had the chance to try out its game yet. It's quite different from its six peers in the way that it is mainly a platform "enabling anyone to imagine, create, and have fun with friends as they explore millions of immersive 3D experiences, all built by a global community of developers". It is often named a 'metaverse platform', as the community essentially creates the content themselves.
While the other six competitors have a wide range of games and different IPs, Roblox represents a much higher risk as it focuses all its effort on one IP/platform. This is the main reason why this video game stock is not for me, as you are essentially making a bet on this one platform succeeding.
Not something I am interested in, hence I will pass on this one.
My Top Pick
Nintendo
If I could only buy one company, it would be Nintendo (OTCPK:NTDOF). Nintendo has an advantage over all other pure-play video game stocks because it is also a console producer itself, and has proven to be continuously creative and able to re-invent itself (Gameboy, Wii, Switch, etc.). It also pays an attractive dividend, is aggressively buying back its own stock, and has its fingers in many different pies (e.g. it just released one of Japan's most popular family-friendly FPS (first-person shooter) called Splatoon 3 for its Switch console, bought and played by 3,5 Mio players within the first week.
The most recent super hit for the Nintendo Switch
You can find it on Amazon: Splatoon3 for Switch (released Sep 2022).
If I would need to choose a second video game stock, I'd choose Take-Two Interactive $TTWO. In my point of the view, the studio publishing the highest-caliber games, incl. Grand Theft Auto, Red Dead Redemption, NBA2k, Civilization, Borderlands, etc.
📘 Read Also
FAQ
What are my 10 all-time favorite games?

1. Command & Conquer Generals (Zero Hour)
2. The Witcher III (best RPG game, ever!)
3. Duke Nukem 3D (best FPS game, ever!)
4. Splinter Cell Blacklist (best stealth game, ever!)
5. Fifa Series
6. Top Spin 4 (best tennis game ever!)
7. Railroad Tycoon II
8. Wizardry VII
9. Sim City 2000
10. Civilization III


How big is the gaming industry?

The gaming industry is larger than the movie and music industries combined! With 180 Bio USD in revenue in 2021, the games market smashes the movie and music industry out of the park!

Which video game stock has the highest market cap?

What is the best gaming stock in the world?

Ask 10 gamers and you get 12 different opinions. You would need to choose a stock that offers
– a diverse portfolio of AAA-games
– has top games in multiple segments (FPS, sports, RPG, etc.)
– ideally has some sort of hardware component as well (own platform)
– shown its ability to constantly re-invent itself
Although I am not a big fan of their games and consoles, the above criteria almost only apply to Nintendo (OTCPK:NTDOF). It definitely is a stock worth a look at.