What Passive Income Ideas For Students Actually Work?
Yes, there are. But as so often, it takes some pre-investment to make it work. Pure passive income without any investment of time, money, or effort isn't possible.
This article is not supposed to be a list of dozens of so-so ideas. I am trying to list out those passive income ideas for students that really work.
Without further ado, let's jump in.
Here Are The Best Passive Income Ideas for Students in 2023:
#1 Earn Money With The Move-to-Earn App Sweatcoin
As a student, you most likely walk a lot. And this can come with benefits: You get stronger legs. You get a better memory. And all that without any carbon 'foot-print'! 😉
Now as you walk a lot anyway, why not set up a free account with Sweatcoin, and earn $SWEAT on the go?
Sweatcoin is a free mobile phone app allowing you to earn their in-game currency $SWEAT. There is no upfront payment or investment required. There is nothing you need to commit to. It's 100% free.
How Does This Move-To-Earn Thing Work? What's The Catch?
Well, we all use Google's free services, and Google nets billions in free cash flow every month. Ever wondered how that is possible?
Sweatcoin already has several million daily active users.
This fitness-oriented user base is an ultra-interesting target group for advertisers like Nike, Adidas, and so on. You constantly will see special deals offered, so you as a user can even get the latest items for a further discount!  So is this one of the best passive income ideas for students? Yes, because you walk anyways!
👉 Start earning with Sweatcoin
(I am using it for a couple of months, check out how many steps I made in my Passive Income & Dividend Report.
#2 Take Part In Appinio's Market Research Surveys.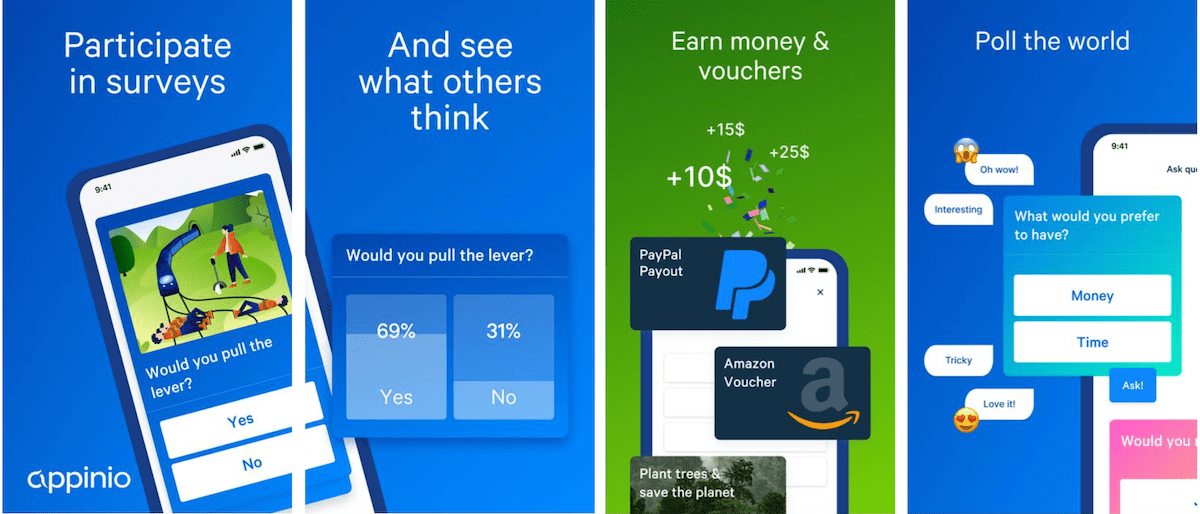 Source: APKmonk.com
Appinio is a free mobile phone app enabling you to take part in market research surveys. Companies pay Appinio to get instant opinions, answers, or feedback. Users like you and me earn Appinio tokens that we can subsequently cash out via Amazon vouchers or donate to charity. As a user, you can also ask specific panels very detailed questions. It's fun, interesting, and helpful.
Once you signed up, you can instantly start to answer questions from other users. And once the Appinio algorithm got to know you better, you will start seeing the first paid polls. This greatly depends on your location/zip code/profile, etc., but I get about 1-2 polls every single day.
The verdict –Is Appinio one of the best passive income ideas for students?  Absolutely yes. It is fun and you can earn some while riding on the bus or from the comfort of your home.
#3 Earn Rewards On Yamgo With Things You Do Anyway
Source: Yamgo.com
Yamgo enables you to earn digital currencies for various simple actions that you might do on the fly or might enjoy anyway.
Examples include straightforward tasks such as creating an account on a website, watching videos, providing certain feedback, or referring friends.
Yamgo does a good job listing those tasks that require no up-front investment, and also lists some tasks that require e.g. installing a game on your mobile phone, buying a subscription for e.g. 2 USD, getting your game character up to level 5, and once that is done, you'd get the reward.
I have been testing it for a couple of months and it works well. Their customer support is very responsive and resolves issues quickly. Give it a try.
#4 Be A Trusted Pet Sitter And Dog Walker for Rover
Photo by Matt Nelson on Unsplash
If you love pets, sign up with Rover.com and become a trusted pet sitter or dog walker in your neighborhood. This is one of my favorite passive income ideas for students because you can easily combine this with other ways to make passive income!
For example, while walking some dogs you can earn Sweatcoin while also listening to a fantastic audible book. This one from Tim Ferris is fantastic and highly recommended for any student to check out: Tools of Titans – Tactics, Routines, and Habits of Billionaires.
An absolute must-listen for anyone interested in making money the smart way!
#5 Earn Passive Income On Your Digital Assets 
Photo by PiggyBank on UnsplashIf you already own some cryptocurrencies, make them work hard for you and earn some pure passive income. You can do so by either using my two favorite crypto lending platforms such as Nexo  (read this article with a side-to-side comparison of the best lending platforms and how to earn interest on crypto).
This is the most simple (and safest) way to make passive income for students with your crypto, as it's hands-off, and you get regular interest payments directly deposited into your account. Nexo pays interest daily.
👉 Start Earning Interest With Nexo.
What is the easiest passive income for college students?
The two easiest solutions I believe are Sweatcoin and Appinio – both don't require any upfront costs. If you have some specific know-how, put together a 2 hours course and get it listed on Udemy, a platform for online courses.
Conclusion
There you have it, folks. The 5 best passive income ideas for students I can come up with.
If I were a student, I'd instantly set up a free account with Sweatcoin, then download the Appinio app and participate in market research polls, and use the free Yamgo app to earn money for tasks you might enjoy anyway.
And if you already own some digital currencies, make them work hard, day and night, and generate sweet sweet yield for you on Nexo.
📘 Read Also
FAQ
Can students generate passive income?
Yes, see above for five simple ways, not requiring any pre-investment.
What are the passive income ideas for young adults?
How to have multiple streams of income as a student?
The trick is to be active and try out many different things. You can do any of the above-mentioned tasks, but there is a lot more you can do. Check out what freelance services you can offer on Fiverr.com or Upwork.com. Start a blog. Become a Youtuber. Learn SEO and help local businesses. The possibilities are endless.
What are good income ideas for college students?
What are some examples of passive income?
What are good jobs for young adults?
I recommend choosing jobs in a field that has something to industries that develop exponentially and rapidly, such as the following (job example – industry):
• AI Machine Learning Engineer – Technology
• Robotics Engineer – Technology
• Cybersecurity Analyst – Technology
• App Developer – Technology
• Virtual Reality Designer – Entertainment
• Blockchain Developer – Financial Services
• Data Scientist – Business Analytics
• Cloud Computing Specialist – Technology
• Automation Technician – Manufacturing
• Renewable Energy Engineer – Energy
• Drone Pilot – Logistics
How to find a financial advisor for young adults?
If you are young and are looking for a financial advisor, my advice would be to not be shy and ask anyone you look up to if he/she can be your mentor. Many successful people are not driven by money, but by the number of committed people, they can help and coach. Find successful entrepreneurs if you are into business, or established artists or designers if you are creative, and kindly ask them if you can ask them a couple of questions! Remember, it's not the mentor choosing the mentee, but the mentee choosing the mentor!