Key Takeaways
✅ IT dividend stocks provide interesting long-term value propositions
✅ 10 leading information-technology stock that pay dividends 
✅ Top pick Cisco Systems reviewed – hands-down the best IT dividend stock

Everyone agrees that information technology, IT infrastructure and cybersecurity are here to stay, and will only become ever more relevant in the years and decades to come. 
In my opinion, this is one of the key megatrends, as every single industry in the world, relies on a stable IT networking infrastructure, cybersecurity, high bandwidth, low latency, and high overall reliability. That's why I am personally interested in finding the best IT dividend stock to buy and hold for the (very) long-term. And I believe I already own it.
Let's dig in in.
The Best IT Dividend Stocks – Compared 
To begin, let's look at the world's leading IT dividend stocks, ranging from market caps as small as $9b, Motorola (MSI), to massive companies such as Cisco (CSCO) or Dell (DELL):
| | | | | | |
| --- | --- | --- | --- | --- | --- |
| Company | M. Cap | Revenue | PE | Yield | EBITDA % |
| 🇺🇸 Cisco | | | 17 | 3.1% | 32% |
| 🇨🇳 Hik–Vision | | | 22 | 2.6% | 19% |
| 🇺🇸 Motorola | | | 38 | 1.3% | 23% |
| 🇺🇸 Dell | | | 17 | 2.5% | 6% |
| 🇨🇳 Foxconn | | | 9 | 5.3% | 5% |
| 🇫🇮 Nokia | | | 14 | 1.3% | 14% |
| 🇺🇸 HP | | | 9 | 3.8% | 9% |
| 🇯🇵 Canon | | | 15 | 3.7% | 14% |
| 🇸🇪 Ericsson | $21 | | 9 | 3.7% | 15% |
Looking at the market cap, we can see that $CSCO is in a league of its own. It is bigger than 5x of its next largest competitor!
Interesting to see that besides Hik-Vision and Motorola, the PEs of all the listed IT dividend stocks are below 20! 
Revenue-wise nothing can keep up with $DELL, followed by $HPQ.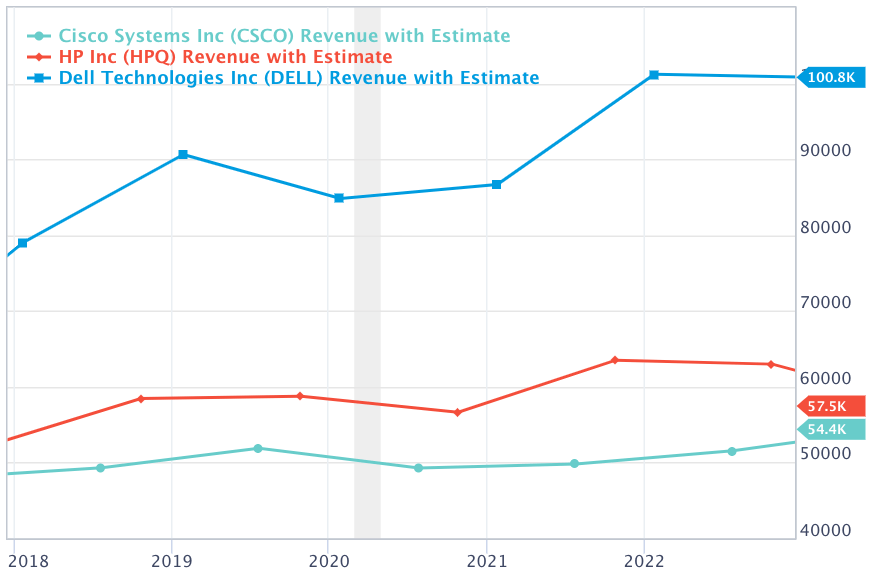 However, if we look at the operating margin of those three IT dividend stocks, $CSCO is clearly on another level.
Exemplary Portfolio Of IT Dividend Stocks
What would have happened if we invested $10,000 in Jan 2002 and kept it without touching it till Dec 2022 into the 3x leading IT dividend stocks (with an equal allocation). The portfolio would have looked like this: 
Ticker
Name
Allocation

$

CSCO
Cisco Systems
34%

$

HPQ
Hewlett-Packard
33%

$

MSI
Motorola
33%
Our portfolio value sits at $51,793 USD.
| | | | | |
| --- | --- | --- | --- | --- |
| Initial Balance 2002 | Final Balance (2022) | CAGR | Best Year | Worst Year |
| $10,000 | $51,793 | 8.2% | 59% | -41% |
A CAGR of 8.18%. Not that great, but still okay
$CSCO, back then, for a brief moment in time, was actually the most valuable company in the world.
Here are the yearly dividends we would have received, and would still be receiving:

On our initial $10,000 US invested, we'd be receiving about $4,250 US every single year in dividends. Nice. 
My Top Pick – Cisco Systems
If you are looking for a solid company and a high-dividend paying IT stock with great long-term growth potential, I recommend, hands down, Cisco Systems (CSCO).
$CSCO is the world's largest supplier of networking equipment, and one of the world's largest software companies.
According to Cisco's mission & vision statement, its strategy is to be 'the worldwide leader in technology that powers the internet, by helping its customers connect, secure, and automate to accelerate their digital agility in a cloud-first world'. 
Sounds to me Cisco Systems won't run out of things to work on for decades!
Top Reasons Why I Like Cisco
1/ Global Footprint
Cisco is everywhere and has a vast reach. It generates about 58% of its revenues in the Americas, 27% in EMEA and only 16% in APJC.
Every division by itself is a massive operation, in some of the most interesting industries.
Put simply, Cisco generates revenues via
50% Network Infrastructure (with a 30% margin)
25% Services
20% Software (Webex, App Dynamics)
5% Cyber Security
Recently, $CSCO particularly invests in the Cyber Security division, arguably one of the hottest markets in the world.
2/ Transformation Into A Subscription Business
What surprises me is how far Cisco has already ventured in transforming itself into a SAAS business (Subscription-As-A-Service). Already 40% of Cisco's revenues are subscription based. This makes forecasting future revenues a lot more predictable. 
Check out this shot clip explaining Cisco's transformation:
3/ Tailwinds From Multiple Megatrends
$CSCO benefits from a whole series of megatrends, providing the business with a lot of tailwinds for many years to come:
Adoption of a Cloud Experience
Applications are now the Lifeline of Every Business
Shift to Hybrid Work
Security is Moving to the Cloud
Transition to 5G & Wi-Fi 6
Apps & Workloads are Moving Closer to Users & Devices
4/ Relative Strong Performance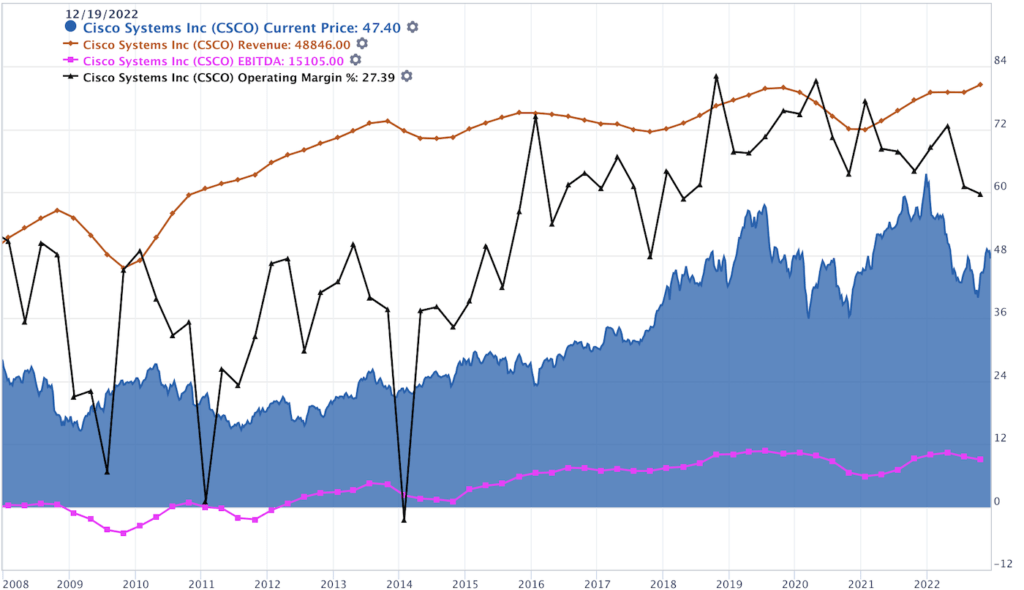 All key metrics like revenues (brown/red), EBITDA margin (pink) and Operating Margin (black) are trending up, in line with $CSCO's stock price.
The company achieved several new records in 2021, including product orders, net income, EPS, Annualized Recurring Revenue (ARR), and Remaining Performance Obligations (RPO).
These were strong results, particularly considering the incredibly dynamic environment in which $CSCO operates.
This tells me that its investments in accelerated innovation and continued strong customer demand put Cisco in a position of strength. 
In the past 12 months, the Nasdaq QQQ is down 32%, while $CSCO is down 'only' 22%.
5/ Reasonable Valuation
When looking at $CSCO's price-to-book value, we can see that at the moment, it's reasonably priced. What I also like is the fact that $CSCO has a positive net interest, meaning it generates an interest margin. 
6/ Stable Dividend
Looking at $CSCO's dividends, we can see a stable and good trend:
Dividend Yield
Dividend Payout Ratio
Growth Rate (5-Year)
Trailing

)

"}">3.17%
0.55
6.10%
Many investors looking for good IT dividend stocks will like the fact that $CSCO pays dividends in two months in which it is typically not easy to find good dividend payers: January, April, July and October:
| | | |
| --- | --- | --- |
| USD | 0.380 | 2023-01-25 |
| USD | 0.380 | 2022-10-26 |
| USD | 0.380 | 2022-07-27 |
| USD | 0.380 | 2022-04-27 |
| USD | 0.370 | 2022-01-26 |
| USD | 0.370 | 2021-10-27 |
| USD | 0.370 | 2021-07-28 |
| USD | 0.370 | 2021-04-28 |
Conclusion
In my opinion, $CSCO is the best IT dividend stock you can buy and hold forever. 
The IT and tech space in general are incredibly fast-moving and competitive, hence I feel good with $CSCO because it generates a big chunk of its revenues with IT-infrastructure equipment and more and more revenues via recurring subscription services.
 Another tech-savvy dividend stock I really like is the John Deere stock (DE) – the Tesla of Agricutlrure. 
Disclaimer: I own both $DE and $CSCO in my All-Weather Portfolio. 
📘 Read Also
FAQ
What are good IT dividend stocks?
🇺🇸 Cisco Systems with $198b in market cap and $52b in revenues
🇺🇸 Motorola with $43b in market cap and $9b in revenues
🇺🇸 Dell with $28b in market cap and $10b in revenues
🇨🇳 Foxconn with $27b in market cap and $67b in revenues
🇫🇮 Nokia with $27b in market cap and $25b in revenues
🇺🇸 HP with $26b in market cap and $62b in revenues
What is the largest IT stock paying dividends?
The largest IT stock is Apple, followed by Microsoft, Meta and Google. Another popular IT dividend stock is $CSCO.
Is it a good time to buy IT dividend stocks?
2022 has been a tough year for the information-technology industry in general, and that includes popular IT dividend stocks such as Cisco Systems, Hewlett-Packard, and Motorola. It's best to act counter-cyclical and buy things when these are out of favor.
Which IT dividend stock pays the largest dividend?
What are the best dividend tech stocks to buy and hold in 2023?
Consider IT dividend stocks that operate in the network infrastructure industry. Although the competition is also fierce in this space, it is even more fierce in consumer-facing tech like Apple or Microsoft operates in. One fav-favorite IT dividend-paying stock many income investors like is Cisco Systems (CSCO).
The top 10 tech stocks ranked by market cap with their respective dividend yield:
1/ Apple Inc 0.69%
2/ Microsoft Corp 1.07%
3/ Taiwan Semiconductor Manufacturing Co Ltd 2.34%
4/ Samsung Electronics Co Ltd 2.43%
5/ ASML Holding NV 1.19%
6/ Broadcom Inc 2.99%
7/ Oracle Corp 1.6%
8/ Cisco Systems Inc 3.17%  👉 fan favorite
9/ Accenture PLC 1.57%
10/ Texas Instruments Inc 2.8%
Are there tech stocks paying dividends?
What are the best IT infrastructure stocks?
If you look for the best IT infrastructure stocks (not considering consumer-facing IT stocks like Apple, Microsoft, or Google), then one that often comes to mind is Cisco Systems (CSCO). With a market cap of $198b and revenues of +$50b US, it's the 800-pound gorilla in the room, paying a stable and solid dividend of 3%.
What are good B2B IT stocks?
The best B2B IT stocks are companies that manufacture IT networking equipment, essentially powering the internet. Regardless if it's banking, eCommerce, finance, energy, blockchain, or gaming, every industry relies on reliable IT infrastructure. The largest company in this space is Cisco Systems (CSCO), providing mission-critical infrastructure to the world's largest companies.
Other investor-favorites are Dell (DELL) and Hewlett-Packard (HPQ).
Cisco Systems - The Best IT Dividend Stock
Hands down, Cisco Systems is the best IT dividend stock you can buy. It's larger as the next 5x competitors, generates large amounts of free cash flow, and pays a stable dividend.
PROS
Global Footprint
Transformation Into A Subscription Business
Tailwinds From Multiple Megatrends
Relative Strong Performance
Reasonable Valuation
Stable Dividend
CONS
Very Competitive Industry
Cut-Throat Competition
Review Breakdown
Financial Strength

Predictability

Growth Rank

Dividend

Overall Rating