The 5 Best REITs In Asia To Buy
Key Takeaways
☑️ Asia has strong fundamentals and is growing rapidly
☑️ Most investors have little to no exposure
☑️ The best REITs in Asia offer a compelling risk/reward ratio
☑️ 5x Asian REITs are presented investors can consider
Asia is a gigantic continent with numerous cultures, regions, countries, languages, religions, megacities, and climates. Picking the five best REITs in Asia is not an easy task. The following highly subjective selection of Asian REITs provides you with good diversification in regard to the different regions in Asia:
For comparison's sake, I added Realty Income (O), in my opinion, a great forever stock I reviewed before here.
Are Asian REITs A Good Investment?
To start off, please be advised that I'm not a professional analyst. I am a passionate DIY investor, on a quest for wealth and wisdom, and always looking for good dividend stocks (read about my process here).
In general, Asia has a lot of fantastic macro points going for it:
Fastly Growing Middle-Class
Rapid Urbanization
Relative Political Stability
GDP Growth
Vibrant Economy
Good Demographics
Numerous Mega Cities
I like the high predictability, yields, and stability of real estate investment trusts (REITs). These are the three reasons why my All-Weather Portfolio consists of approx. 25% of the highest-quality REITs.
Compared to the U.S., which literally has thousands of REITs, when it comes to Asian REITs, it's a different story. There are increasingly more, but those come mainly from Japan and Singapore.
Living in Asia for the last 20+ years, and co-owning a real estate company, I might have a unique point of view that I am happy to share with you.
So in this article, I'll present five ideas that I believe are the best REITs in Asia.  Disclaimer: I own one of the five.
Some of them pass with flying colors, others fail quite badly. Let's dig in.
The Five Best REITs in Asia
Best REITs in Asia #1 – Link REIT 🇭🇰
Link REIT ($LKREF, or $HKSE:00823), is Asia's largest REIT.
In terms of both revenues and market cap, it is twice the size of its next peer, Nippon Building REIT (see below).
It was founded in 2005 when the Hong Kong Housing Authority privatized many of its retail properties.
Owning +150 shopping centers and +60,000 parking lots, it was granted the ability to invest overseas(in 2014) and subsequently invested in retail and office complexes in China, as well as in Australia and the U.K. This was, in my opinion, a smart move as it greatly diversifies the asset and income base.
During the course of the last few years, I tracked most of the acquisitions:
2015 –

EC Mall

(

Beijing

)

, 251 car parks (2.5 bio RMB)🇨🇳
2015 – Corporate Avenue

(

Shanghai

)

 

(6.6 bio RMB)

🇨🇳
2017 – Metropolitan Plaza

(

Guangzhou

)

(4.1 bio RMB)🇨🇳
2018 – Beijing JingTong

Roosevelt Plaza

 

(2.5 bio RMB)

🇨🇳
2019 – Shenzhen

CentralWalk

(6.6 bio RMB)🇨🇳
2019 – Sydney 100 Market Street 🇦🇺(3.2 bio RMB)🇨🇳

 

2020 –

The Cabot

in London 🇬🇧

(occupied by Morgan Stanley)

2021 – 100% in Happy Valley Shopping Mall, Guangzhou

🇨🇳
I always strive for accuracy but if you see something that doesn't look right, let me know!
I am closely following this REIT since 2014 and owned shares between 2014 to 2020. See the below's chart showing all my trades. As you can see, I slowly started buying shares (green triangles) again in 2021, and intend to do so again before year end of 2022:
Back in 2019, I owned 24,500 shares of Link REIT. Back then, those were worth 2,25 Mio HKD or 295,000 USD. Total dividends in 2018 amounted to 8,500 USD, a yield of 3,5%. Once the protests started in 2019, I placed stop loss orders which all were subsequently triggered. In early 2020, I was completely out. Just recently, I started to make some small purchases again and will continue to do so on weakness (like now in Oct 2022).
What Do I Like About Link REIT?
Like other REITs in Asia, Link REIT is also aggressively buying back its own shares, to the benefit of all existing shareholders.
If I could only buy one REIT in Asia, it would for sure be Link REIT. Why? Because it is the largest REIT in Asia, by far (twice as big as the number two). And Asians love their land, and tend to gravitate towards the "biggest", "first" and "largest".
Further, it pays a stable high dividend yield of 5.7% and can show a free-cash-flow yield of 7.2%. Its PE of 16 is currently reasonable as well, making it a solid good long-term bet.
Looking at Link's Tangible Book per Share, we can see that it basically matches its current valuation, meaning it is reasonably priced.
Fun Fact: One of my favorite office buildings in Shanghai is called Corporate Avenue, right next to Xintiandi. The location is amazing. I was thrilled to hear that Link REIT had acquired the whole property in 2015.
Is Link One Of The Best REITs In Asia?
In short: 'Yes', for the very long term (5+ years), but 'no', for the short term. There are too many uncertainties in the area. The pandemic is not over. Real estate prices in Hong Kong are still one of the highest in the world. Therefore, I believe it's okay to strategically DCA into the stock but do so slowly.
Best REITs in Asia #2 – Nippon Building Fund 🇯🇵
Nippon Building Fund ($NBFJF, $TSE:8951, $FRA:S4C), established in 2000, and with 33 full-time employees, acquires and leases office space in the Great Tokyo Metro Area. It primarily invests in large corporate office buildings. Its largest tenants are large corporates in the service, electrical equipment, and communications and information industries, accounting for the most square footage used.
How About Nippon's Dividends?
Nippon's most recent dividend comes in at 92 USD, and the March dividend at 81 USD. In relation, the combined 173 USD to the current stock price of 5.500 USD, represents a dividend yield of 3%.
| Currency | Dividend | Pay Date  |
| --- | --- | --- |
| JPY | 13,476 (~$92) | 2022-09-15 |
| JPY | 11,848(~$81) | 2022-03-15 |
| JPY | 11,684 | 2021-09-15 |
| JPY | 11,000 | 2021-03-11 |
| JPY | 10,986 | 2020-09-15 |
| JPY | 11,011 | 2020-03-13 |
How About Nippon's Tangible Book Value?
Nippon Building Fund's share price is $5500.00m and its Tangible Book per Share (of Jun. 2022) was $2,955. Hence, Nippon Building Fund's Price to Tangible Book Ratio of today is 1.86. Price to tangible book value (PTBV) measures a REIT's market value relative to its hard/tangible assets such as properties.
Is Nippon Building Fund A Buy?
The best REITs in Asia have low PTBVs, meaning the tangible book value per share is lower than the market value. This, in addition to the high cluster risk (the fund mainly invests in Tokyo only), makes Nippon a good fund if you look for exposure to Tokyo's real estate market, but otherwise, the current valuation does not make it an interesting buy for me at these levels.
Best REITs in Asia #3 – MapleTree Pan Asia REIT 🇸🇬
Mapletree Pan Asia Commercial Trust ($MPCMF/ $FRA:BI0), is a real estate investment trust with a diversified portfolio of 18 properties, including business parks, offices, and malls.
Of those properties, five are in Singapore, one is in Hong Kong, two are in China, nine are in Japan, and one is in South Korea. It is externally managed by MPACT Management, a subsidiary of its sponsor, owning a 56% stake in the trust.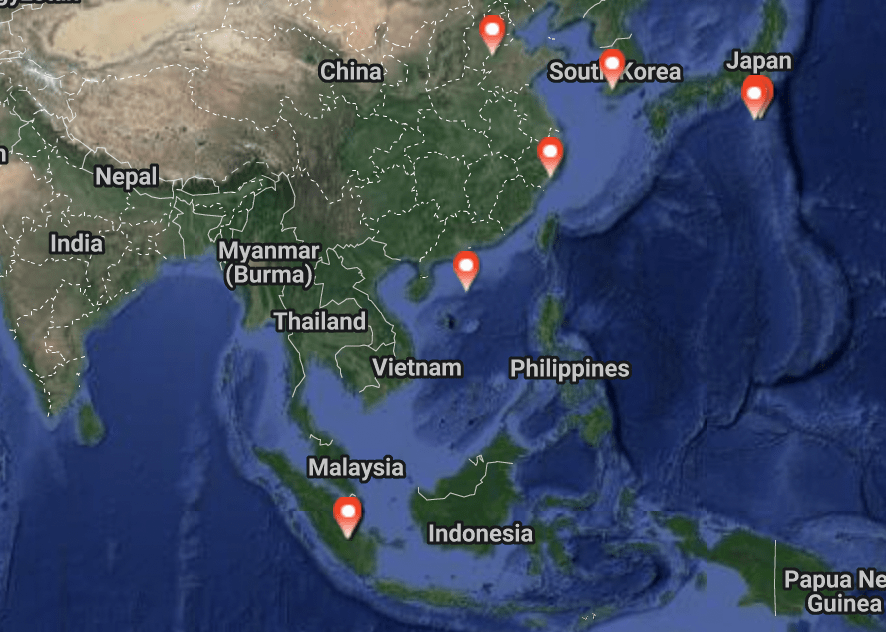 Looking at the Tangible Book per Share of $MPCMF, we can see that it basically matches its current valuation.
How About MapleTree Pan Asia's Dividend?
| Currency | Dividend  | Pay Date  |
| --- | --- | --- |
| SGD | SGD 0.030 (~$0.02) | 2022-08-25 |
| SGD | SGD 0.051 | 2022-06-03 |
| SGD | SGD 0.044 | 2021-11-30 |
| SGD | SGD 0.053 | 2021-06-04 |
MapleTree Pan Asia's dividend yield is currently 4.7%, and it has a payout ratio of 0.93. This means it pays out 93% of its income to shareholders (in line with what a REIT should do).
Is MapleTree Pan Asia REIT A Buy?
At the current state, I would say 'no'. Its long-term debt (which it keeps on issuing) is too high, resulting in a poor current ratio of just 0.23 (in comparison, Link's current ratio is 0.77).
In conclusion, I would say 'no' to buying the MapleTree Pan Asia REIT at this stage, and wait for it to lower its debt.
Best REITs in Asia #4 – Champion REIT 🇭🇰
The Champion Real Estate Investment Trust ($HKSE:02778, $CMPNF, $FRA:Q9S) is Hong Kong's 2nd largest REIT.
It owns two rather massive assets in Hong Kong's central business district, Three Garden Road, and Langham Place, and a mixed-use office, retail, and hotel complex in Mong Kok, Kowloon. It owns both the office and retail components in Langham Place. Another real estate company, Great Eagle Holdings, listed Champion REIT with Three Garden Road in 2002 and injected the office and retail components of Langham Place into the trust.
Great Eagle retains management rights and retains a 67.2% stake in the trust. The trust's mandate includes the acquisition and investment in income-producing office and retail properties, and the investment is not limited to Hong Kong. In 2021, the trust acquired a 27% interest in a Grade-A property in London, called 66 Shoe Lane.
Champion REIT's rental and net property income is quite stable, see the following table:
| | | | | |
| --- | --- | --- | --- | --- |
| PROFIT in Mio HKD | 2018 | 2019 | 2020 | 2021 |
| Total Rental Income | $2,677 | $2,778 | $2,633 | $2,495 |
| Net Property Income | $2,405 | $2,481 | $2,347 | $2,197 |
(1 USD is approx. 7,8 HKD)
How About Champion REIT's dividend?
Champion REIT is currently paying a 7.6% dividend Due to the stock price retreating by approx. 60% from its all-time high at 6.8 HKD, the dividend yield has been going up, although the actual dividend amount has been decreasing for the past 3 years.
The past few years were extremely tough for Hong Kong in general but for property owners in particular. Hence no wonder that Champion REIT had a few tough years.
Is Champion REIT A Buy?
At this stage, in my opinion, it is a clear 'no'. With just a handful of properties, the cluster risk is too high. The geographic diversion is not wide enough (only Hong Kong and a minority stake in a property in London).
Therefore, I believe as it stands Champion REIT does not belong to the creme de la creme and best REITs in Asia.
Best REITs in Asia #5 – StarHill Global 🇸🇬
Starhill Global REIT ($SGX:P40U, $SGLMF), invests in retail and commercial properties in countries such as Singapore, Australia, Malaysia, China, and Japan. The majority of revenue comes from leasing properties to tenants, including department stores, fashion and footwear stores, cosmetics stores, and corporate offices.
The REIT owns 10x mid- to high-end retail properties. 97% of the total asset value is concentrated in Singapore, Australia, and Malaysia.
The StarHill Global REIT's Tangible Book Ratio is 0.54 (Oct 12, 2022). This is a good ratio, also proven by Gurufocus' comparison tool, stating StarHill Global's Tangible Book Ratio is better than 83% of its peers in the REITs industry (the industry median is at 0.82).

Its current ratio of 0.54 is not great (should be one or above), but given the quality of the assets, it's still within the manageable range.
How About StarHill Global's Dividend?
The REIT currently pays a 7.0% dividend yield but has seen no dividend growth over the past three years (tough years impacted by the pandemic). The yearly yield is high because the stock price came down a lot.
Is StarHill Global One Of The Best REITs In Asia?
There is much to like about this REIT. Good diversification in terms of Asian countries (in particular it also owns properties in Malaysia and Australia).
It pays a healthy dividend. The net asset value, measured by the REITs book value, is at 0.54.
The stock price came down by 50%, providing new investors with an interesting opportunity to initiate the first position.
It seems the worst is over, and given the safe jurisdictions the REIT is operating in, I think this is indeed one of the best REITs in Asia.
Conclusion
The five best REITs in Asia presented above provide investors with a good sector and geographic allocation across Asia. Some of the presented REITs are currently strong buys (see Link REIT), and some offer unfavorable risk/reward ratios.
As long-term investors, we need to keep things simple and straightforward: These best REITs in Asia provide you with exposure to one of the fastest-growing regions in the world, and the best REITs provide stable passive income for years to come.
As long as no war breaks out in the region, Link REIT will surely be around for another 15 or 30 years for sure and keep paying healthy dividends.
📘 Read Also
FAQ
Are Asian REITs good investments?
The best REITs in Asia provide investors with stable dividends, own real hard assets in some of the fastest-growing cities in the world, offer exposure to an often under-invested region with excellent demographics (demography is destiny!), and at the current stage (as of Oct 2022), offers favorable risk/reward ratios (stock prices came down significantly, while the underlying business is still intact). According to the author, one of the best REITs in Asia is Link REIT (see #1 above).
Over the past 10 years, the best REITs in Asia provided an average of 6.8% annualized return, with 5% of the total return coming from dividend payouts.
Source: Bloomberg as of Nov 2020. Represented by FTSE EPRA/NAREIT Asia ex-Japan REITs Index. Performance in USD.
Is now a good time to buy Asian REITs?
Stock prices came down by a lot in 2021 and 2022, meaning many of the best REITs in Asia are trading below their net asset value! This provides new investors with good buying opportunities when looking at the best REITs in Asia.
It is always recommended to dollar-cost average into stocks, meaning you distribute your total capital to be invested over X months (e.g. 12 months), and buy the REIT in 12 tranches.
By this, your average into the market. The author believes now (as of Oct 2022), the risk/reward ratio is favorable.
How many Asian REITs are there?
In total, there are about 183 REITs in Asia, namely
Japan 105
Singapore 35
Malaysia 18
Hong Kong 11
Korea 5
Philippines 5
India 4
How to buy and sell REITs in Asia?
REITs are publicly listed shares, that you can buy at most of your regular stock brokers. Always pay close attention to the taxation of dividends. In most jurisdictions, dividends from REITs are tax-beneficial.
The withholding taxes can vary from country to country. Before you make large investments, maybe invest a small amount before the ex-date, and see the amount of withholding tax that gets deducted.
 
 
Is it better to buy REITs or actual properties?
REITs are publicly traded stocks, offering investors a whole host of advantages over actual properties:
– low initial investment amounts
– easy to buy and sell anytime via the stock market (liquidity)
– able to buy/sell small fractions (fractional  ownership)
– no cluster risk (REITs often own 1,000s of properties)
– access to potentially world-class investment-grade properties
– passive income via distributions/dividends
– no ongoing involvement is required
– depending on your jurisdiction, potential tax advantages
In most cases, buying a REIT at a good valuation and with a strong dividend offers investors a very good alternative to buying actual (physical) property.