Best Residential REIT In The U.S. To Buy?
Key Takeaways
☑️ In my view, AvalonBay is the best residential REIT in the U.S.
☑️ It covers those areas that will benefit from recent trends
☑️ It's the 11th largest publicly traded REIT
☑️ Since its IPO, it has returned 13.4% total shareholder return p.a.
☑️ Its dividend saw a 5% annualized dividend growth
Quick Profile
AvalonBay Communities (AVB) (website), is a residential property REIT, specializing in developing, redeveloping, acquiring, and managing multi-family properties in the U.S. The real estate investment trust (REIT) focuses on properties in New England, the Greater New York area, the Mid-Atlantic, the Pacific Northwest, and Northern and Southern California.
It is the U.S.'s 4th-largest owner of apartments, owning +85,000 apartments in a total of 290 different properties in 11 different states.
The first time I stepped foot into an AvalonBay property was in 2017 when visiting a friend of mine in Dallas/TX. It was called Waterford Court Apartments (see some images here), and it simply had a great feel to it. The pool and clubhouse were stunning, and the staff was extremely friendly, and overall it gave me a great and safe feeling.
Why AVB Is The Best Residential REIT In The U.S.
1/ Diverse Product Mix
AvalonBay follows a hold-and-operate strategy, offering a whole range of diverse 'products', from
garden properties
mid-rise properties
high-rise properties
mixed-use properties
The company has the unique ability to know what each local market wants and has shown over and over again that it is able to give each of its properties an unique flavor. This allows AvalonBay to cater to a wide variety of clientele, positioning it to be agile and flexible when it comes to developing the appropriate property mix.
2/ Different Brands Targeting Specific Segments
What makes AvalonBay the best residential REIT in the U.S. is also the fact that it has specific brands for specific segments of the market. For example,
its flagship AVALON brand is used for the premium/sophisticated clientele,
its AVA brand, with its tagline 'where we want, we live" caters to stylish urbanites,
its EAVES brand targets households preferring a minimalistic lifestyle,
and its KANSO brand caters to the focused business 'careerist'.
By this, whenever AvalonBay acquires property in a rather posh/upscale part of town, it can use one of its premium brands, and so on. It gives the company optionality and more flexibility. Smart!
3/ Great Geographic Diversification
What I like a lot about AvalonBay is the fact that it already has a strong foothold in the markets where you simply have to be, if you like to be the best residential REIT in the U.S., namely
California
Colorado
Connecticut
Florida
Maryland
Massachusetts
New Jersey
New York
Texas
Virginia
Washington
Washington D.C.
AvalonBay covers the key East Coast states, as well as West Coast states. In addition, it already has a presence in those states that might benefit from the megatrend of families leaving the expensive overpopulated megacities, and moving to states like Florida, Virginia, Texas, or Colorado with lower property prices, more space, more working-from-home, etc.
4/ Steadily Growing Dividend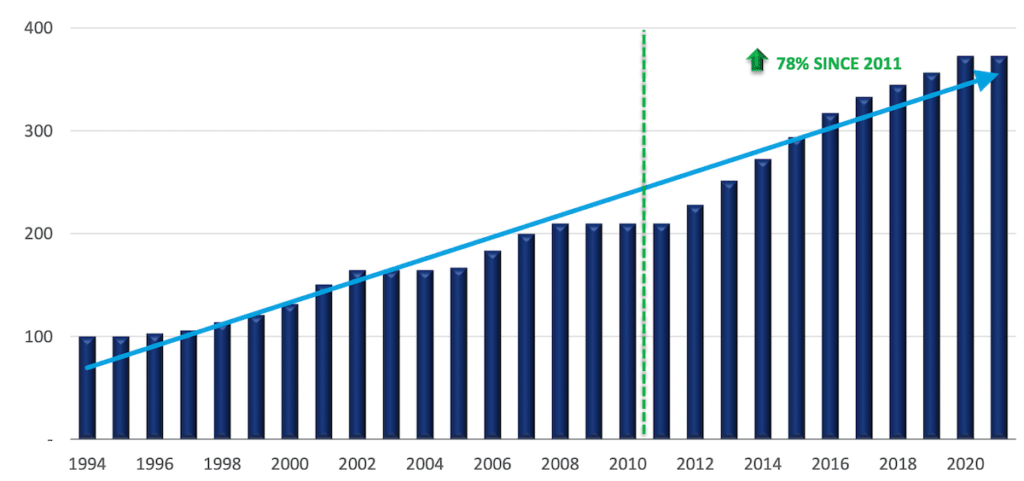 $AVB is a stable dividend payer, showing a 5% annualized dividend growth since its launch. The dividend is now 78% higher than in 2011, providing ample protection in a stagflationary, or inflationary environment we currently find ourselves in. When we compare $AVB's dividend with the dividend peers of other residential REITs in the U.S., we see the following:
5/ Attractive Valuation Compared To Its Peers
| | | | | | |
| --- | --- | --- | --- | --- | --- |
| Company Name | Market Cap | Price-to-FFO | Div Yield % | ROA % | ROIC % |
| AvalonBay Comm. | $26,971 | 21.12 | 3.42 | 4.14 | 3.62 |
| Equity Residential | $26,276 | 22.13 | 3.61 | 6.05 | 3.29 |
| Invitation Homes | $21,790 | 23.47 | 2.39 | 1.9 | 3.46 |
| Mid-America Apartm. | $18,467 | 19.85 | 2.86 | 5.26 | 4.76 |
| Sun Communities | $18,164 | 18.51 | 2.38 | 2.33 | 3.32 |
| Essex Property | $16,353 | 18.4 | 3.52 | 3.02 | 3.49 |
|   | in Mio USD |   |   |   |   |
With a market cap of $26,9 Bio US, $AVB is the largest publicly listed residential REIT in the U.S. (as of 2021/09). Although it is the biggest by market cap, it also boasts good overall ratios, such as a relatively high Return-on-Asset (ROA %), Return on Invested Capital (ROIC %), and a good price-to-FFO (Funds from Operations).
The FFO is one of the most important ratios to look at when comparing REITs. These are essential for all the funds collected from the REIT's tenants, representing the revenues or sales of a real estate investment trust. The EBITDA can greatly be influenced by property re-evaluations (typically carried out at the end of each year), but the FFO is raw simple data.
And this is where AvalonBay shines, and why I believe it is the best residential REIT in the U.S., see the following chart, showing the FFO of the largest residential REITs in the U.S. over the past years:
$AVB's FFO per share has been the highest for five consecutive years. And in real estate, size indeed does matter. Access to a larger variety of debt financing options, volumes of scale, ability to attract top talent and pay them better salaries, etc. That's why in real estate investing, and in particular when your aim is to find the best residential REIT in the U.S., I start by looking at the largest player, and that is $AVB.
Let's look at $AVB's margin of safety (with the tangible book value added to the fair value calculation). Also here, $AVB shows the best ratio. AvalonBay, compared to its direct peers, $EQR and $MAA, shows the best margin of safety of 28,31%.
6/ Strong Focus on Modern Design
As a design lover, I love the fact that AvalonBay puts a lot of focus on modern design. When I visited the Waterford Court Apartments in Dallas/TX, I instantly felt at home, and really like what the interior designers did. See below for some recent examples – in particular, the community areas look stunning.

Risks For Residential REITs
Higher interest rates during stagflationary or inflationary times like these days make it more difficult for buyers to get mortgages. This impacts the addressable market for residential REITs like AvalonBay. The stock prices of many REITs in general, but residential REITs in particular, recently came down substantially, especially those of European REITs!
With a price/FFO ratio of 21, $AVB's valuation already came down by a lot (it was at 29 just a few months ago). But it still does not represent a super-cheap level.
Another risk is the migration out of the big cities to more rural areas. Or from key states like California or Connecticut to the midwest and Florida. But $AVB is already well-positioned.
Conclusion
I really like what I am seeing. $AVB is the largest and in my opinion best residential REIT you can own in the U.S. It pays the highest FFO/share, has the highest margin of safety, pays a stable and steadily-growing dividend, and is geographically very diversified. I don't see it as a get-rich-quick-stock, but one of my favorite buy-and-hold-forever stocks I am happy to have in my dividend-oriented All-Weather Portfolio.
📘 Read Also
FAQs
What is a REIT?
A REIT is a real estate investment trust, typically acquiring, developing, and operating properties in the sector it is based. Depending on the country the REIT is based in, typically 70-90% of its annual profits have to be paid out as dividends to shareholders. Further, in many countries, you as a shareholder can benefit from certain tax advantages.
What are the largest REITs in the U.S.?
The twelve largest REITs in the U.S., based on a market cap in Mio USD, are the following:
1   $AMT  | American Tower | 110,763
2   $PLD | Prologis | 82,130
3   $CCI | Crown Castle | 69,866
4   $EQIX |Equinix | 56,147
5   $PSA | Public Storage | 53,764
6   $O  | Realty Income | 38,962 (in my All-Weather Portfolio)
7   $SBAC | SBA Comm. | 32,625
8   $WELL |  Welltower  | 32,231 (in my All-Weather Portfolio)
9   $SPG | Simon Property | 32,186
10  $DLR | Digital Realty | 31,543
11  $AVB | AvalonBay | 26,970 (in my All-Weather Portfolio)
What different types of REITs exist?
There are many different types and categories of REITs. The most common ones are residential, commercial, office, retail, industrial, senior residence, storage, or data centers.
How much percent should I put in REITs?
There is no right or wrong answer to this, it always depends on your individual situation. One good rule of thumb is that about 30% of your total net worth should be in real estate (e.g. REITs), 30% in stocks, 30% in bonds, and 10% in precious metals/Bitcoin.
How many apartments do the best residential REITs own?
This varies a lot: AvalonBay owns 290, MAA owns 300, and Equity Residential owns 310.
WiseStacker's Take
With the highest Funds From Operations (FFO/share) for five consecutive years, I believe AvalonBay (AVB) is the best residential REIT in the U.S. you can buy.
PROS
Diverse Product Mix
Different Brands Targeting Specific Segments
Great Geographic Diversification
Steadily Growing Dividend
Attractive Valuation Compared To Its Peers
highest FFO/share of all U.S. residential REITs
highest margin of safety among peers
CONS
rising interest rates make it challenging for buyers
Review Breakdown
Financial Strength

Predictability

Growth Rank

Dividend

Overall Rating