A Senior Living REIT To Hold Forever
Most people yawn when you bring up the topic of senior housing and senior living REITs. It's quite a boring, slow-moving, and non-thrilling industry. But, as I also invest in ultra-high stocks in my Thematic Portfolios, I want to counter-balance this with stocks of safe and stable businesses. Personally, I believe Welltower is not only the largest but also the best-run senior living REIT, hence I am happy to hold it in my long-term All Weather Portfolio.
Quick Profile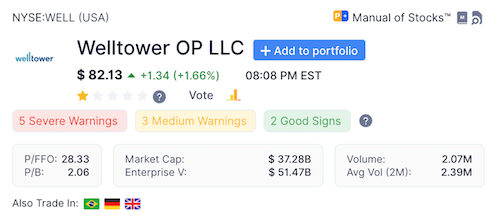 Welltower Inc. ($WELL, FRA:HCW), formerly Health Care REIT, and headquartered in Toledo, Ohio, is a US real estate investment trust (REIT) that invests in healthcare infrastructure. It owns 1,800 in-place properties in the U.S., Canada, and the U.K. ranks 561st on the Fortune 1000 (end of 2021), and is a component of the S&P 500.
specializes in acquiring, developing, renting out, or operating senior living and general healthcare properties. It
The group's portfolio includes
senior living facilities,
doctor's offices,
inpatient and outpatient medical centers,
hospitals, and,
buildings for life science companies.
The customers of Welltower include the leading healthcare companies and operators of senior living facilities. Put differently, Welltower builds first-class healthcare facilities, and either rents those out to leading operators or manages the facilities themselves.
Welltower divides its operations into three segments:
1/ Senior Housing Triple-Net Segment
The Senior Housing Triple-Net area includes all facilities managed by third-party companies. Those companies rent the facility from Welltower, pay regular rent, and manage all aspects of the senior care service.
2/ Senior Housing Operating Segment
This segment includes all facilities managed through JVs with partner operators. Welltower owns stakes in various leading operators, ranging from single digit to 100% ownership in some.
3/ Outpatient Medical Segment
This segment includes the company's real estate offering in the medical facility sector. These include medical office buildings, hospitals, or buildings that can be used in research. Medical office buildings are primarily medical centers in which several specialists are based. These are general practitioners, surgeons, ambulatory care services, or medical laboratories.
Reasons Welltower Is The Best Senior Living REIT
Simple and Stable Business
I like simple businesses that generate a stable yield. And I love real estate investment. Hence $WELL fits both bills perfectly. It has been paying a continuous dividend for 30+ years. Looking at other senior living REITs, you can quickly see that they all do reasonably "well".
Source: Gurufocus.com
Market cap and FFO-wise (Free Funds from Operations), Welltower is clearly the number 1 senior living REIT.
Owned By The World's Best Investors
Looking at the list of Gurus owning shares in $WELL makes me believe I am not the only one seeing value in this senior living REIT. Paul Tudor Jones, Ron Baron, Ray Dalio, Mario Gabelli, and Joel Greenblatt. Great community to be in.
Source: Gurufocus.com
Megatrend #1 – Retiring Of The Boomer Generation  
The baby boomer generation is historically speaking a very large and very rich generation. As the boomers are currently all coming into retirement age, senior living REITs and senior care facilities, in general, will have a massive influx of potential customers. This megatrend will play into Welltower's cards for another 1-2 decades. As we get better and better at medicine and diagnostics in general, our life expectancy will further increase. Consequently, this results in a larger addressable market for all senior living REITs, and Welltower, as the largest REIT by market cap, will benefit disproportionally from this trend.

Did you know?
10,000 baby boomers turn 65 years old every single day. As that pace continues, it is forecast that there will be around 80 million senior citizens within the next decade. That rate of growth is double what it was at the beginning of the 2000s – see chart below.
Source: thefiscaltimes.com
Megatrend #2 – Living In Safe Communities
Premium senior living brands such as Balfour, one of Welltower's key partners, are focused on serving its "affluent clientele in highly amenitized communities with unique designs inspired by their locales — from an equestrian-themed building to an urban site that includes a rehabbed train depot" (seniorhousingnews.com). As the current retirees have money, they will choose more upscale retirement homes, increasing the demand for Welltower's product.
International Diversification
I like the fact that $WELL is not only active in the U.S., but also in Canada and the U.K. This prevents a certain cluster risk and provides ample room for growth. I hope to see Welltower to further expand into other mainly English-speaking regions such as Australia, Singapore, or South Africa.
Vast Growth Potential
With people getting older and healthier due to better and better medicine, Welltower has a vast addressable market and growth potential. Just in the three markets it currently operates in, the U.S., Canada, and the U.K., it can most likely triple or quadruple in size and would still not reach market saturation. Hence this is a stock you can buy and hold for a very long time.
What Are The Risks?
Valuation wise I deem $Well at the moment not cheap. I don't plan to add to it unless the price comes down by 10-20%, or unless the company shows better profits. Its PE is currently very high, not justifying share purchases at this stage. According to Gurufocus' in-house valuation method, it shows the stock as "fairly valued", but not as undervalued.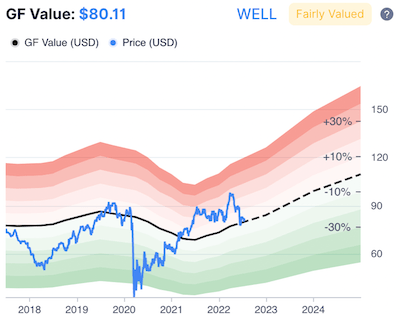 Another risk could be a severe pandemic as we experience in 2020. Welltower fared quite well during the global pandemic, managing through various challenges, and gaining lots of experience better equipping them for the next one.
Conclusion
I believe Welltower, as the biggest player in this space in terms of market cap, is the best senior living REIT that I will buy-and-hold forever. I love the fact that it is already owning and operating senior care residences in both Canada and the U.K., with hopefully more countries to come in the future.
📘 Read Also
FAQ
Is Welltower a good longterm hold?
Yes, REITs in general have proven to be good long-term investments. In the case of $WELL, even more so, because as an investor you benefit not only from the appreciation of the properties the REIT owns and manages on your behalf but also because of the long-term megatrend of the aging baby boomer generation.
Does the Welltower REIT pay dividends?
Yes, in 2022 $WELL has a yield of 3,67%, or $2.44 US per year, spread over four quarterly dividend payments.
What is the largest senior living REIT in the U.S.?
The five largest senior living REITs in the U.S., ranked by market cap:
1- $WELL | Welltower | $ 31,4 Bio US
2- $CAH | Cardinal Health | $ 21,0 Bio US
3- $VTR | Ventas | $ 16,8 Bio US
4- $PEAK | Healthpeak | $ 12,9 Bio US
5- $OHI | Omega Healthcare | $ 7,2 Bio US
Are senior living REITs a good investment?
I believe yes. REITs invest in properties, in other words, hard assets, that they then either operate themselves or rent out to third-party operators (or JVs with such third parties). This is a proven and battle-tested business concept that works in the healthcare space as well as many others, such as residential, office, industrial, or self-storage.

Are healthcare REITs worth it in 2022?
Yes. Some senior living REITs currently have a high valuation, so maybe wait for the PE to come down to more reasonable levels, e.g. 15-25. But in general, the hard asset aspect paired with simple-to-run operations and stable dividends make healthcare REITs good long-term investments.

What are the best senior living REITs?
The largest senior living REITs are Welltower (WELL), Ventas (VTR), Cardinal Health (CRH), Medical Properties (MPW), and Omega Healthcare (OHI). All of them are relatively well-run businesses, with varying stock valuations. Look at the current PE, dividend growth, and current ratio, which should be > 1.3.

How many senior living REITs are there?
There are currently 15 senior living REITs. The largest REITs are Welltower (WELL), Ventas (VTR), Cardinal Health (CRH), Medical Properties (MPW), and Omega Healthcare (OHI). Some only operate in the U.S., but Welltower for example, has 1,800 facilities in total, and many of those are in Canada and in the U.K. as well.

What are good senior living REIT ETFs?
Senior living REIT ETFs are great if you like to get exposure to the megatrend of the aging baby boomer generation:
1. iShares Residential Real Estate ETF (NYSEARCA:REZ)
2. Global X Longevity Thematic ETF (NASDAQ:LNGR)
3. iShares Cohen & Steers REIT ETF (CBOE:ICF)
4. Janus Long-Term Care ETF (NASDAQ:OLD)
5. SPDR Dow Jones REIT ETF (NYSEARCA:RWR)
WiseStacker's Take
I believe Welltower, as the biggest player in this space in terms of market cap, is the best senior living REIT that I will buy-and-hold forever.
PROS
Simple & Stable Business
Owned By The World's Best Investors
Megatrend #1 - Retiring Of The Boomer Generation  
Megatrend #2 - Living In A Safe Community With Like-Minded People
International Diversification
Vast Growth Potential
CONS
High Valuation (2022/07)
Severe Pandemics
Review Breakdown
Financial Strength

Predictability

Growth Rank

Dividend

Overall Rating