Monthly Stock Dividends Report (2023/01)
Back in 2022 in January, the total monthly stock dividends I received added up to 421 USD.
This year, my All-Weather Portfolio generated 641 USD. The following six companies paid the following dividends:
| | | | |
| --- | --- | --- | --- |
| Date | Company | Shares | Amount |
| Jan 6 | 🇸🇪 Castellum | 1,750 | $218 |
| Jan 9 | 🇺🇸 Pepsico | 72 | $75 |
| Jan 15 | 🇺🇸 Realty | 425 | $90 |
| Jan 17 | 🇺🇸 Avalon Bay | 68 | $92 |
| Jan 17 | 🇺🇸 Mondelez | 175 | $47 |
| Jan 26 | 🇺🇸 Cisco | 350 | $120 |
|   | Total |   | $641 |
The amounts are 'after-tax' (withholding tax has been deducted)
Comparing this year's to my last year's monthly stock dividends, I can 'record' an increase from 421 USD to 641 USD, roughly 52%. This is, however, due to the fact of buying additional shares throughout 2022.
My top monthly dividend stocks were Castellum, a Swedish REIT, and Cisco System, in my point of view one of the very few IT stocks you can buy and hold forever. 
My favorite "cheapest monthly dividend stocks" to buy at the moment are $ABBV and $PFE. They came down quite a bit, that's why I picked up some of their shares this month.
In terms of purchases this month:  I invested a total of 18,000 USD into four different dividend stocks:
| | | | |
| --- | --- | --- | --- |
| Date | Company | Shares | Amount |
| Jan 11 | 🇬🇧 Ecora Resources | 7,500 | $14,500 |
| Jan 18 | 🇬🇧 Unilever | 15 | $750 |
| Jan 31 | 🇺🇸 Pfizer | 35 | $1,500 |
| Jan 31 | 🇺🇸 AbbVie | 10 | $1,450 |
|   | Total |   | $18,200 |
$PFE, $ABBV, and $UL are existing positions and long-term holds for me. Ecora Resources (ECRAF), formerly known as Ashanti Pacific Group before it changed its name in Oct 2022, is an exciting and new addition to my All-Weather Portfolio.
I will write a full review of the stock shortly. In a nutshell, Ecora is a royalty company, that focuses on commodities supporting a sustainable future. It obtains royalties from base metals and commodities such as Copper, Nickel, Cobalt, Vanadium, Met Coal, Iron Ore, and Uranium. 
Monthly Stock Dividends Chart
Back to my monthly stock dividends: As some may know, I started building my All-Weather Portfolio in May 2020. Looking at the dividend history since then, they developed like this:
I did not see any increase in my monthly stock dividends comparing Jan 2021 with Jan 2022, because when $T spun-off $WBD, its dividend was substantially reduced.
The below chart shows my total dividend income portfolio as of the end of Jan 2023, grouped by industry:
And this chart shows the same portfolio, grouped by region: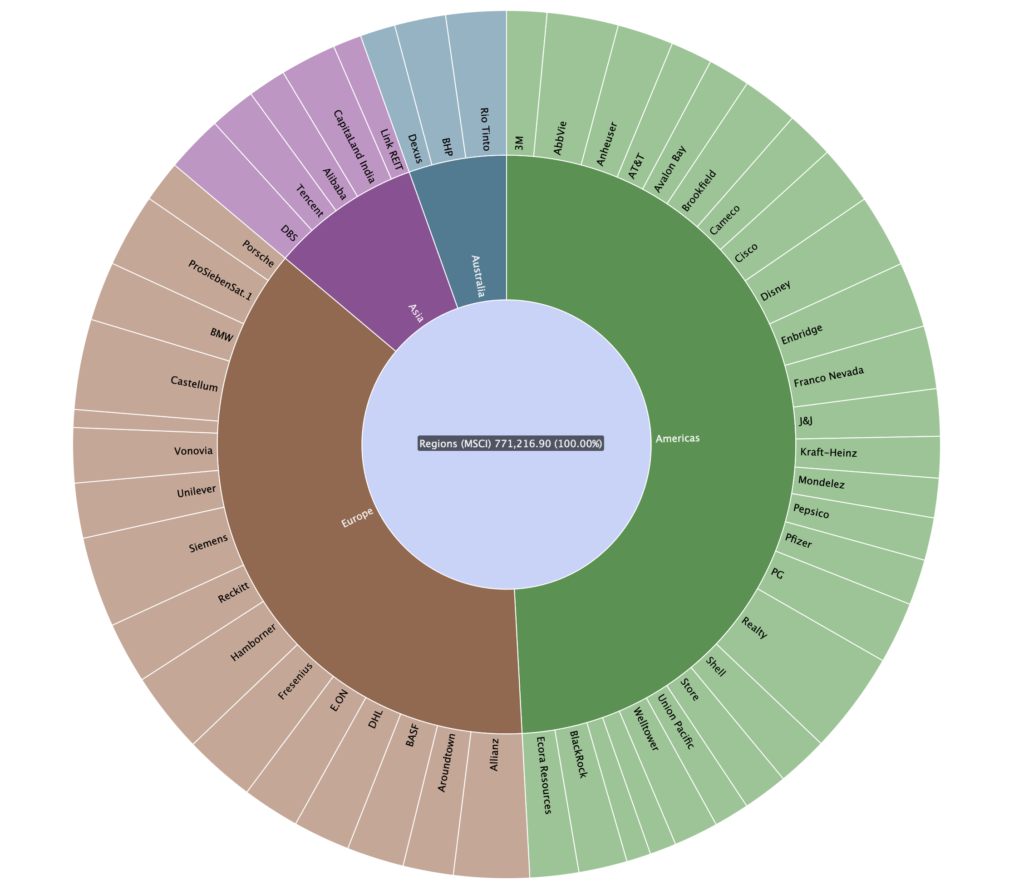 Some wanted to know which program I am using to create such charts: I'm using the (100% free) Portfolio Performance to track my portfolio and track my dividends. 
Other Passive Income
The above dividend income of 621 USD represents 5% of the total passive income I generated in January.
I made about 13,500 USD from dividends from shares in companies I own, income from bank deposits, (realized) trading gains, income from rental a small property in Germany, staking rewards from DeFi (ie. on Grizzly) and CeFi platforms, and income from solar panels.
If you like to see the full breakdown, please click here.
📘 Read Also
Community FAQs
What stock pays the best monthly dividends?
Every investor will give you a different answer about what the "best monthly dividends" are. Some follow the dividend growth strategy, others the high yield dividend strategy, others prefer stocks that pay dividends every month. I believe a good mix is important. Only having high yielders in your portfolio is not recommended, and only having low yielders but good growers also not. I believe a right balance between the two is the way to go.
How to make $1,000 a month in dividends?
Let's say a stock has a dividend yield of 5%, that means if you invest 1,000 USD, you'd be getting 50 USD per year in form of dividends. If your aim is to get 1,000 USD per month in passive dividends, then that would be 12,000 USD per year. With a dividend yield of the before-mentioned 5%, you'd need 60,000 USD to get approx. 12,000 USD p.a., or 1,000 USD per month.
Are quarterly dividends better?
Basically put, there is no difference between a company paying you dividends annually, bi-annualy, quarterly or even monthly. Once the cash has been paid out to shareholders, the price of the stock of a specific company will be automatically lower on the "ex-dividend date", subject to the amount of the respective dividend pay.
Do I get a dividend if I buy a stock before ex-dividend date, but sell it before the record date?
Yes, if you buy the stock before the 'ex-dividend date' and hold it until after this date, then you will be eligible to receive the dividend. In other words, you are eligible to receive a dividend as long as you buy the stock before the ex-dividend date.
Are there monthly dividend ETFs?
What are best monthly dividend stocks under $5?
Which shares give dividends monthly?
The following stocks pay dividends every month:
AGNC Investment Corp. (ticker: AGNC)
Apple Hospitality REIT Inc. (APLE)
Armour Residential REIT Inc. (ARR)
Gladstone Capital Corp. (GLAD)
LTC Properties Inc. (LTC)
Prospect Capital Corp. (PSEC)
Realty Income Corp. (O)
Disclaimer: I own $O in my All-Weather Portfolio