The Best Consumer Staples Dividend Stock Is 👉 Procter & Gamble.
Key Takeaways
☑️ Procter & Gamble is a dream consumer staples dividend stock
☑️ It ticks all the boxes of a 'buy & hold forever stock'
☑️ It produces a wide variety of low-cost, daily-use products
☑️ Its line of products provides protection against inflation   
Quick Profile
Procter & Gamble (PG) (website), founded in 1837, is the world's 2nd largest consumer goods company by market cap ($323 Bio US, $JNJ at $435 Bioo USD).
It makes everything from toothpaste, to deodorant, to shampoo, diapers, and conditioner.
P&G is a great company to buy if you're looking for a stable and safe consumer staples dividend stock.
It's well-managed and has a great track record of paying out dividends.
As a Dividends King, it must have had at least 50 consecutive years of dividend increases, and $PG is one of the only six companies with more than 65 years (as of 2022), the other four are American States Water, Dover, Genuine Parts, Northwest Natural and Parker-Hannifin.
Reasons Why PG Is The Best Consumer Staples Dividend Stock
1/ Superior Portfolio Of Daily-Use Products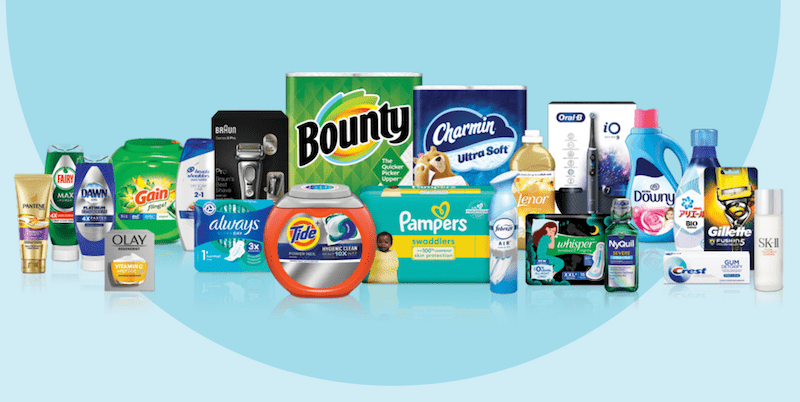 What makes $PG the consumer staples dividend stock in the world is its superior portfolio of daily-use products, such as (in alphabetical order):
     * Always
     * Ariel
     * Braun
     * Gillette
     * Head & Shoulders
     * Pantene
     * Crest
     * Oral-B
     * Pampers
     * Vicks
     * Safeguard
     * Olay
     * SK-II
     * Tide
     * Vidal Sassoon
$PG has been selling off dozens of its consumer brands over the past few years in order to better efficiently deploy its portfolio.
Asset sales include Duracell to Berkshire Hathaway (BRK-A) for $4.7 Bio and a fleet of 43 beauty brands to Coty (COTY) for $12.5 billion.
By only focusing on its top brands, $PG's effort and money are spent on its flagship brands, typically resulting in more efficiencies and better capital management.
PG Brands we as a family love & use every day: 
we use Ariel as washing powder
I use Safeguard as Shampoo
my son uses Vidal Sassoon as hair gel
I use Gillette razors/shaving creme for 25+ years
we bought "shitloads" of Pampers when the Zerglings were young
my wife uses all sorts of Olay products for god knows what
I love holding stocks of companies in my All-Weather Portfolio, and making products I actually like and use myself.
For example, I love eating Lay's from PepsiCo or drinking Stella from Anheuser-Busch.
I can also not eat a burger or french fries without Heinz tomato ketchup from Kraft-Heinz.
2/ Fantastic Variety Of Product Categories

Source: Procter & Gamble's annual report 2021
$PG not only has fantastic flagship brands but also covers an extremely wide variety of different product categories, namely
Baby Care
Fabric Care
Family Care
Feminine Care
Grooming
Hair Care
Home Care
Oral Care
Personal Health Care
This enables $PG to be in almost every single room, be it the kid's room (diapers, baby creme, ..), bathroom (shampoo, haircare, grooming), laundry (fabric care) or kitchen (home care).
Without knowing, we use several $PG products without even knowing.
3/ Great Geographic Diversification
$PG products are available in 170+ countries. I found P&G products even in the smallest supermarkets in remote towns in Thailand. The company generates more revenues outside of North America as (51%).
70% of its revenue is generated in North America and Europe, 30% in Asia, Africa and Latin America.
4/ Stable Dividend And Strong Stock Buy-Backs
$PG is a dividend king, meaning it has raised its dividend for a consecutive 50 years.
Keep in mind, paying a dividend is not enough to become or remain a dividend king. You actually need to raise the dividend for 50 years straight, every single year.
Just imagine you invest some money in a friend's company, and he pays you a higher dividend every single year for 50 years straight.
This clearly tells you something about the quality of the business s/he built, its industry, its work ethic, its moat, etc.
| | | |
| --- | --- | --- |
| Dividend Yield | Dividend Payout Ratio | |
| | 61% | 5.40% |
$PG currently pays a 2,64% dividend per year (paid quarterly). Its payout ratio sits at 61%, meaning it pays out 61% of its profit in form of a dividend. And in the past 5 years, it grew by a steady 5.4% p.a.
The company also repurchases back a lot of its own stock. When looking at Procter & Gamble's average share buyback ratio, compared to some of its peers, you can see that it does so more aggressively than all others.
5/ Attractive Valuation Compared To Its Peers
When comparing $PG with the other consumer staples giants like Nestlé, Pepsico, Coca-Cola, or Unilever, you can see that essentially all of them are contenders to be the best consumer staples dividend stock.
All of them have attractive valuations, impressive dividend records, and convincing financial ratios. What's noteworthy is that $PG has the 2nd largest ROIC right after $JNJ.
| | | | | | |
| --- | --- | --- | --- | --- | --- |
| Company Name | Market Cap | PE | Div | PB | ROIC % |
| Johnson & Johnson | $435 Bio | 24 | 2.7% | 5.7 | 17.4 |
| Procter & Gamble | $323 Bio | 23 | 2.6% | 7.1 | 13.5 |
| Nestle | $294 Bio | 18 | 2.6% | 6.5 | 10.1 |
| Coca-Cola | $250 Bio | 26 | 3.0% | 10.9 | 13.3 |
| PepsiCo | $232 Bio | 25 | 2.6% | 12.5 | 11.5 |
| Averages | $307 Bio | 23 | 2.7% | 8.5 | 13.2 |
Judging from $PG's market cap, we can see that there is only one company with a bigger market cap, $JNJ. See the below's chart for how the market cap of the different consumer staples companies developed over the course of the last five years.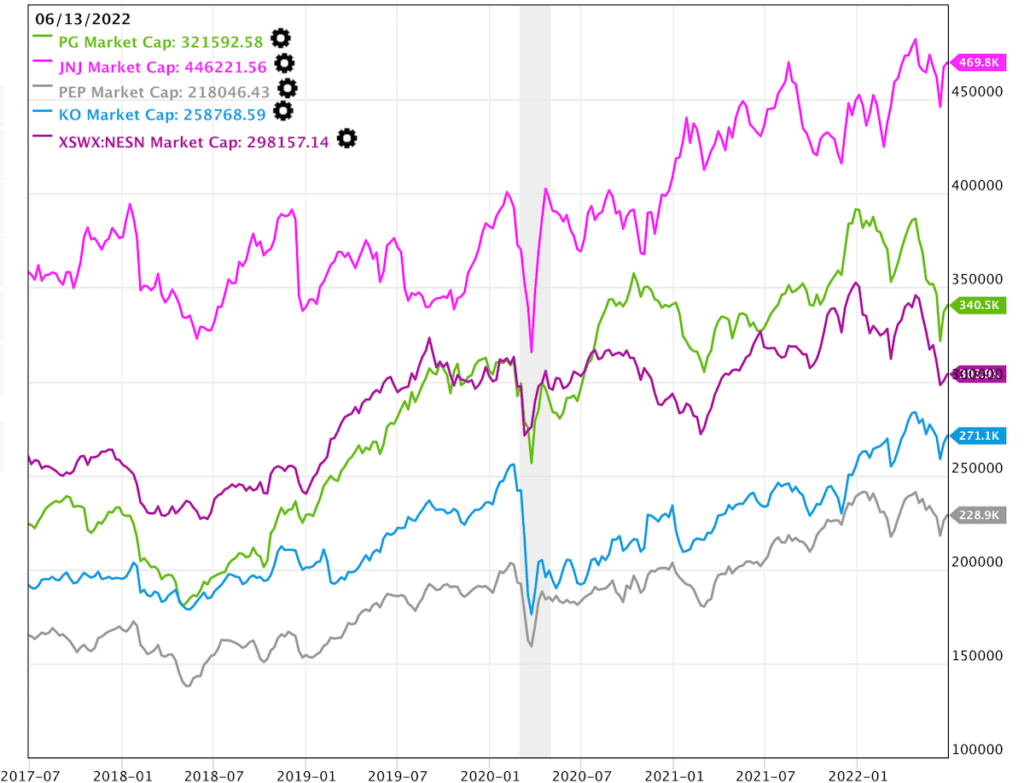 When looking at the Free Cash Flow of each company, we see that $JNJ is in a league of its own, but $PG is taking the second spot – again a sign that it is a strong contender to be the best consumer staples dividend stock in the world.
Same here, only $JNJ is able to beat $PG. A $13,6 Bio US of free cash flow is a lot of cannon fodder you can use to acquire up-and-coming startups, invest in R&D, attract top new talents or expand to new markets!
Looking at the long-term debt of each company, we see the following: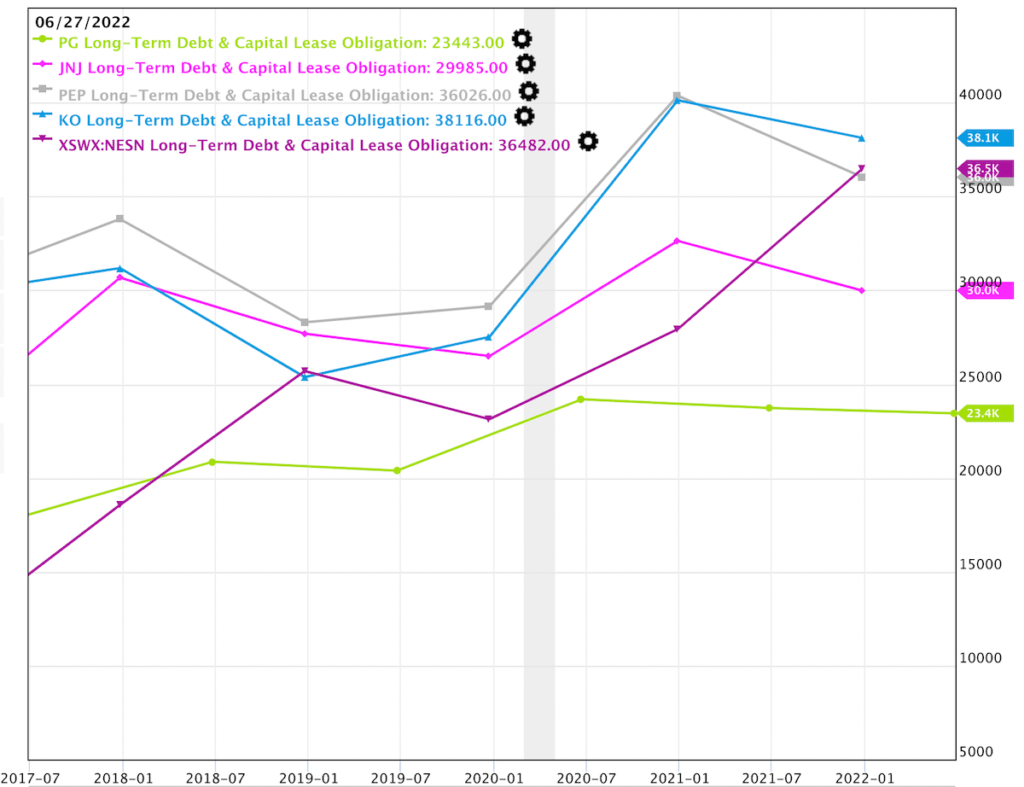 Nice to see that $PG has the lowest long-term debt of all its peers, another reason making it the best consumer staples dividend stock to own!
6/ Strong Inflation Protection
$PG produces products people use on a daily basis. Most of its products, like shampoos, soaps, body lotions or washing powders have relatively low price tags, representing only small amounts of a family's monthly expenditures.
That's why stocks like $PG offer good protection against rising inflation as people still have to shower or wash their clothes even during difficult periods.
Many fund managers also "park" cash in consumer staples dividend stocks such as $PG because they know they typically fare well in bear markets.
Risks 
Despite some pricing actions being taken, it appears that gross margins are in decline.
Freight and input costs are generally still very high, hence even companies like P&G, in my opinion, one if not THE best consumer staples dividend stock, are likely to struggle with gross margins despite their considerable pricing power.
The company owns some of the most well-known and trusted brands in the world, that's why in theory it should have the ability to increase its prices.
However, there's also a limit should the consumer have no more money to spend than energy and food.
See the below's chart below showing the enterprise value to EBITDA ratio.
It is currently sitting at 16.5, whereby the average is around 15.
What are the largest consumer staples companies in the world?
| | | |
| --- | --- | --- |
|   | Company Name | Revenue in Bio USD |
| 1 | Johnson & Johnson (in portfolio) | $95,588 |
| 2 | Nestlé SA | $92,128 |
| 3 | PepsiCo (in portfolio) | $81,862 |
| 4 | Procter & Gamble  (in portfolio) | $80,187 |
| 5 | Unilever (in portfolio) | $61,430 |
| 6 | Anheuser-Busch InBev (in portfolio) | $56,499 |
| 7 | Coca-Cola Co | $41,322 |
| 8 | L'Oreal SA | $34,196 |
| 9 | Mondelez (in portfolio) | $29,878 |
| 10 | Kraft Heinz (in portfolio) | $25,632 |
| 11 | Henkel | $20,304 |
| 12 | Diageo | $19,811 |
| 13 | Reckitt Benckiser (in portfolio) | $17,307 |
| 14 | Kellogg Co | $14,578 |
| 15 | Pernod Ricard SA | $9,450 |
Conclusion
If margins are further deteriorating, $PG's profit estimates will drop as a result.
I believe Procter & Gamble is a dream consumer staples dividend stock for any income-oriented investor like myself.
The stock is fairly valued at the moment, that's why I am happy to hold it in my dividend-oriented All-Weather Portfolio, adding to its weakness.
If you do not have a position yet, I would wait for further weakness and place some first buying orders at 120 USD, or 100 USD, and if you are lucky you get some at 90 USD.
📘 Read Also
FAQ
When was Procter & Gamble founded?
P&G was founded in 1837 by William Procter, an immigrant from England who established himself as a candle maker in Cincinnati, a booming city in the early nineteenth century, and James Gamble, who arrived from Ireland, apprenticed himself to a soap maker.
 
Does Procter & Gamble
(

PG

)

own Pringles?

PG used to own Pringles but does not do so anymore. Kellogg acquired Pringles potato chips for $2.7 billion in a cash deal in 2011 from PG, making the cereal company the second largest snack food maker in the world.

 
Did Procter & Gamble really invent soap operas?
The first soap opera was not invented but sponsored by P&G on the radio. It was Ma Perkins, and the soap in question was Oxydol.
What is Procter & Gamble's slogan?
PG's tagline or slogan is "touching lives, improving life".
What's PG's revenue?
My Take on Procter & Gamble
With 66 consecutive dividend increases, Procter & Gamble is not only a dividend king, but in my opinion also the Best Consumer Staples Dividend Stock in the world.
PROS
Superior Portfolio Of Daily-Use Products
Fantastic Variety Of Product Categories
Great Geographic Diversification
Stable Dividend And Strong Stock Buy-Backs
Attractive Valuation Compared To Its Peers
Strong Inflation Protection
CONS
Rising Inflation Might Make Consumers Switch To Budget Brands
Not High Growth
Review Breakdown
Financial Strength

Predictability

Growth Rank

Dividend

Overall Rating