A Perfect Buy And Hold Forever Stock?
About the Company
PepsiCo ($PEP) is the 2nd largest food and beverage company in the world. Its sales are 2x that of Coke. It owns 20+ brands that generate more than 1 Bio USD in sales. Its products are sold in 200+ countries. On average, a PepsiCo product is enjoyed by consumers more than one billion times a day. Its brand portfolio includes a wide range of enjoyable foods and beverages, such as Pepsi Cola, Gatorade, Lay's, Quaker Oats, Doritos, Mountain Dew, and Cheetos.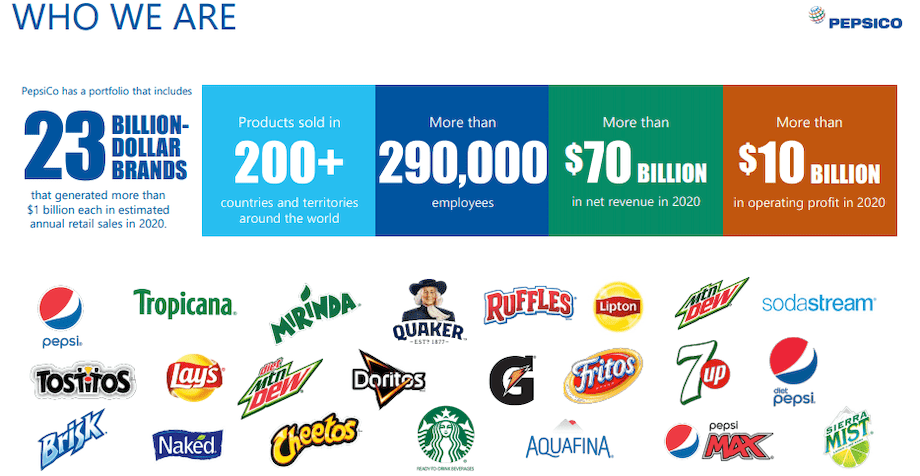 PepsiCo's shares are traded on all major stock exchanges.  The company has a market cap of 228 Bio USD, a PE of 22.5, and currently sits at 165 USD/share.
My Personal Story With PepsiCo
The first time PepsiCo awarded a project to my company was in 2013. I was the founder and GM of a marketing service firm, assigned to create a series of packaging visuals for their Quaker Oats product line. After the completion of the first successful project, we got good feedback and subsequently became a nominated supplier in Asia.
We then landed one large project after the other, and that was from various divisions. The main task was typically the creation of advertising or packaging visuals.
PepsiCo is a great client to have. And having benefited from this relationship, I am of course somewhat biased. But at the same time, I really feel connected to the company, and having met many of its executives and company in general, I got an in-depth look behind the scenes of one of the largest consumer product companies in the world. I quickly learned that PepsiCo is not only 'much more than Cola', but a true buy and hold forever stock.
PepsiCo – So Much More Than Drinks
I love the fact that PepsiCo is well-diversified in terms of
geography (56% U.S. and 44% internationally),
division (55% convenient foods and 45% beverages)
revenue by brand (32% U.S. beverages, 25% Frito-Lay U.S., etc.)
etc.
PepsiCo's Revenues From Food Are Higher Than From Its Drinks
In fact, I got to know first-hand that PepsiCo makes more money by selling food-related products than soft drinks! It's the number 2 food and beverage company in the world, right behind Nestle. More than 20 of its brands generate +1 Bio USD p.a.
This makes PepsiCo an incredibly appealing company, as its turnover is about as crisis-proof as it can get. Being crisis-proof is one of the main requirements for any buy and hold forever stock because you only want companies that are true survivors.
PepsiCo's soft drink brands include Pepsi Cola, Mountain Dew, 7UP, and Lipton Ice Tea, and its food and snack brands include Doritos, Lay's, Quaker Oats, Fritos, Cheetos, and many more.
What Is The Biggest Beverage Company In The World?
You guessed it right, it's PepsiCo. According to companiesmarketcap.com, it has sales of 80 Bio USD. Anheuser-Busch ($BUD), also in my dividend portfolio, comes in 2nd place with 54 Bio USD.
What Snack Brands Does PepsiCo Own?
PepsiCo makes more food with its snack and food division than its soft drinks. The main snack brands are Frito-Lay (Lay's Potato Chips), Quacker Oats, Cheetos, Cracker Jack, Chester's, Munchies, Funyuns, Matador, Smartfood, and more.
My all-time favorite Lay's Potato chip flavor is 'Barbecue' – impossible to stop!
PepsiCo Is Huge – 2x The Size Of Coca-Cola
Most people can not believe it when they learn that PepsiCo's revenues are twice that of Coca-Cola. 80 Bio USD vs. 40 USD. PepsiCo makes more money by selling food than by selling soft drinks, and its soft drink division is about the same size as Coke's.
PepsiCo – A True Dividend King
Pepsico announced yet another 7% increase in its yearly dividend, one of the main characteristics of a true buy and hold forever stock. It is not only a Dividend Aristocrat but just earlier in 2022 became a Dividend King, the creme de la creme of dividend payers.
Only companies that raised their dividend every single year for 50 consecutive years, may refer to themselves as Dividend Kings. See below for the full list of Dividend Kings. Those highlighted are in my All-Weather Portfolio, and are also true buy and hold forever stocks, such as Procter & Gamble, 3M, and Johnson & Johnson.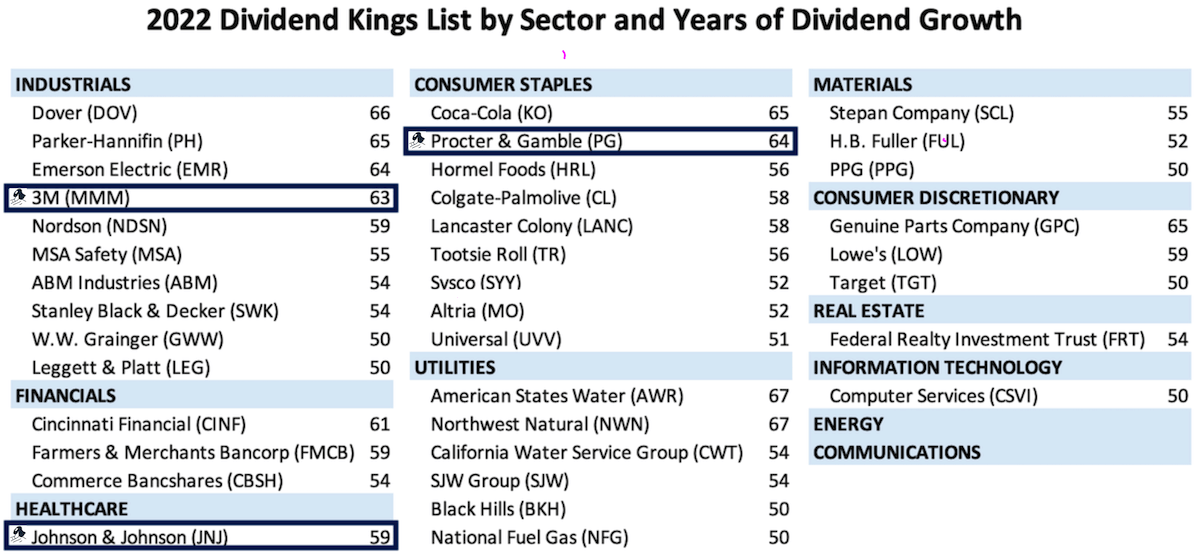 Source: Simply Safe Dividend
Does PepsiCo Also Sell Healthy Products?
Yes. PepsiCo has been investing heavily in healthy products by creating and acquiring a plethora of healthier products, including
Hilo Life Chips (low-carb / keto-friendly tortilla chips)
Naked

(

smoothies

)

Gatorade Organic (blended fruit juices without added sugar)
Evolve (a plant-based protein made with non-GMO pea protein)
Beyond Meat (plant-based protein drinks and food)
Driftwell (a still water beverage rich in magnesium)


Pepsi Cola's Original Name Was Brad's Drink?
Did You Know That the original Pepsi-Cola was named after Caleb Bradham, a druggist from North Carolina who invented the original Pepsi Cola in 1983! He had the idea of a 'soda fountain' in his store. His main idea was to come up with a drink that would help with indigestion, and the first ingredients were quite healthy: water, caramel, lemon oil, nutmeg, kola nuts (!), and a mixture of sugar. In 1888, he renamed his invention 'Pepsi Cola' and started selling it via other stores.
PepsiCo Is Everywhere
The company has operations in 200+ countries (!) and is essentially known all around the world. What I like a lot about PepsiCo is the fact that whenever an emerging or developing country does well, they typically first buy the big 'status-symbolic brands such as Pepsi. By this, we investors benefit from the rapid growth of many smaller countries that lie ahead of them.
Conclusion – Am I Buying?
In my opinion, PepsiCo is one of the world's best buy and hold forever stocks there is. It has everything that I am looking for, supported by the recent performance of its stock. While the Nasdaq is down by 23.9% YTD (year-to-date), $PEP is 'only' down 3.9%. I will keep dollar-cost averaging into this world dividend machine and do not plan to ever sell any of my shares.

👑 Other Buy & Hold Forever Stocks I Own 
Mondelez – a good dividend stock with a fantastic brand portfolio
BASF – why dividend stock BASF is a buy-and-hold forever stock
John Deere – to feed all the people in the world, we need Deere's machinery and know-how
Kraft Heinz – co-invest with Warren Buffet, who owns 26% of all KHC stock


Brookfield Renewable

 – my favorite renewable energy stock for the coming 30 years
📘 Read Also
WiseStacker's Take
PepsiCo has all the characterisitcs of a true buy and hold forever stock. It has the size, moat, brand recognition, financial prowess, fortress balance sheet, international presence and simple business model that I believe it should be a pillar for any long-term, income portfolil.
PROS
Brand recognition
Worldwide presence
Financial prowess
Fortress balance sheet
Unbeatable dividend record
CONS
Strong competition
Needs to transition to healthy products
Needs to watch out for its environmental footprint
Review Breakdown
Financial Strength

Predictability

Growth Rank

Dividend

Overall Rating