Disclaimer: I'm not a financial advisor. No content is meant to be a recommendation. Please do your own research. Pages might contain affiliate links. Please read my Disclaimer page.
What's The Best Oil Company, You Ask?
With 82,000 employees, 329 Bio USD in sales and and a net income of 20.6 Bio USD, Shell is Europe's largest oil company, and globally the 2nd largest behind Exxon (XOM, generating 352 Bio USD in revenues). Shell, as an Anglo-Dutch oil corporation, is in my personal opinion the best oil company you can own.
In this article, I will share my five reasons why.
Quick Profile
Ticker:

$

SHEL /

$

FRA:R6C0
ISIN

US7802592060

Share Price 

$55

Market Cap $ M

$193,217

Enterprise Value $ M

$240,381

P/E

6.0

Forward PE Ratio

5.1

Price/Book

1.1

Price/Sales

0.7

Price/Free Cash Flow

6.2

Price/Owner Earnings

8.4

Payout Ratio %

0.15

Market Cap $ M

$193,217
The Largest Oil Companies – Compared
In order to find out which is the best oil company, let's start by looking at the five largest. As you can see, $XOM takes the top spot in terms of sales and market cap, but $SHEL is a close runner-up. In terms of market cap, $CVX is larger, but it also has a very high market cap/sales ratio of 1.5 ($SHEL only at 0,6!).
Symbol
Company

Market Cap (Mio$)

Rev (Mio$)

PE

Div

PB

$

SHEL

Shell

$193,217

$329,587

6.03

3.71%

1.07

$

TTE

TotalEnergies

$136,445

$238,763

7.42

5.54%

1.21

$

XOM

Exxon

$391,799

$352,196

10.29

3.74%

2.21

$

CVX

Chevron

$307,122

$206,099

10.47

3.54%

2.01

$

BP

BP

$100,168

$203,852

–

4.22%

1.59
Reasons Why I Like Shell
1/ Shell heavily invests in renewable energy
Although $SHEL is an oil major, it invests heavily in renewable energy. In fact, it is one of the largest investors in this space. Be it solar, wind, or hydrogen, $SHEL has its fingers in all those pies. In 2019 alone, it invested in more than 20 clean-energy deals (see chart below).
And between June and August 2022, $SHEL not only starts to build Europe's largest renewable hydrogen plant, it also acquired 100% in 'Sprng Energy', another interesting clean-energy company with a massive renewables platform. Shell's aim is to reach its target of becoming a profitable net-zero emissions energy business by 2050 – an audacious ambitious goal for a fossil-based oil producer!
2/ Shell is a cash-generating machine
Shell's total free cash flow for the trailing twelve months (TTM) ended in Jun. 2022 was $35 Bio USD. In other words, Shell's management has $35 Bio USD at their disposal each year to deploy as they see fit. With this kind of money, you can buy the most innovative startups, and mid-sized competitors or build out and improve your portfolio. These numbers are just incredible.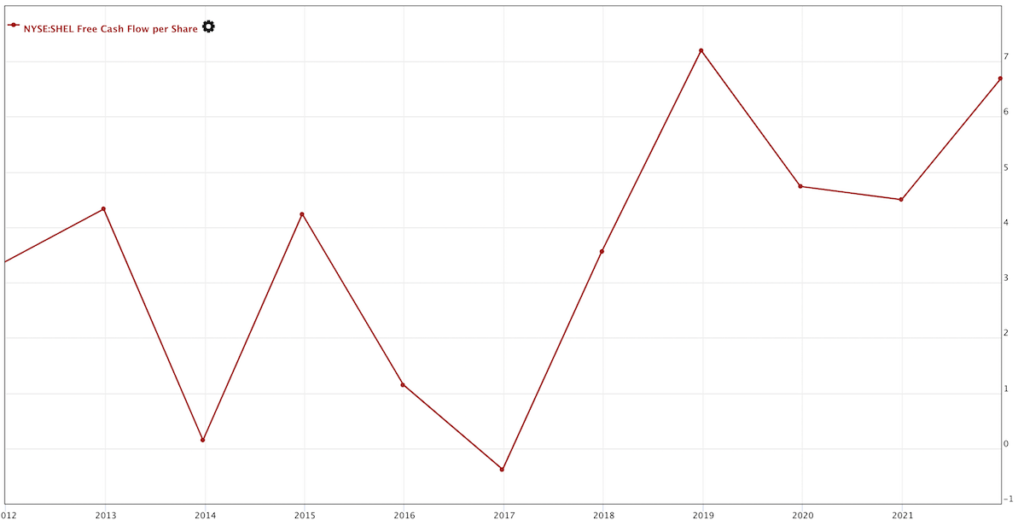 So you are buying an oil company at 55 USD per share, with a Price/Free Cash Flow of 6.2 (not taking into account that the oil price in my opinion will increase in the coming years amidst all this geo-political uncertainty!
When looking at the past 10 years, you can see that compared to previous years, it comparatively generates a lot of cash, another reason making it, in my opinion, one of or maybe the best oil company to buy and own.
3/ Shell is attractively valued
According to Gurufocus' Discounted Cash Flow Model, $SHEL has an excellent margin of safety of 55.44%.
Due to its excellent cash flow, the company announced a share buyback program for Q3 of 2022. Further, on top of their 1.8 Bio USD of dividend payment in Q2 of 2022, and their share buyback program of 5.5 Bio USD, Shell was able to get their net debt down to 44 Bio USD. All factors that make $SHEL an excellent oil stock to own.
4/ Good company culture
Under the helm of CEO Ben van Beurden and CFO Sinead Gorman, I like the straightforwardness and transparency of how this mega-giant conducts its quarterly earning calls. I watched now several of them, and I like how even tough questions get addressed and answered in a calm and sober way. I appreciate that and feel good being invested in a company with a 'direct access' to the CEO and CFO – a sign of a good company culture. See one of those calls in the following video.
5/ Shell has a good dividend yield
With 3.59%, Shell does not pay a huge dividend, but a very sustainable one. Its pay-out ratio is only 0.15, meaning it has enough wiggle room in the coming years to make adjustments to this. The 5 Yr growth rate is negative, but with all that has been happening in the past just three years, I can accept that as an ultra-long investor, who sees $SHEL as a buy and hold forever stock.
Dividend Yield

Dividend Payout Ratio

Growth Rate (5-Year)

3-Year Share Buyback Ratio

3.59%

(

Trailing

)

0.15

-17%

2.2%
After $SHEL moved its headquarters from the Netherlands to the United Kingdom in late 2021, as an international shareholder, I benefit from this move because no more withholding tax is deducted when receiving the dividend. See below the before and after dividend amounts paid.
Risks when investing in Shell
Not even the best oil company in the world comes without risk. Briefly before I bought my first $SHEL stocks in 2020, after the "March Madness",  Shell had reduced its quarterly dividend from 0.93 USD down to 0.32 USD . Many loyal, hardcore long-term Shell investors were really disappointed, and frankly, pissed off, that the dividend was cut.
Many voiced their unhappiness about how the management communicated the dividend cut. As I only 'joined the party' after this happened, I'm objective and 'neutral' about this point. If it would have impacted me as well, I am sure I wouldn't have been happy, but the recent good performance is a great sign. As you can see, the company already raised the dividend back to 0.5 USD, showing a very positive trend.
Another risk is the company's strong exposure to Europe. The European countries are really going through a lot these days: the war in Ukraine, the pandemic, the high inflation, the supply chain interruptions, the drought, the refugee crisis, and the list goes on and on. But Shell has major operations in numerous different geographic regions, not giving me sleepless nights about it.
Conclusion
Hands down, I believe $SHEL is the world's best oil company you can invest in. It is fairly valued (PE of 6), pays out a high yet sustainable dividend, is buying back shares, and is paying down debt. Due to being headquartered in the UK, no withholding tax is deducted, making it an excellent choice for long-term income investors like myself. I am happy to hold it in my All Weather Portfolio, and I plan to own it for a very long time.
FAQ
Is Exxon, Chevron, or Shell bigger?
Exxon is the largest oil company in the world, based on revenues and market cap. Based on sales, $SHEL is the 2nd largest, whereby Chevron has the 2nd highest market cap.
Does Shell offer natural gas?
Yes, approx. 12% of Shell's revenues come from its natural gas-related division. 85% of Shell's sales are from its downstream, 3% from its upstream, and 12% of the before-mentioned natural gas business unit.
Where does the logo of Royal Dutch Shell come from?
The logo was initially a 'mussel shell', designed in 1901, but later on was changed to a scallop shell, in 1904.
What is the best oil company in the world?
The usual suspects are Exxon $XOM, Chevron $CVX, and Shell $SHEL. I state five reasons why I believe Shell is the best oil company you can currently buy (especially for non-U.S.-based investors).
What did Shell do during the First World War?
During the first World War, $SHEL provided most of the fuel to the British Armed Forces, also aviation fuel to the British Army. During WWII, Shell was basically 'divided into an Allied corporation and an Axis corporation'.
Did Shell ever take the top spot on the Fortune 500 list?
Yes, in the year 2013. Royal Dutch Shell was the number 1 Fortune500 company.
How many Shell gas stations are there?
Worldwide, Shell has +45,000 gas stations, located in over 70 countries, with more than half a million staff members serving more than 25 million customers around the world every day. In the U.S., there are about 25,000 'Shell-branded' gas stations.
You Might Also Like
WiseStacker's Take
As Europe's largest oil company and the worldwide number 2, I believe Shell is the best oil company you can currently buy.
PROS
renewable energy investments
great cash flow
attractive valuation
good company culture
good dividend
transition to renewable energy costs
CONS
strong exposure to Europe
cut its dividend in 2020
Review Breakdown
Financial Strength

Predictability

Growth Rank

Dividend

Overall Rating