STORE Capital – A Dream REIT Stock
Let's get straight to the point: As an income investor, I love REITs. And I believe STORE is a dream REIT stock, that any long-term-oriented income investor should take a close look at. I have only owned it since May 2020 but plan to buy and hold it *forever*.
Quick Profile
STORE Capital ($STOR) is a Scottsdale, Arizona-based real estate investment trust (REIT), owning +2,850 properties. It owns properties in 49 states and rents those assets out to +550 different lessees from over 120 industries. One interesting characteristic of this dream REIT stock is that not one single tenant makes up more than 3% of its portfolio. STORE saw 782 Mio USD in total revenues in 2021, and 694 Mio USD in 2020, with a net income of 268 Mio USD in 2021, and 212 Mio USD in 2020.
What makes STORE unique is its focused approach to acquiring profitable locations, resulting in superior portfolio performance.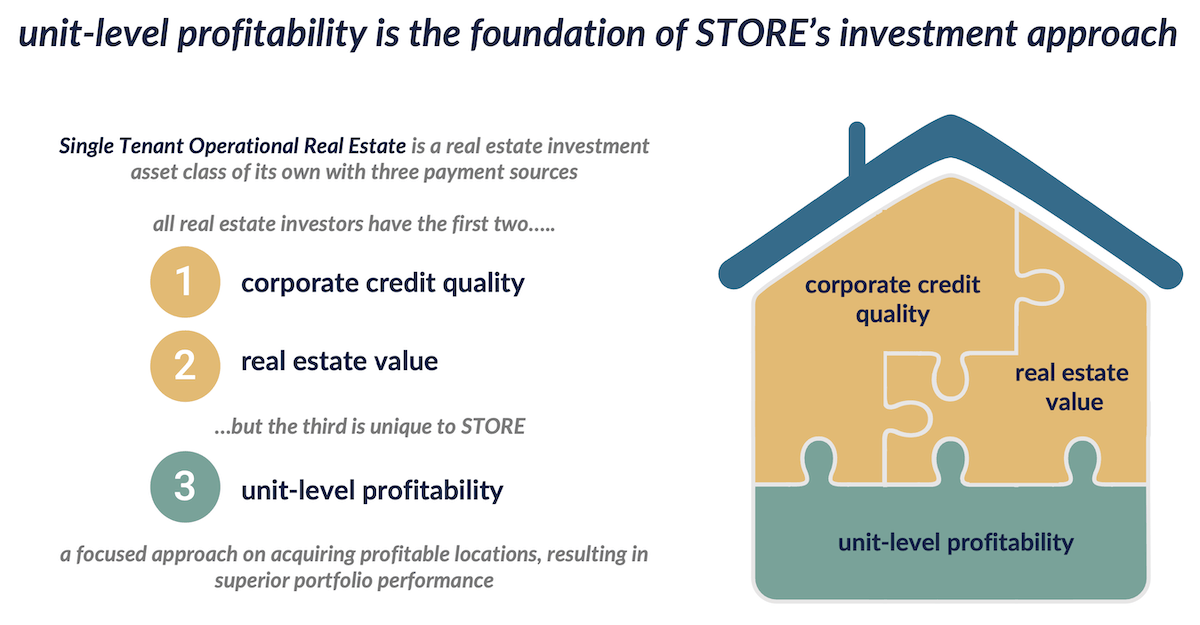 What Makes STORE A Dream REIT Stock?
1/ Loyal Customer Base
One-third of STORE's new business is from existing customers, an excellent number. STORE's properties are on average 99.5% occupied.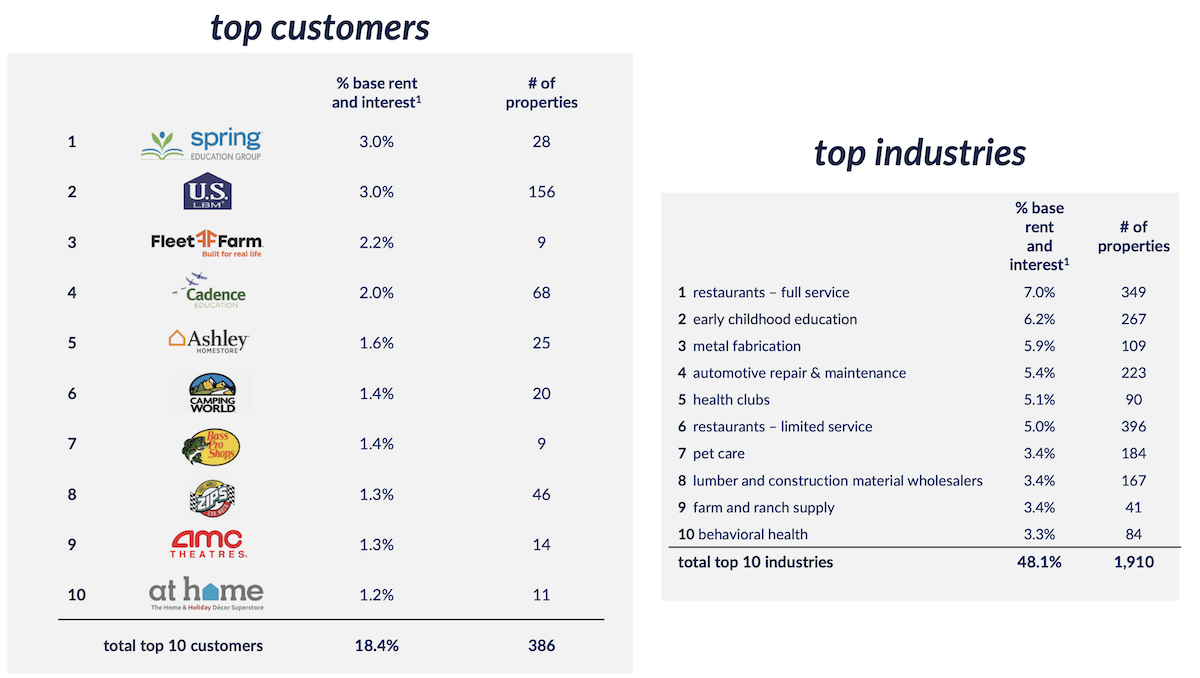 As a long-term investor, I like the fact that not one of STORE's industry exposures is higher than 7%. And with the pandemic waning, especially the service sectors should recover well.
2/ Diversified Portfolio
You don't get any cluster risk with STORE, because it counts 556 customers from 120 different industries. Its largest customer only represents ~3% of its rental income. Regardless of whether the service, retail, or manufacturing sector will do well in the next decades to come, STORE will rent out its assets to the best-performing companies in each sector.
3/ Scalable Platform
STORE, listed on the NYSE, has a credit rating of BBB+ and therefore has access to essentially all major debt markets. No matter how big the next project is, STORE has the experience and resources to make it happen. It currently has +10 Bio USD assets under management, and the ability to leverage its talents and systems to make full use of the above-mentioned credit markets. These multiple borrowing sources make this dream REIT stock a favorite pick of many dividend-centric investors.
4/ Excellent Financials
With an adjusted EBITDA run rate of 5.6x (!), an AFFO/share CAGR of 5.5% (!!), and a dividend growth CAGR of 6.2% since IPO, no wonder Berkshire Hathaway owns this real estate stock for years. In fact, when Warren Buffett was asked which single stock he'd buy if he could only choose one, he said STORE!
5/ Superior Dividend Growth
For a DIY investor like myself, generating passive income via dividends is important. In this regard, STORE has a lot to show. With 6.4%, $STOR has the fastest quarterly dividend growth CAGR (e.g. Realty Income ($O) has 3.4%, it has a lower AFFO payout ratio (76% compared to $O's 78%). As a long-term-oriented income investor I deeply care about the dividend growth rate, and this is where STORE, my dream REIT stock, really shines. It's best-in-class.
6/ Experienced & Diversified Leadership
I like the fact that STORE, as one of the few REITs in North America, has a female CEO with Mary Fedewa. It is no surprise that in 2022 for the second consecutive year STORE has been named to be a member of the Bloomberg Gender-Equality Index (GEI). What's impressive is that 55% of STORE's board is diverse in terms of gender or ethnicity!
7/ Strong Compared To Its Peers
STORE is a dream REIT stock for many reasons, but in particular when looking at the current valuation.
Of the stocks in the above table, I own $STOR and $O.
There are dozens of valuation approaches, but personally, I like the in-house valuation method of Gurufocus.

Such stats are one of the (many) reasons why Gurufocus is one of my favorite investor tools. Berkshire Hathaway bought shares at 22 USD. This dream REIT stock was already at 37 USD, and is now back at 26 USD!
As for myself, I bought my first $STOR at 20 USD, see below all my transactions so far.
Since 2020 July, I already collected 629 USD in dividends (see above).
What Are The Risks Of Investing In STORE?
Naturally, any investment comes with risks. In STORE's case, I mainly see the following:
A/ Higher interest rates
STORE, as any other company engaged in the real estate business, relies on 'debt financing' and is therefore sensitive to interest rate changes. STOR's current long-term debt is about 4 Bio USD. Any 1% in higher interest rates could potentially translate into 40 Mio USD higher interest expense.When we look at STORE's operating cash, we can see it generates about 550 Mio USD (2021). Consequently, the additional interest expenses are about 7.3% of its operating cash, meaning it's a quite substantial portion, and that's why a risk that we need to consider, but is manageable.
I also follow the current market consensus that although rates might rise in the short-term, in the long-term they can not as higher rates would bankrupt 90% of the Western world.
B/ Slowing demand
If the economy goes into a recession, one argument is that STORE might lose many of its customers. But as STORE's customer and industry base are so diverse, the company should be capable of mastering this challenge. Also, my dream REIT stock has many tenants directly exposed to the still ongoing pandemic (as of Jul 2022), and many of its tenants are service-oriented businesses such as restaurants, cinemas, health clubs, etc. If the pandemic drags on, or even flames up again, this might negatively impact STORE's numbers.
C/ Geographic Cluster Risk
With STORE, you are betting on the future of the United States. We could spend hours talking about the factors speaking for or against this, but the U.S. is still the largest economy in the world, has much better demography than other 1st world countries, and still is an innovation power house.
Conclusion
To me, STORE Capital ticks all my important boxes, and really is my dream REIT stock. The fact that Berkshire Hathaway made it its only REIT holding is already a chop of approval. The recent slump in price is I believe an excellent opportunity to establish the first position or add to your current one.
📘 Read Also
WiseStacker's Take
As an income investor, I love REITs. No stock is perfect, but I believe STORE Capital is a dream REIT stock you can buy and hold forever. Warren Buffetts seems to agree, because STORE is the only REIT Berkshire Hathaway owns.
PROS
Loyal Customers
Diversified Portfolio
Scalable Platform
Excellent Financials
Superior Dividend Growth
Experienced & Diversified Leadership
CONS
Sensitive to Higher Interest Rates
Ptentially Slowing Demand
Geographical Cluster Risk
Review Breakdown
Financial Strength

Predictability

Growth Rank

Dividend

Overall Rating