Go Green With The Sun Exchange
The Sun Exchange, founded by British entrepreneur Abe Cambridge, is a company in South Africa, specializing in bringing together investors who like to buy and make money with solar panels, with property owners located in countries with the world's best sun irradiation.
As this happens to be in Africa, Abe packed his things in 2015 to leave rainy England and set up shop in South Africa. Via its website, TheSunExchange.com, the company now enables people from all over the world to buy solar cells and then generate passive income in form of Bitcoin ($BTC) or South African Rands ($ZAR), every single month.
I love this one-stop-shop solution, enabling me to collect monthly rent in Bitcoin by purchasing panels in solar-rich, but power-poor emerging countries. I help to slow climate change, create jobs, and power Africa.  What an amazing solution, helping me to make money with solar panels by converting photons into electrons into bitcoin.
How Does The Sun Exchange Work?
Watch this short video to get a quick overview.
I am Officially A Net Energy Producer Since 2021!
It allows people like you and me to offset our carbon, and receive a predictable income stream, even in Bitcoin (!), equivalent to an estimated 10-12% Internal Rate of Return (IRR) for 20 years. As I have invested in already 19 different solar projects (see map below), I am officially now a Net Energy Producer!
Some of the projects that make me money every month with solar panels
Our home in Singapore with two adults and two kids requires ~4,000 Watts per year, and my Sun Exchange cells now generate more than ~6,000 Watts.
Make Money With Solar Panels – In 3 Simple Steps.
The process of getting started is simple and straightforward:
You start by setting up an account.
Once it is opened, you top up your account or buy cells directly via credit card.
You buy cells in the solar project of your choice.
And that's it!
Why Buy Solar Panels In South Africa?
The benefits of buying solar panels in sun-rich Souther Africa become quickly obvious when looking at the world's sun irradiation map.
How Much Money Can I Make With Solar Panels?
The IRR (internal rate of return) is stated on the project list of each project. Depending on the location, sun irradiation, weather conditions, and several other variables, the IRR is different for each project, however, the general average is approx. 11%.
IRR Calculation Example For An Investment Of 1,000 USD:
The average monthly income is based on the assumptions provided in the forecasts for 20 years:
🔢  1,000 USD / cell price in $ * Total income per cell / 20 years 
So, if one solar cell costs 5.92 USD, the calculation would be like this:
🔢  1.000 USD / 5.92 USD = 169 cells * 18.60 USD = 3.141 USD / 20 yr = 156 USD/yr
👉 13 USD per month
One thing you need to consider is that the value of your initial investment gets reduced considerably over the 20 years term. In a worst-case scenario, the value gets reduced to zero. You have received returns of 156 US x 20 years = 3.120 USD. Subtract 1,000 USD and you get to 2,120 USD. Divide this by 20 years, and you still get 106 USD p.a. or 10.6%.
That's similar to the 10% return you might get from investing in real estate, but with the added reassurance that you're helping to save the planet
However, if I re-invest all the income and buy new cells, I'd make a lot more money! In fact, the ROI would be 863% over those 20 years!
How About The Monthly Reporting?
After you purchased your first solar cells, you will automatically be generating passive income. At the beginning of each month, you will get an email with a report like this, and your BTC is added to your Sun Exchange wallet.
The earnings of each project are also listed on the project dashboard, see below. The green little arrows indicate whether the respective energy production of each project is above or below the original estimate.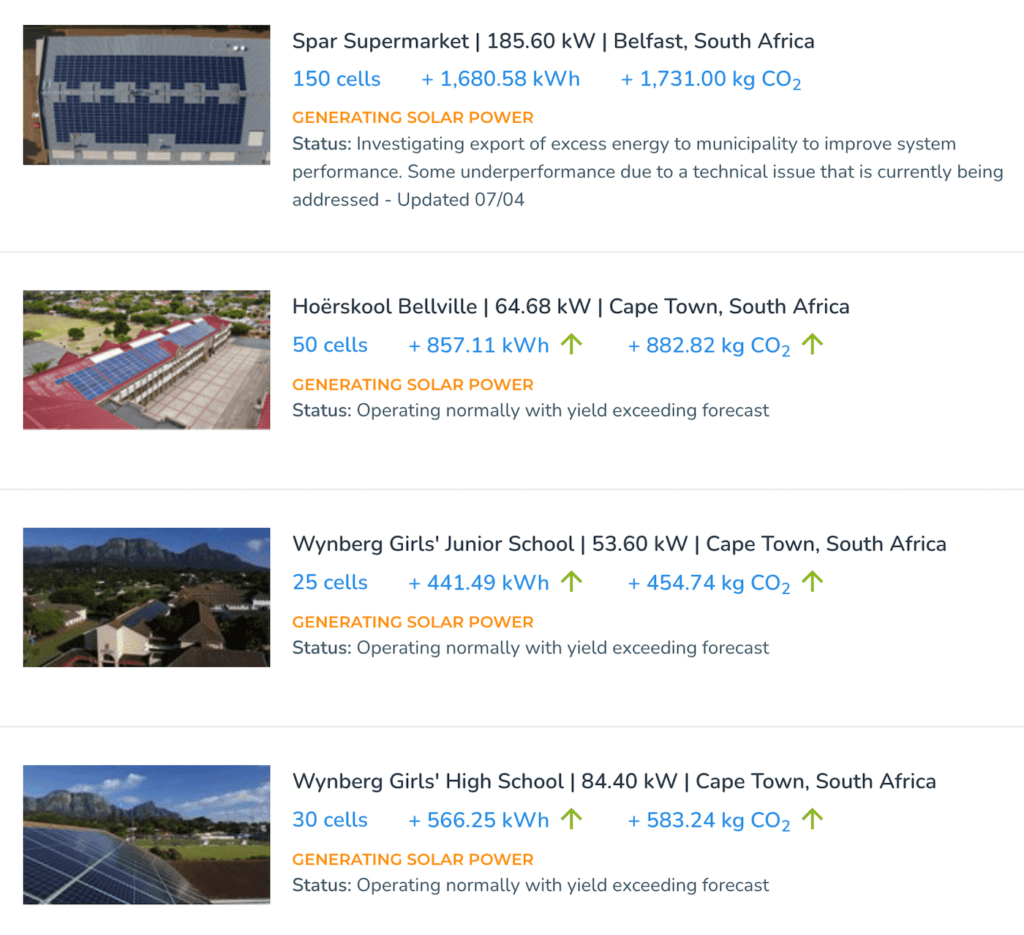 How About The ROI?
Simply put, it takes about 8 – 9 years for you to break even, and after 20 years you will almost have tripled your investment. This is just very vaguely said as there are a lot of factors that influence your earnings in every specific project. To make money with solar panels is not a get-rich-quick scheme. What The Sun Exchange did is to escalate the lease income of your solar panels annually by 7%, thus the amount you earn also increases every year.
How About The Legal Side Of Things?
By buying solar cells on The Sun Exchange, you become the actual owner of the solar cells that are subsequently leased to the property owner. Each lease is legally binding for 20 years. In the event of a default of a property owner, the solar panels may be relocated to another project or a new building occupier may take over the lease. The Sun Exchange conducts due diligence on all projects it hosts, and you can view the property owner's financial data upon request. This is one part I really love: I get to make money with solar panels, while all details are taken care of by an experienced team.
The Sun Exchange also has 'skin in the game' as it owns the remainder of the solar system, and receives ongoing service fees of 15% of each project. It doesn't host projects that it doesn't believe will fulfill the lease term. Off-takers, aka, the property owners, have a right to buy the system at any time, which includes a redemption penalty. The sales proceeds of such a buy-out will be returned to solar cell owners proportionally.
What Is In It For The Property Owner?
Power outages are rather common in South Africa, and due to the electricity monopoly, many property owners are interested in power purchase agreements (another company I own in my All-Weather Portfolio is Brookfield Renewable, a company I profile here. Besides appreciating non-government providers, property owners typically also get a monetary benefit! They themselves do not make money with solar panels, but the electricity from their solar project costs them less as they'd have to pay to the national grid!
Real like example: The Welverdiend Retirement Homes pays 27.5% less per kWh than their existing electricity from the national grid! Saving money, becoming independent, relieving the strain on the national grid, AND, going green, ALL at the same time. A no-brainer!
Is It Good For The Community?
In short, yes. The Sun Exchange gives small businesses and local communities access to fully-funded solar power plants to reduce running costs and drive sustainable development, while they do not have to put up any capital (CAPEX), go green and unburden the national grid!
Why Does The Sun Exchange Utilize Bitcoin?
The low cost of Bitcoin transactions (compared to e.g. international wire transfers) allows The Sun Exchange to sell and then lease "on a cell" rather than "a module basis". Investors can therefore be anywhere in the world!
"It enables borderless solar ownership," says Abe Cambridge, the CEO of The Sun Exchange. "Anyone can own solar panels located in the sunniest place on Earth, lease them to a commercial project, and earn an income from it".
Conclusion
The Sun Exchange is the extraordinary meeting of solar for off-grid, blockchain, job creation, slowing climate change, and crowd participation. It is a one-stop-shop for achieving my goal of 'for-profit impact' across the spectrum. I haven't found another opportunity that even closely offers me something similar, and allows me to make money with solar panels!
When you sign up with this link, you will get one solar cell for free when making a purchase. I will get one cell as well, but for zero cost to you!
☀️🌞 Let's go green!
📘 Read Also