Passive Income Report Overview
In the month of April 2022, my passive income is pretty much flat and similar to the previous six months. The biggest item with 3,270 USD is from dividends from a manufacturing company I own shares in since 2012 (yearly dividend was 39,284 USD, which I evenly distribute over 12 months).
My second and third-largest passive income streams come from Celsius (2,216 USD, now RIP) and Cake DeFi (1,853 USD). This is classic passive income – I deposited certain digital assets like Bitcoin and USDC, and their institutional-grade lending teams put my assets to work, then share +80% of the interest they earn with me – simply awesome. My plan is to wrap up each month and write a simple passive income report like this one.
Monthly Overview
Income From All-Weather Portfolio
from Stock Dividends (see below)
$634
Income From My Digital Assets
on Celsius

(

RIP

)

$2,216
on Nexo
$1,510
on Terra (Anchor, RIP)
$1,030
on Cake DeFi
$1,853
on Thorchain
$0
Other Income
Dividends from Private Companies
$3,270
from Bank Deposit+
$1,201
from The Sun Exchange
$57
from a Rental Property in GER
$1,200
Total
$13,017
Dividends From My All-Weather Portfolio
I received the following (after-tax) dividends from my All-Weather Portfolio, consisting of 'boring & keep-forever dividend stocks that surely will outlive me':
I just started logging all the income I receive in such passive income reports as this one, but for example, in April of 2021, I received 418 USD. That's roughly an increase of 50%. But this isn't because my holdings increased their dividends by 50%, but because I simply bought more.
My plan is to increase my All-Weather Portfolio holding from approx. 500,000 USD to 1 Mio USD in the coming 6-12 months, depending on how the general markets develop (Ukraine, FED, debt, Covid, supply chain interruptions, etc.).
The Warner Bros Discovery Spin-Off
Via the Warner Bros Discovery spin-off ($WBD) out of AT&T ($T), I received 139 WBD shares in early April. As I dislike uneven number counts, I bought 11 shares of WBD in my Interactive Brokers account at 20.99 USD (it went quite further down since then). Below is the trade confirmation report. Only 1 USD for the trade 💙!
Income From Digital Assets
Celsius (now RIP), and Nexo performed well and were stable as usual. Terra as well. I have about 60,000 USD on the Anchor protocol, earning me currently 33 USD per day, and receive a couple of hundred of UST (Terra's USD stable coin) in staking rewards and airdrops.  Surprising though was my first full month with Cake DeFi. See below for the email I received with the quite nice monthly cash flow report (making it super easy to include it in my monthly passive income reports):
Liquidity pools are complicated! And including the monthly cash flow in my passive income report is often not really easy. But when it comes to Cake Defi – it's actually super easy, because you get a great and very detailed monthly cash flow report (see the example above). It's my first full month with Cake DeFi, and so far it's been going great. The whole "product" is extremely well packaged and presented, everything is done in a very transparent way (clear founders, weekly AMAs/Twitter spaces, ..), very accountable and one of the industry's best UIs.
Really job well done. Not 100% sure if the "math" is entirely correct, needs to be seen. What I know for sure is that I earn about 20 DFI (DeFi Chain token) every day, which then get automatically reinvested into staking shares. So I can literally see my stash of DFI growing every 12 hours – which is sort of addictive!
I am also in two liquidity pools on Thorchain, and as you can see from below's Thoryield statement, as the coin values decreased by a lot, the income generated from the trading fees is by far not enough to make up the loss. Hence I am not sure yet how Cake DeFi calculates the income.
Overall an okay to average month. For the upcoming month of May, I expect significantly more income from my dividend stocks in my All-Weather Portfolio, as May is typically my strongest month. Last year in 2021, I was able to collect 2,870 USD (withholding taxes already deducted) in passive income – let's see what this month brings!
Portfolio Performance
My All-Weather Portfolio decreased in value from 540,000 USD down to 507,000 USD, a drop of 6,64%. Not good. For the year to date, my All-Weather Portfolio is down by approx. 9%, but we need to compare it to the broader market, so the performance is not too bad. Nasdaq is down 26% so far, damn.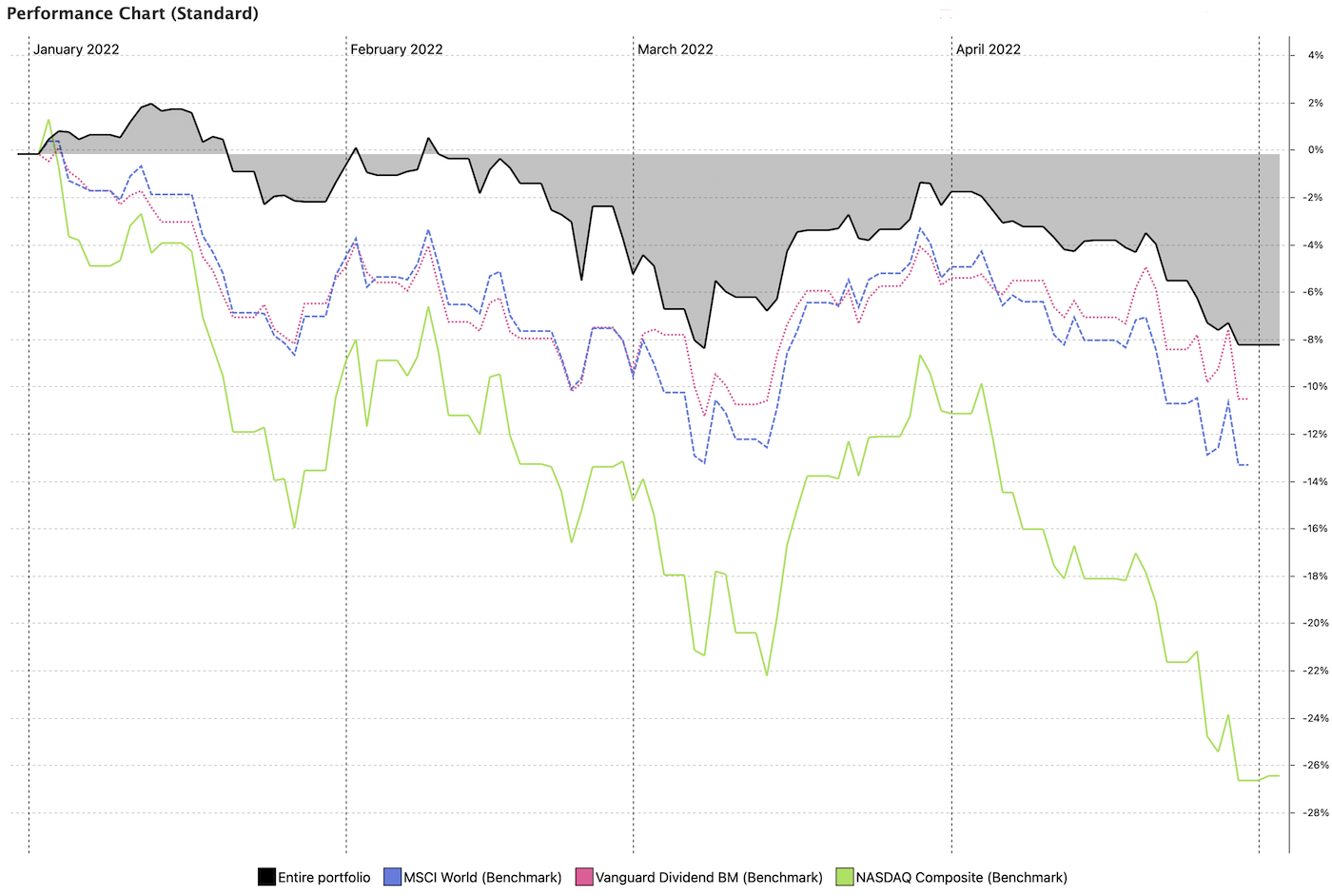 Related Posts