I Plan To Hold the Dividend Stock BASF in My All Weather Portfolio For Decades!
BASF At A Glance
BASF is the world's largest chemical company. In 2020, it generated 67,5 Bio USD in revenues, and 7.5B Bio USD in EBITDA, topping the list of all largest chemical companies in the world. It has more than 110,000 employees and essentially is operating on every continent but Antarctica.
BASF supplies chemical products to the construction, textile, pharmaceutical, and automotive industries. The construction, packaging, and injecting molding industries as well as the automotive and electrical industries all depend on BASF to source materials, chemicals, and plastic.
Overview Of The World's Largest Chemical Producers:
BASF 2020 chemical sales: 67.5 Bio USD
Sinopec 2020 chemical sales: 46.7 Bio USD
Dow 2020 chemical sales: 38.5 Bio USD
Ineos 2020 chemical sales: 31.3 Bio USD
Sabic 2020 chemical sales: 28.8 Bio USD
BASF is well positioned in each of the segments it operates in, often being the market leader:
Chemicals
Materials
Industrial Solutions
Surface Technologies
Nutrition & Care, and
Agricultural Solutions.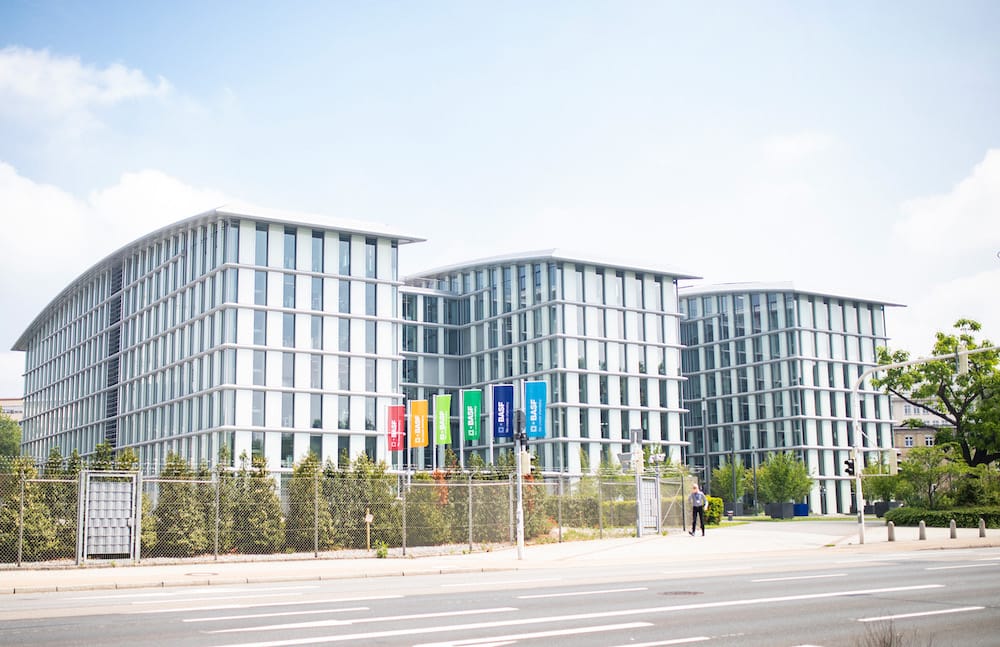 For the agricultural sector, BASF produces essential herbicides, insecticides, fungicides, vitamins, acids, and pigments for crop protection and nutrition.
In a nutshell, you are most likely sitting very close to a product that BASF helped to produce!
My Top 5 Reasons Why I Add Dividend Stock BASF To My Portfolio
1/ Economies of scale.
As the world's largest producer of chemicals, you get to enjoy economies of scale that are essential in this margin.
2/ We use BASF products daily without knowing it.
Each of BASF's six segments has massive potential, and BASF has its fingers in almost each interesting mega growth industry. Check out this fantastic example showing all the products that are made with some sort of BASF involvement. Just to give you an idea, BASF's products can be found in..
– absorbent sponges in diapers,
– chemicals for EV battery
– surface coatings for the space industry
– Water treatment solutions
– foam for car seats
I already get excited simply reading those very few examples – BASF is really everywhere.
3/ BASF has incredible staying power.
BASF was founded in 1865 in Mannheim, German, making it +150 years old! The company has proven it can live through good and bad times, including the deepest bear markets, recessions, inflationary and deflationary periods.
4/ BASF has unparallel financial prowess.
With 7.5 Bio in EBIDTA (2020), the company can invest substantial amounts in Research and Development (R&D), or acquire more agile niche market leaders in one of the six target segments. The company invests substantial amounts of cash in Research & Development (R&D), in particular
Advanced Materials & Systems Research (think spaceships / rockets / electric vehicles / ..)
Bioscience Research (think life sciences / healthcare / biotech, ..)
Process Research & Chemical Engineering
5/ BASF has a worldwide scale and is globally diversified.
BASF operates globally. There will always be a region that is currently undergoing recession-like periods, but that's okay for BASF as it is profoundly globally and industry-wise diversified.
What Do I Expect? 
I expect BASF to continue to do what it has been doing for decades. Operate and be a leader in its interesting six segments, spend a lot on R&D to ensure its future, and pay a stable dividend of 1,5 to 3%.
What's The Chance It Will Outlive Me?
I believe the dividend stock BASF is one one the most interesting companies in Germany and has a way better chance to outlive me than me outliving BASF ;-).
Conclusion 
I am a buyer and long-term holder of this fantastic company. I believe the dividend stock BASF creates products we all use and enjoy on a daily basis without being aware of it! I feel good about making it a stable part of my ultra-long All Weather Portfolio.
📘 Read Also
WiseStaker's Take
I believe the world's largest chemical company deserves a permanent spot in any income oriented dividend portfolio. I am a buyer and long-term holder of this fantastic company
PROS
Economies of scale
We use BASF products daily without knowing it
BASF has incredible staying power
BASF has unparallel financial prowess
BASF has a worldwide scale and is globally diversified
CONS
Plastic is a big part - environmental headwinds
highly complex industry
competitive space
Review Breakdown
Financial Strength

Predictability

Growth Rank

Dividend

Overall Rating