Introduction To Battery Metal Stocks
Why Are Battery Metals Important?
Battery metals or EV metals are a type of base metals used in the production of batteries, such as Lithium, Nickel, Cobalt, Aluminum, Lead, and Manganese.
These metals are essential to producing various battery technologies, such as lithium-ion batteries for EVs (electric vehicles).
Simply put, battery metals are important for a global green energy transition to a decarbonized world.
List Of Key Battery Metals
Battery metals are required to manufacture the batteries that are needed to power emission-reducing and de-carbonizing technologies:
Copper – An important battery metal due to its high electrical conductivity, heat resistance, and mechanical strength, making it an essential part of many battery designs.
Lithium – Lithium is another sustainable metal, used in the manufacturing of Lithium-ion batteries. Lithium is the lightest metal on earth and is often used in EV cars, laptops, mobile phones, and tablets.
Nickel – Nickel is one of the key renewable transition metals, used in the manufacture of Nickel-cadmium and Hydride batteries. It is an abundant metal, used in various applications, including stainless steel production, EV cars, etc.
Cobalt – Cobalt is a clean energy metal, mainly used in the manufacture of Lithium-ion batteries. It is a relatively rare metal that is used in a variety of industrial applications, such as producing high-strength alloys for jet engines and magnetic alloys for electric motors. The main country to mine Cobalt is the Democratic Republic of Congo (DRC), accounting for roughly 70 percent of global production.
Aluminum – Used in the production of all types of batteries, including Lithium-ion batteries. It is widely used in construction and manufacturing due to its light weight and strength.
Lead – Used in the production of Lead-acid batteries.
Manganese – Used in the manufacture of rechargeable Manganese-based batteries. It is a grayish-white metal that is used in a variety of industrial applications, such as the production of steel and alloys, fertilizers, additives, and ceramics.
The chart below shows the projected share of the battery market by cathode chemistry.
I believe battery metal stocks present a strong investment opportunity due to their key role in manufacturing the batteries which are needed to power an increasing number of energy storage and electric vehicle applications.
Investing in battery metals can help in diversifying your portfolio and offers a hedge against the volatility of other asset classes.
Additionally, battery metals can provide direct exposure to the growth of the global battery sector and offer attractive returns in the long run.
So now that we know why battery metals are a good long-term investment, how do we find and invest in the best battery metal stocks?
How To Invest In Battery Metals Stocks?
Put simply, you have the following options to choose from when it comes to investing in battery metal stocks: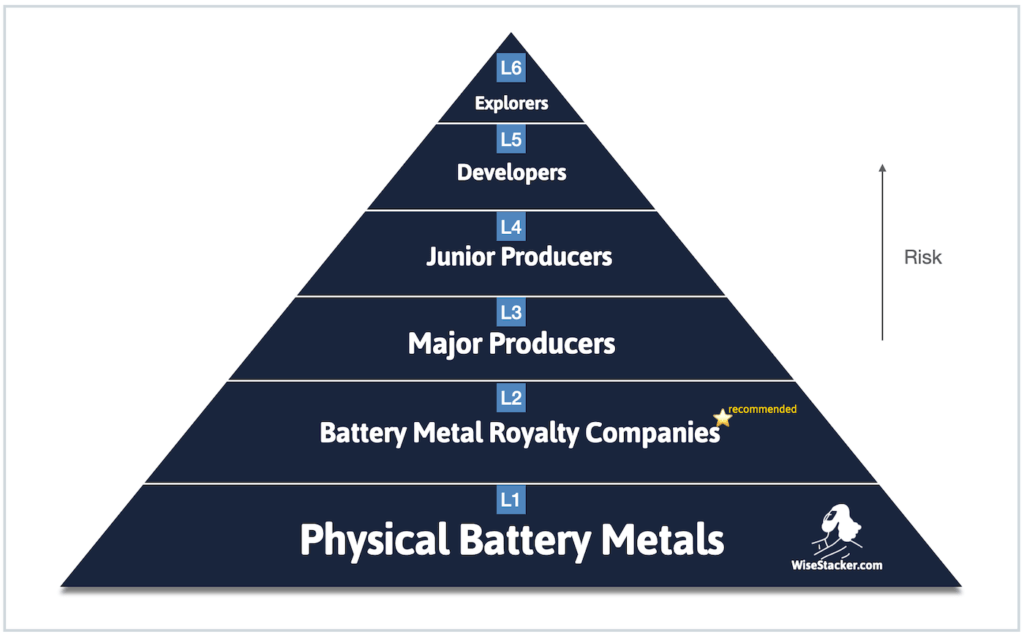 Explorers: Very high cluster risk, excessive uncertainty; hit or miss – not recommended


Developers: Medium risk as at least they already found an asset to mine – not recommended


Junior Producers: Moderate risk due to production costs yet still a lot of uncertainty – not recommended


Major Producers: Lower risk since it is already operating one or several mines for years – still not recommended


Royalty Companies: Low risk due to their direct exposure to mining operations – recommended!


Physical Metals: Low risk due to tangible ownership of the metal – not recommended
Pro Tip:  I buy my physical metals with GoldBroker.com and you can battery metals with SilverBullion.com.sg.
The Best Battery Metal Stocks: Royalty Companies
Royalty companies enter into agreements with mine operators that sell their future production/revenues in return for an up-front cash payment.
The mining company wins as they get an advance payment they can use to develop and operate the mine. And the royalty company wins as it secures itself a certain % of the current and future production. A win-win for both.
I believe the royalty model is one of the best business models ever created. This applies to both the precious metal as well as battery metal space.
Here's a blog post about my favorite gold stock Franco-Nevada, essentially the inventor of this entire metals royalty category.
Guide How To Find The Best Battery Metal Stocks
To find the best battery metal companies, let's first head over to Gurufocus.com


Open up the All-In-One Screener (you can sign up for a free 7-day trial via this link)


Under "Industry" select the following: Aluminium, Copper, Other Industrial Metals


Click on Customize "View" and add "Market Cap", "PE" and "Revenues"


You now can sort and rank the best battery metal stocks by size, growth, dividends, etc.
I already did the above so you don't have to do it.
See the list below.
List Of Best Battery Metal Royalty Stocks
 
 
M.Cap (Mio USD)
Sales (Mio USD)
Net Margin %

$

ELECF
Electric Royalties
$23
$0.0
at loss

$

TDTRF
Trident Royalties
$175
$0.0
at loss

$

BTRMF
Battery Mineral Resources
$21
$9.7
at loss

$

NOVRF
Nova Royalty 
$110
$1.4
at loss

$

ECRAF
Ecora Resources 
$384
$141.9
66%
Of the above five companies, only three are so far income-generating: Battery Minerals, Nova, and Ecora Resources.
Only Ecora Resources is making a profit, and that is with a very healthy net margin of 66% (!). For reference, Franco-Nevada, ticker symbol $FNV, has a net margin of 53%, with revenues of 1,2 Bio USD.
🏆 My Battery Metal Stock Top Pick
My battery metal stock of choice is Ecora Resources, ticker symbol $ECRAF.
Ecora, formerly 'Anglo Pacific Group', changed its name to Ecora in October 2022.
The company is engaged in securing royalties from a wide portfolio focusing on battery metals that support a sustainable future.
Geographic & Commodity Diversity 
Source: Ecora-resources.com/our-portfolio/commodity-exposure
It focuses on commodities such as Copper, Nickel, Cobalt, Vanadium, Met Coal, and Uranium, and also has some Iron Ore and Gold royalties.
Diverse Battery Metal Asset Base
With 18 royalty and streaming-related assets across all major five continents, $ECRAF is the largest listed non-precious-focused royalty company on the London Stock Exchange.
Excellent Financial Track Record
It has a formidable track record of delivering value-accretive growth over many years.
Attractive Valuation and Dividends
With a PE of below 4 and a dividend yield of above 5%, $ECRAF has a very attractive valuation.
Conclusion 
By investing in battery metal stocks, investors benefit from the world's transition to sustainable energy.
No one knows which EV or battery brand will win in the end, but what we do know is that all of them need vast amounts of critical battery metals.
That's why I love being invested in battery metal stocks like $ECRAF or $BEP (my take on BHP) is my primary vehicle to do so.
📘 Read Also
FAQ
What are battery metals?
Battery metals like Cobalt, Nickel, Copper, Lithium, or Manganese go into a whole range of future-facing batteries for EVs, or sustainable energy infrastructure.
Who makes lithium metal batteries?
– BYD
– LG
– Panasonic
– Samsung
– Siemens
– Toshiba
What battery metals are the most common?
– Lithium
– Cobalt
– Nickel
– Nickel
– Copper
– Manganese
What goes into a Lithium-ion battery?
Lithium-ion batteries need other kinds of metals aside from lithium to work. Common metals found in these batteries are cobalt, nickel, graphite, and manganese, but there are also special lithium-free and metal-free chemistries that work just as effectively.
What is the best Lithium stock to buy?
Which mining company produces most battery metals?
Not directly. Battery metal stocks produce the type of commodities such as Lithium, Cobalt, Copper, or Nickel that goes into making battery metal stocks such as $BHP, $RIO, or $ECRAF. Renewable energy stocks represent companies that produce renewable energy, such as Brookfield Renewable $BEP or Nextera $NEE.
Future-facing metals are those types of metals being used for producing batteries or that are used in applications that help to transition to a sustainable future. Examples include Copper, Nickel, Cobalt, Lithium, and Manganese.
My Battery Metal Stock Pick - Ecora Resources
By investing in Ecora, investors benefit from battery metals that help the world's transition to sustainable energy. I am happy to hold this stock for the long-term.
PROS
Geographic & Commodity Diversity 
Diverse Battery Metal Asset Base
Excellent Financial Track Record
Attractive Valuation and Dividends
CONS
Exposure to Met Coal
Still a relatively small company
Review Breakdown
Financial Strength

Predictability

Growth Rank

Dividend

Overall Rating