Why AT&T Is One Of The Best Telecom Dividend Stocks To Buy 
Key Takeaways
☑️ AT&T is a long-time favorite of income investors
☑️ Post the WBD spin-off, it might emerge with a crisp focus
☑️ It has large amounts of debt, yet, most of it at fixed rates
☑️ It generates massive amounts of free-cash-flow
☑️ Many investors see it as the best telecom dividend stock

Quick Profile
AT&T Inc. (T), headquartered in Dallas/TX, is the largest telecommunications company by revenue in the world, and, the 3rd largest mobile telephone services provider in the U.S. It generates $148 Bio US in revenues, and $14 Bio US in cash flow.
It owned Warner Bros (WBD) but spun it off and merged it with Discovery in Q2 of 2022. Post-spin-off, the company still holds 71% while Discovery holds the remaining 29% of $WBD.
The Largest Telecom Dividend Stocks Compared
Looking at AT&T's peers, we see that it generates the highest revenues of all global telecom dividend stocks but only takes the 4th spot in terms of market cap. It has a very low PE of 5.7 while yielding 8.7%.
| | | | | |
| --- | --- | --- | --- | --- |
| Company | Revenue | Market Cap | PE | Yield |
| AT&T | $148,628 | $110,738 | 5.7 | 8.7% |
| China Mobile | $138,570 | $143,585 | 11.0 | 9.3% |
| Verizon Inc | $134,325 | $153,584 | 7.3 | 7.0% |
| Dt. Telekom | $109,205 | $87,822 | 13.2 | 3.6% |
| T-Mobile US | $80,230 | $170,224 | 99.0 | 0.0% |
| Telefonica | $42,846 | $19,116 | 56.5 | 9.7% |
| China Telecom | $34,094 | $47,331 | 27.0 | 11.6% |
| Swisscom | $11,043 | $23,534 | 15.0 | 4.8% |
| Telenor | $10,714 | $12,713 | 15.5 | 9.8% |
Why I Like AT&T 
My investment thesis for AT&T is simple: Post the WBD spin-off, AT&T will become a leaner organization, focusing on its core business.
It will purely focus on providing its massive customer base with telecommunication services, while still holding the majority in $WBD. This will sooner or later release massive earning potential as well, resulting in a re-valuation of the AT&T telecom dividend stock a few years down the road.
Let's look at the reasons why I believe this telecom dividend stock is a buy at these levels:
1/ Post-Spin-Off Positive Catalysts 
One of the key advantages of the $WBD spin-off is that AT&T will go back to its root, becoming a leaner organization with a crisp focus on telecom.
CEO John Stankey (since Jul 2020), said in a recent conference call that the company will "emerge with a much more crisp and intense focus." This means no more board meetings covering 5G towers at the same time as discussing the next Harry Potter or Superman movie (IPs of $WBD).
We might only know next year, as 2023 will be the first full year with the telecom-only business.
My estimate would be that it will take a couple of years for those changes to take effect, but the general trend should be toward higher profitability.
2/ Rock-Bottom Price & Attractive Valuation
The AT&T telecom dividend stock reached a rock-bottom price and valuation level.
$T now has a price-to-earnings ratio of 5.7, while having an 8.7% dividend yield.
AT&T's revenues are the highest among ALL telecom companies, while its market cap is only the fourth highest. With its stronger focus, I believe $T will climb back up the ladder, and ultimately take back the first spot.
3/ Substantial Free Cash-Flow To Service Its Debt
From a quick glance at the company's cash flow and interest expense, we can see that the free cash flow, in the past 15 years, has always and easily covered the interest expense. See also further below when I talk about AT&T's risks.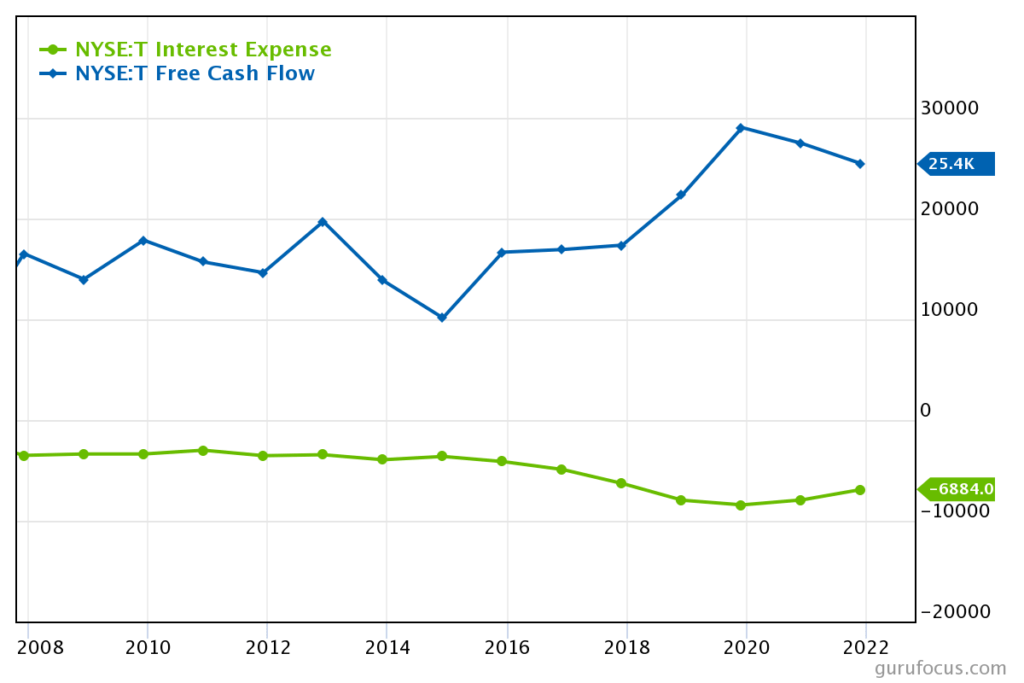 When looking at several telecoms and their respective long-term debt, we can see that $T is not the only one with massive debts. Compared to 2018, $T clearly is working on reducing its debt load, whereas $VZ and $CMCSA for example have been increasing their long-term debt quite significantly.
4/ Massive Potential With 5G & Warner Bros
I see two main areas AT&T can unlock massive potential in terms of earnings and revenue growth.
Potential With 5G
AT&T has been investing heavily in the build-out of its 5G network. It announced that its CAPEX set aside for 5G and its fiber broadband will be $24 Bio after the Discovery/WarnerMedia deal closes in 2022 (comparable with Verizon's $22.5 Bio in CAPEX in 2022).
With the world going completely digital, an investment in this telecom dividend stock will rather sooner than later bear fruit:
internet-of-things
cloud computing
artificial intelligence
VR / AR / XR
metaverse
gaming
All of the above will require reliable and fast telecommunication infrastructure – which the AT&T dividend stock provides! Massive potential for entirely new customer segments.
Potential With Warner Bros
$T still holds 71% of $WBD, which in itself also holds massive potential (see the article I wrote about $WBD here).
All the fantastic IP that $WBD owns, such as Batman, Harry Potter, Superman, Matrix, Hangover, Game of Thrones, Friends, Sopranos, etc., will increasingly be watched (and played) on mobile devices.
To watch this content in ultra hi-res on any of your XR devices requires super-fast bandwidth – something AT&T will provide via its 5G or its fiber-optic cables.
5/ A High& Stable Dividend 
This telecom dividend stock has been an investor's favorite for decades. In recent years, however, even long-term investors are frustrated by AT&T's dwindling share price. Its share price is down 65% from its all-time high of $45 USD back in 1999.
Its high dividend, currently above 8%, of course, offsets this price reduction a little bit, but not enough to make it all up.
I believe the worst is behind us and the above-mentioned factors will act as catalysts to reverse the negative trend of the AT&T dividend stock, and we have better days in front of us.
Looking at the dividend yield, we can see it is at a historic high, meaning that investors can lock in high yields for years and years to come.
Risks With The AT&T Telecom Dividend Stock 
The key risk people bring up is AT&T's long-term debt. One analyst I like to follow on SeekingAlpha, Matthes Smith, wrote an excellent in-depth article on AT&T's debt (behind paywall).
One of my key takeaways: Most of AT&T's debt has "fixed interest rates", with an entirely manageable maturity schedule. The free cash flow in the coming 5-10 years will be sufficient to ensure all bond payments.
AT&T did a good job spreading its maturity schedule over the coming decades (!). I believe in a few years everyone will see that it was sort of smart of the management to use these historic low-interest rates and lock those in for decades to come.
Another risk is that the AT&T telecom dividend stock might have to cut its dividend. Should revenue growth stall and earnings be negatively impacted, AT&T might not generate enough free cash to service its debt as well as distribute high dividends.
It currently pays out 71% in the form of dividends.
| | | |
| --- | --- | --- |
| Dividend Yield | Payout Ratio | Growth Rate (5 Year) |
| 8.72% | 71% | 1.6% |
Will Patience Be Rewarded In AT&T?
Thinking 5-7 years into the future, I am positive that the AT&T telecom dividend stock will do fine, and pay high dividends in the year to come. It will be able to lower its debt gradually, while benefiting from emerging megatrends like the internet of things, cloud computing, streaming, metaverse, etc.
That's why I am happily holding it in my All-Weather Portfolio, adding to my position on weakness.
📖 Read Also
FAQ
What is the largest telecom dividend stock in the world?
The five largest telecom companies in the world, based on revenues:
1 – AT&T $148,628
2 – China Mobile $138,570
3 – Verizon Inc $134,325
4 – Dt. Telekom $109,205
5 – T-Mobile US $80,230
 
How many monthly subscribers does AT&T have?
AT&T has roughly 82 Mio post-paid, and 19 Mio pre-paid subscribers (at the end of 2021). In comparison, the largest telecom company in the world in terms of subscriber count, China Mobile, has 957 Mio subscribers. Yet, AT&T generates more revenues in total than China Mobile.
How much does AT&T pay each quarter in dividends?
In 2022 (after the $WBD spin-off), the ATT dividend stock distributes $0.2775 USD every quarter, in the following months: February, May, August, and November.
Is the AT&T telecom dividend stock a good stock to buy?
The AT&T telecom dividend stock represents an attractive risk/reward ratio, as the stock price has been going down substantially compared to last year. It is currently sitting at $15 US, whereas last year it was at $25 US. This results in a dividend yield of approx. 7-8% p.a.
How much does AT&T still own in Warner Bros?
After the Warner Bros spin-off and merger with Discovery, the AT&T telecom dividend stock still holds 71% of the company.
 
My Take on AT&T
The AT&T dividend stock is at a rock-bottom price, yielding 7.4%, while soon having its first full year after it spun-off Warner Brothers.
PROS
Post-Spin-Off Positive Catalysts 
Rock-Bottom Price & Attractive Valuation
Substantial Free Cash-Flow To Service Its Debt
Massive Potential With 5G & Warner Bros
A High& Stable Dividend
CONS
Extensive Long-Term Debt
Potential Dividend Cut
Review Breakdown
Financial Strength

Predictability

Growth Rank

Dividend

Overall Rating