In April 2023, my total monthly dividend income of my All-Weather Portfolio is $1,077 US.  Last year, I wrote my first passive income report for the month of April, with a total dividend income of $623 US.
 

Apr 2022

Apr 2023

🇸🇬 DBS
$107
$427
🇬🇧 Rio Tinto
$0
$340
🇺🇸 Avalon Bay
$88
$95
🇺🇸 Realty Income
$89
$93
🇺🇸 Pepsico
$54
$75
🇺🇸 Mondelez
$43
$47
🇺🇸 Cisco
$70
$122
🇨🇦 Brookfield Renewables
$120
$0
🇺🇸 Store

(

acquired

)

$81
$0
Total
$634
$1,077
Chart-wise, the year-on-year monthly dividend income comparison looks like this:
The month of April used to be my worst, but now with the dividend of Rio Tinto (RIO), it is becoming a stronger month.
When looking at the year-on-year comparison, we can see not a steep but steady uptick.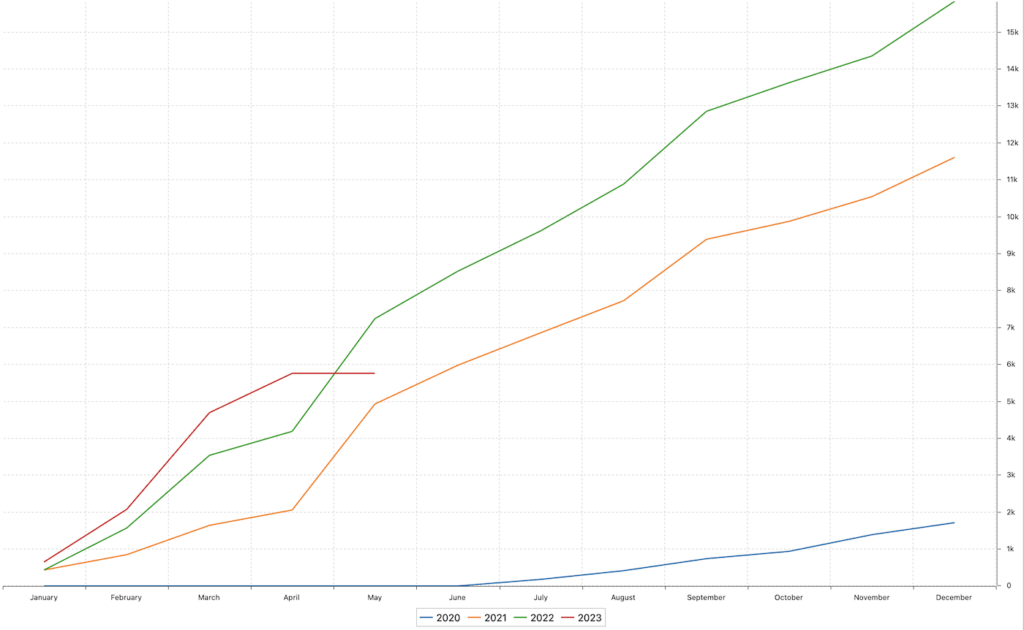 The month of May should become a very month, with many European-based income stocks paying their annual dividends.
Full Monthly Dividend Income, By Quarter
I so far earned a total 0f $34,902 US since I started my dividend income portfolio in May 2020.
Purchases To Increase Monthly Dividend Income 
This month I only continued with my DCAing (definition) into the Scottish Mortgage Trust, in my opinion, the best-managed tech fun investing solely in disruptive tech companies. Check out my reasoning for why I decided to buy this trust in my recent monthly passive income report for March 2023.
In total, I bought the following:
| | | |
| --- | --- | --- |
| Purchases |   | Amount |
| 2023-04-27 | 🏴󠁧󠁢󠁳󠁣󠁴󠁿 Scottish Mortgage Trust  NEW | $11,975 |
|   | Total | $11,975 |
Below is my order ticket – love the fees of TradeRepublic!
As of Apr 30, my portfolio looks like this:
As you can see, Tech only represents about 8% of my overall portfolio. In the mid-term, I like to increase this to 10%, and I decided to do this via the Scottish Mortgage Trust.
I now own 3,000 units, and the goal is to invest a total of $55,000 USD, roughly 6,500 units.
A Tech Fund With Dividends
The Scottish Mortgage Trust distributes semi-annually dividends, in July and December.
The mid-year dividend is typically 20% higher than the year-end one.  In 2023, I'm not sure, but roughly estimate it will pay out $0.025 US in July, and $0.02 US in December. In terms of passive income, I can expect $100 US in July (4,000*0.25), and approx. $130 US in December (6,500*0.20).
The dividend is of course tiny, but the $230 US easily covers all trading/brokerage/account fees (in this case only $1 US per purchase on TradeRepublic) and pays for a beautiful dinner for the family. Given that it is a tech fund, I am more than happy to even receive a dividend at all.
📘 Read Also
FAQ
How to get monthly dividend income?
Buy dividend stocks that pay you either annual, semi-annual, quarterly, or monthly dividends. One of the most popular dividend stocks providing monthly dividend income is the real estate investment trust Realty Income, ticker symbol: $O. Many income investors also combine 3-4 dividend stocks that each pay dividends in different months.
When do monthly dividends get paid?
That is different from each dividend stock. The popular REIT, Realty Income, for example, pays its dividend on the 15th of each month and has done so more than 635 times (as of Apr 2023), equalling about 53 years. Other stocks paying monthly dividends: Agree Realty Corporation ($ADC), Ellington Residential Mortgage REIT ($EARN), and Sabine Royalty Trust ($SBR).
Are monthly dividend stocks worth it?
Yes, but as with all investments, you need to give the companies enough time to do their work to increase and enable them to return cash back to their shareholders. Whether a stock distributes profits on an annual, quarterly, or monthly basis does not really matter or make much difference. The share price of a company is automatically lower on the ex-dividend date, subject to the amount of the respective dividend paid.
How to create a monthly dividend income portfolio?
The easiest way is to invest in REITs that pay monthly dividends, such as Realty Income ($O) or Sabine Royalty Trust ($SBR). Alternatively, you can construct a portfolio of 3x separate dividend stocks such as
– Cisco Systems ($CSCO, with dividends in the months of 1,4,7,10)
– Procter & Gamble ($PG, 2,5,8,11), and,
– 3M ($MMM, 3,6,9,12)
By this, you already have a basic industry diversification (IT & security, consumer goods, and industrials), and you would be receiving a dividend every single month. If you for example invest $25,000 in those three stocks, you can expect to receive approx. $65 USD every single month.
How much to invest to get $100 a month in dividends?